News from NORLA
Guest of Honour Norway – A success story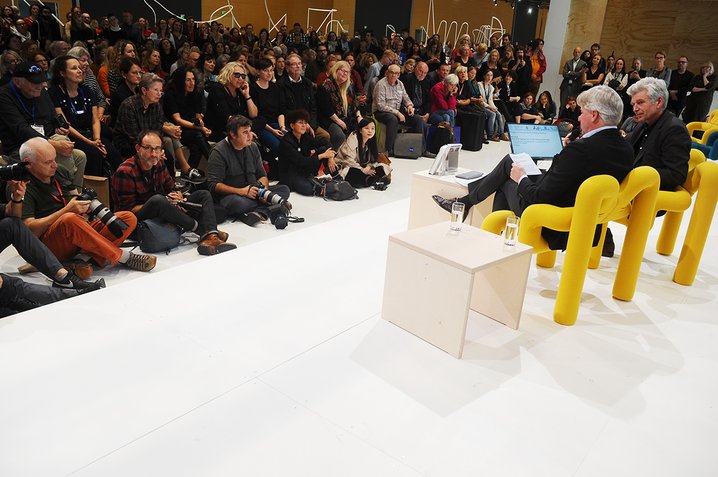 Photo: Sabine Felber
Sales record in the bookstore at the fair, full house in Norway's pavilion, huge international media attention and growth in the number of visitors at the fair*. The number of private visitors increased by 9.2 per cent from last year, not least thanks to Norway's program as Guest of Honour – "a crowd-puller" according to the Director of Frankfurter Buchmesse Juergen Boos.
Huge media attention
Last week, there were 7600 printed news articles, 2000 articles online, 250 TV clips and over 960 radio reports linked to Norway as a Guest of Honour in German-speaking media. On Tuesday and Wednesday during the fair, media stations from all over the world conducted interviews and created reports all day.
– We have never heard of a Guest of Honour project that has received so much media attention, and we are delighted that much of the attention was about Norwegian literature, and will thus help the new translations on their way out to new readers, says Margit Walsø, director of NORLA.
Full house every day
At least one third of the visitors at the fair visit the Guest of Honour pavilion, according to Frankfurter Buchmesse. Thus, more than 100,000 people have visited the pavilion. There were 120 events in the pavilion. In the city and elsewhere at the fair, there were over 20 events each day related to both literature and other art forms. In total, there were over 200 events associated with Norwegian literature and culture in Frankfurt during the fair. Over 100 writers from Norway participated in the program.
- It was so inspiring to see so many people gathered to experience the breadth of Norwegian literature on both stages in the pavilion. Every single day during the fair, the seats were filled with dedicated readers, industry professionals and journalists, says Halldór Guðmundsson, project manager for Norway as Guest of Honour at Frankfurter Buchmesse.
Sales record in the bookstore
Every year, the German bookstore Land in Sicht has its own bookstore outside the Guest of Honour Pavilion. They have never sold more books in the Guest of Honour bookstore before. The peak was on Saturday, with 1000 books sold. The bookstore also reported sales records for a single event in a Guest of Honour pavilion; 150 books by Jostein Gaarder were bought in connection with his performance.
The Pavilion
Designed by Manthey Kula and LCLA, the Guest of Honour Pavilion consisted of 22 sculptural tables linked to various literary genres and themes. One of the tables that was very popular was the table Invisible Silence with smells produced by artist Sissel Tolaas and texts by Erling Kagge. Marianne Heske's artwork Wittgenstein's Boat also attracted a great deal of attention.
Read more
*302,267 visitors came to the book fair (2018: 285,024), a 5.5 percent increase from 2018: The highest number in 10 years. The number of professional visitors was 144,000 (2018: 142,016), the number of private visitors was 157,000 (2018: 144,409). The book fair has thus increased the number of private visitors by 9.2 per cent from last year.