News from NORLA
Great start for the 13th season at NORLA's translator hotel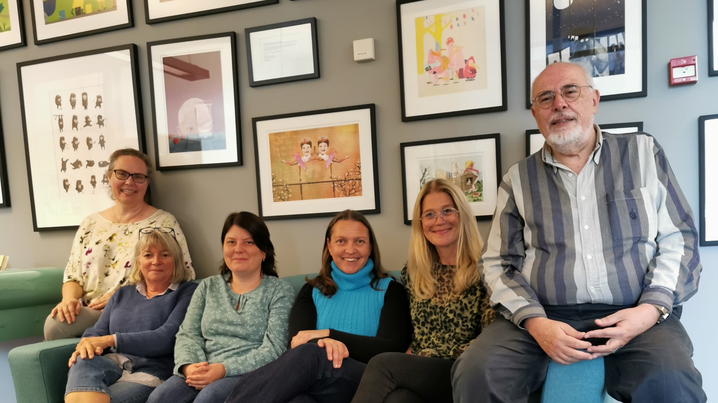 From the left: Mette Børja (NORLA), Paula Stevens, Jitka Jindřišková, Mariana Windingland, Margit Walsø (NORLA) and Orhan Tekelioglu. Photo: Ellen Trautmann Olerud
This week, we have warmly welcomed four translators to Oslo for a two-week stay at Hotel Bondeheimen. And with this, the translator hotel's thirteenth season is opened.
The translators now in place in Oslo are:
Paula Stevens (The Netherlands)
Jitka Jindřišková (Czech republic)
Mariana Windingland (Argentina)
Orhan Tekelioglu (Turkey)
We are thrilled to have them here, and look forward to two pleasant and hopefully productive weeks in their company!
All four translators also have work stations in our office, so we are enjoying their company all through the day and not least at lunchtime – including for our traditional Friday lunch quiz! We have also been to the cinema together.
The translators have a lot of exciting things planned: They look forward to meeting authors and literary agents, for updates and tips on new, great books. They have already had an enjoyable evening meeting Norwegian colleagues. Our guests also take the opportunity to experience the rich flora of literary events and book launches, plus they are planning to visit libraries, museums and bookstores, and also flea markets.
We wish the translators a great stay, with lots of professional and social replenishment, and not least inspiration.
If you are a translator, you may meet three of our guests at our Translator's Pastry Shop, Wednesday 14 September!
We have been so fortunate that three of our guests have the opportunity to contribute to our (digital) translator's pastry shop on Wednesday 14 September, 15:00-16:00 (CEST).
If you are a translator of Norwegian literature you are invited to meet them!
Registration is needed and the deadline is Monday 12 September at 12:00 (CEST).
More information in Norwegian
About NORLA's translator hotel
The Norwegian Ministry of Foreign Affairs contribute towards NORLA's translators hotel scheme.
There will be new chances for translators of Norwegian literature in the spring. More information and application deadline will be announced next year.
Read more about our translators hotel and previous seasons here.