New Voices
New Voices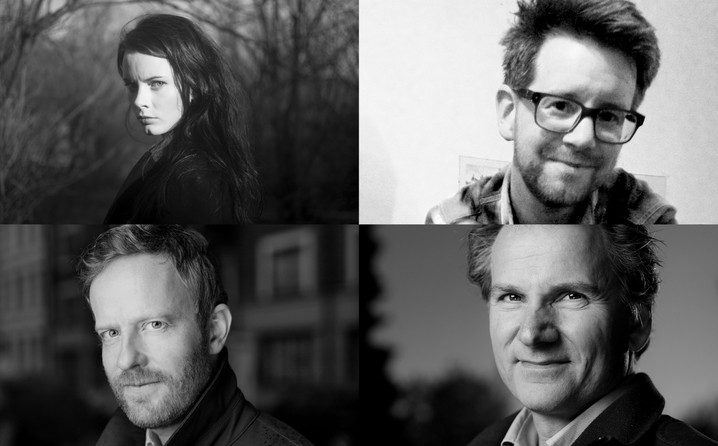 © Photographer top left: Linnea Syversen, top right: Kateryna Babkina, bottom pictures: Agnete Brun.
Norway will be Guest of Honour at the Frankfurt Book Fair 2019. Cultivating new literary voices internationally is an important part of the 2019-endeavour. NORLA's new development programme, New Voices, has been established in collaboration with Talent Norway (Talent Norge) and the Norwegian Publishers Association.
In the years leading up to 2019 a number of new writers will have the opportunity to participate in a development programme that focuses on the international dimensions of the writing profession. The programme is for writers from all genres, fiction, non-fiction, and literature for children and young adults.
In the autumn of 2016, the first four participants were chosen; Simen Ekern, Sigbjørn Mostue, Roskva Koritzinsky and Nils Henrik Smith. The first session of the programme was held in January 2017. In the months to come they will visit several international book fairs and festivals.
Click here to see the books of the four participants
Learn more about the authors here.
And see sample translations below.
NORLA's New Voices Calendar:
January 2017 saw the start of the semester.
In March the four authors will take part in the Leipzig Book fair.
And in May they will participate in the Georgian "Book fair in Tbilisi and also a translators seminar", where Norway is this year's focus country:http://norla.no/en/activities/145.
The programme provides insight into the work of translators, gives participants media training, knowledge about international book markets, language practise, practical experience and international contacts. The scheme will entail sessions in Norway, and travel abroad. NORLA will take advantage of its large international network to produce a solid programme that will include participation at festivals, book fairs and translator's seminars. The programme is not intended to be a writing school; the idea is rather that meeting with a foreign readership will enhance an awareness of and open up new perspectives on the participant's own vocation as an author.
Groups of three−five participants will be accepted twice a year up until 2019. Each participant will attend the programme for one semester. A total of some 20 participants will take part in the programme, representing all literary genres.
Senior Adviser in NORLA, Dina Roll-Hansen, is managing the New Voices-programme.