NORLA offers a range of funding schemes, all with an aim of promoting the translation of Norwegian books.
Fortranslators
NORLA has several funding schemes designed to encourage translation of Norwegian fiction and non-fiction books. We also have funding schemes for competency-raising for translators. Read more here.
Foragents and publishers
Agents and publishers working with translations of Norwegian literature can apply for a number of NORLA's funding schemes. Read more about our schemes for translation subsidies and travel grants here.
Fororganisers
Organisers of festivals and conferences can apply for funding to invite Norwegian authors and lecturers to their events. This also applies to universities offering instruction in Norwegian language-related subjects. Read more here.
NORLA's activities to promote the export of Norwegian literature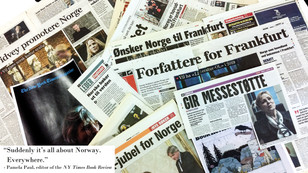 April 26
The conference, followed by a reception, will be held at Sentralen in Oslo Wednesday 26 April, 1 – 7 PM.
Hear – about what it means to be the Guest of Honour at the world's largest book fair.
See – all the exciting opportunities found in the cultural programme surrounding the fair.
Meet – people from the Frankfurt Book Fair, key German stakeholders, professionals from the book trade and culture sector, and Margit and Halldór who will be responsible for the entire endeavour.
Come – and bring your own ideas!
Click here to see the programme.
Register through 20 April here.
Read more about Frankfurt 2019, including the Norwegian bid book, here.
NORLA selects Norwegian books of current interest for book fairs and literature events.
Selected Titles Spring 2017