News from NORLA
1000 titles on Books from Norway!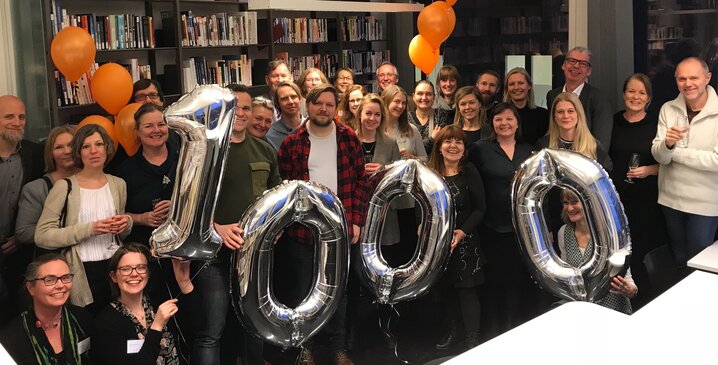 Photo: Sunniva Adam
The website Books from Norway provides foreign publishers and journalists information, in English, about Norwegian literature as well as an overview of Norwegian translators. NORLA and our partners recently celebrated that the website, at the end of 2017, consisted of over 1000 titles and 150 translator profiles.
Books from Norway is a collaborative project. The information about the different titles on Books from Norway is primarily added by the agencies and publishers themselves, and the translators have the opportunity to create their own profile which they fill with their desired content. NORLA invited publishers, agencies and translators to the event to thank them all for their efforts. A big thank you also to the design agencies Kord and Anyone for developing the site.
– The 1000+ titles and the many translator profiles is testimony to the agents, publishers and translators who have worked hard to fill the website with good content, and to an industry that believes in collaboration. We are grateful for the collaborative culture that characterises the Norwegian book industry, says Margit Walsø, NORLA's director.
– Will live on long after 2019
Books from Norway plays an important role in the Frankfurt project, as a key objective of the project is to create greater interest in Norwegian literature worldwide – even after 2019. Books from Norway is a new marketplace that facilitates increased literary export.
– Norwegian publishers, agencies and other rights holders now have a new platform where they can showcase titles they believe have potential abroad. Our ambition is for the website to live on, develop, and continue to be a marketplace – long after 2019, says Walsø.
Visit Books from Norway: booksfromnorway.com