News from NORLA
2019 was a unique year for Norwegian literature abroad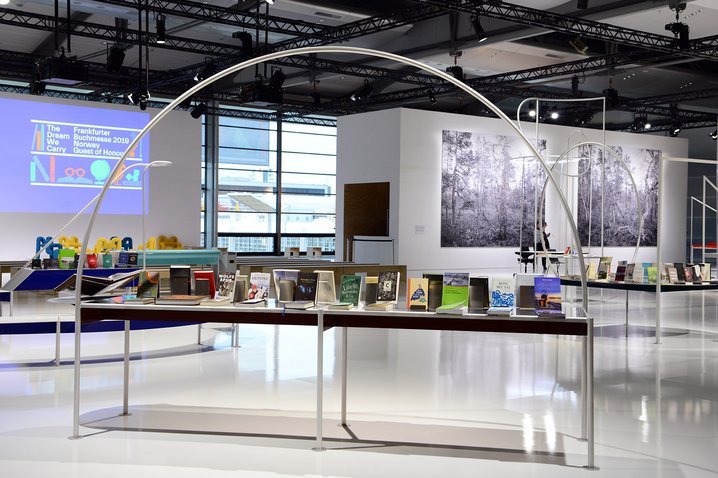 Books on display in Norway's Guest of Honour Pavilion at the 2019 Frankfurter Buchmesse. Photo: Sabine Felber
Internationally, literature from Norway is in an incredibly strong position. 2019 was the year that Norway featured as Guest of Honour at the world's most important book fair – Frankfurter Buchmesse – with the motto The Dream We Carry. NORLA planned and implemented this initiative on behalf of the government and the book industry.
Thanks to the Guest of Honour initiative, the number of books that were published in German reached a record high in 2019: 510 titles from or about Norway. One hundred authors from Norway came to the 2019 Frankfurt Book Fair, with 100,000 people visiting the pavilion. Almost two hundred authors participated in a program in Germany, Austria, or Switzerland in 2019, and a total of 1120 literary or cultural events were held in German-speaking regions. Norway set a record for media attention as guest country, being mentioned 14,997 times throughout the autumn of 2019.
"Thanks to all the publications in German during its year as Guest of Honour, Norwegian literature has a bigger window on other languages too. With targeted efforts in the future towards other markets, we will be able to see the long-term ripple effects of the work behind the guest-country initiative," says Margit Walsø, director of NORLA.
Most translations into German
The Guest of Honour initiative entailed great efforts on the part of agents, countless meetings between authors and German readers, and extensive contact with the German language book industry through experts' visits to Norway – and the great interest in Germany continues. German remains the biggest language when measured against NORLA's statistics for translation funding in 2019.
Norway on the bestseller lists in Germany
German sales figures prove that six books from Norway made it to the 2019 bestseller lists:
Maja Lunde's The History of Bees (pocket and audiobook) and The End of the Ocean, Jo Nesbø's Knife (hardcover and audiobook) and The Wonder Down Under by Ellen Støkken Dahl and Nina Brochmann.
Read more
Non-fiction on the march
In 2019 NORLA awarded grants to 168 non-fiction titles – never before have so many translations of Norwegian non-fiction titles received support in the course of a single year. Of the total number of grants in 2019, non-fiction made up more than 29%. There is huge interest in narrative non-fiction and popular science from Norway.
In 2019 NORLA provided grants for a total of 572 book translations into 47 languages, which, as anticipated, was slightly lower than in 2018, when the extraordinary effort of preparing for the guest-country year resulted in grants for 639 releases into 45 languages, including 80 into German and 50 into English. Additional grants for both German and English were allocated for the translation of books that were first published in 2018 and 2019, with a positive outcome.
Commenting on the figures, Margit Walsø says: "Translation is time-consuming work and a book's route out into the world is a lengthy process, and we therefore anticipated that the number of grants would be somewhat lower in 2019 than in 2018, a record year. In order for a wide range of Norwegian books to be released in German – and other languages – in time for the guest-country initiative, work on translations had to start the previous year."
Figures from Norwegian literary agents show sales of more than 1150 book rights to foreign countries in 2019.
Norwegian literature into a total of 47 languages
When translations are counted, the other major languages for Norwegian literature – after German – are Danish, English, Polish, Spanish, French, Russian, Dutch, Bulgarian and Swedish.
For the first time, NORLA has granted funding for the translation of a Norwegian book into Maltese.
[stolpediagram: NORLA's funding for translation]
[stolpediagram: Top languages 2019]
Breadth and authorship
The total of 572 grants were awarded to 372 different titles in all, and in this the work of 257 authors is represented. This reveals the great breadth of literature crossing national frontiers.
The most-translated authors – according to NORLA's translation funding grants and regardless of genre – were:
Hedvig Montgomery (16 non-fiction translations)
Karl Ove Knausgård (14* translations, 12 of fiction and 2 of non-fiction – * of which one title was co-authored with Fredrik Ekelund)
Jon Fosse (13 fiction translations)
Jo Nesbø (13 fiction translations for both adults and children)
The most-translated authors in different genres
Fiction
Jon Fosse and Jo Nesbø each had 13 literary translations
Julie Andem had 10 translations
Non-fiction
Hedvig Montgomery is the most-translated non-fiction writer, with 16 translations
Anne Sverdrup-Thygeson had seven translations
And there were a number of authors with six translations each: Bjørn Berge, Marta Breen and Jenny Jordahl, Erika Fatland, Are Kalvø and Katharina Vestre
Children and youth literature
Anna Fiske and Maja Lunde each had 11* translations (* of which one title was illustrated by Lisa Aisato)
Kristin Roskifte had eight translations
The book industry's international effort
In the run-up to Norway being guest country in Frankfurt, major investments were made in the form of working to grow Norwegian rights sales, particularly through the efforts of agents. In the future the Norwegian book industry will be able to reap the long-term results of this work. NORLA looks forward to assisting stakeholders by facilitating the expansion and consolidation of the industry network on a global scale and through effective measures to spotlight Norwegian books and authors abroad.