News from NORLA
Book frenzy in Leipzig!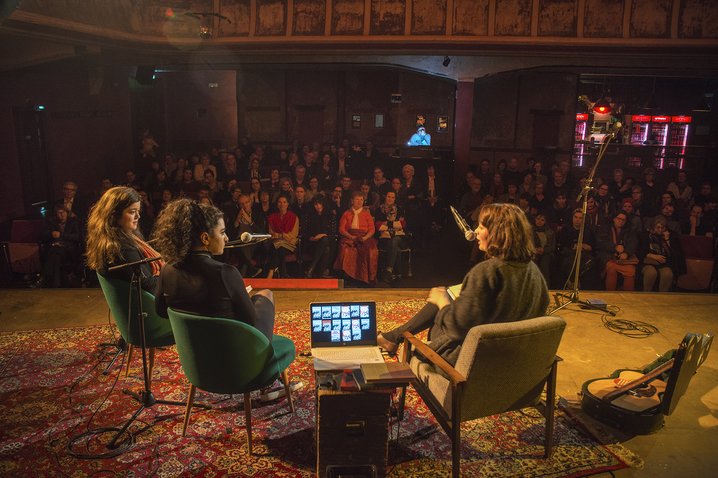 From the left: Nancy Herz and Sofia N. Srour in conversation with translator Karoline Hippe. Photo: Sabine Felber
The Leipzig Book Fair, attended by 200,000 visitors, is the largest literary arena in Germany after the Frankfurt Book Fair. Our presence there from 21-24 March was one of the highlights of Norway's literature program for spring 2019.
Eighteen Norwegian authors participated in Leipzig where we had over 40 program items. The biggest events that we organised were two reading nights, the first being on the theme of freedom of speech, attended by Sofia N. Srour, Nancy Herz, Pil Cappelen Smith, Pål Moddi Knutsen and Marta Breen; the translator Babette Hossfeld presented Gert Nygårdshaug and Norwegian Secretary of State Marianne Hagen gave a welcome message. The second of the two reading nights drew a total of 350 audience members; and Mona Høvring, Lars Mytting, Anne B. Ragde, Johan Harstad and Geir Gulliksen took part. It was a full house at both events – a wonderful experience!
Please read our summary and see pictures from Leipzig here:
https://www.norway2019.com/en/news/highlights-leipziger-buchmesse-2019.
If you want to see the festival-experience, minute-by-minute, you can take a look at MyStory archive on our Instagram account @norwegianliterature. You can also follow us on our Facebook page for our German speaking audience @norwegen2019.
The hashtag for the project is #norwegen2019.
We are looking forward to our spring program in Germany, which has many great literary and cultural events in store. For an overview, please take a look at the events section of the website norway2019.com!