News from NORLA
Eighth season of NORLA's Translators Hotel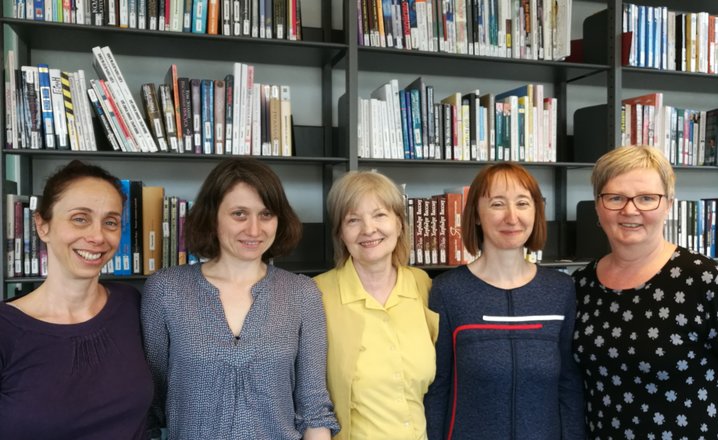 From the left: Dana Caspi, Elke Ranzinger, Sanda Tomescu Baciu, Daniela Mrázová and NORLA's Torill Johansen, who administers the Translator's Hotel scheme. Photo: Mette Børja
Today, NORLA had the pleasure of welcoming four new translators to Oslo for the eighth season of our translators hotel at Hotell Bondeheimen.
The four translators are:
Dana Caspi (Hebrew)
Elke Ranzinger (German)
Sanda Tomescu Baciu (Romanian)
Daniela Mrázová (Czech).
We look forward to spending the next two weeks in their company!
Two of the translators are currently working on Maja Lunde's The History of Bees, one is translating A Modern Family by Helga Flatland and one is currently translating Berge by Jan Kjærstad.
During their stay in Oslo the four translators hope to meet literary agents in order to learn even more about Norwegian literature in several genres. Some are also hoping to meet the authors they are translating, or will be translating. One of them is looking for contemporary Norwegian short stories for a forthcoming anthology, another is looking for great new books that may be of interest to the publishing houses she is cooperating with. A third is a professor and teaches Norwegian at University level in addition to being a translator, and is looking forward to discussing new projects with NORLA. A fourth is a dramaturg as well as a translator, and she is hoping to discovering new, Norwegian drama that might suit theatres in her own country.
The translators will have several opportunities to get to know Oslo better and will hopefully enjoy being surrounded by all things Norwegian. We also hope they will be able to take part in several literary events during their stay, as well as throrough visits to bookshops.
And last but not least we know that they are looking forward to getting to know each other and to exchange experiences.
All four translators will also be having work stations in our office, so we look forward to seeing them almost daily.
The Norwegian Ministry of Foreign Affairs contribute towards NORLA's translators hotel scheme.
Read more about our translators hotel and previous seasons here.