News from NORLA
Frankfurter Buchmesse 2019 Summarized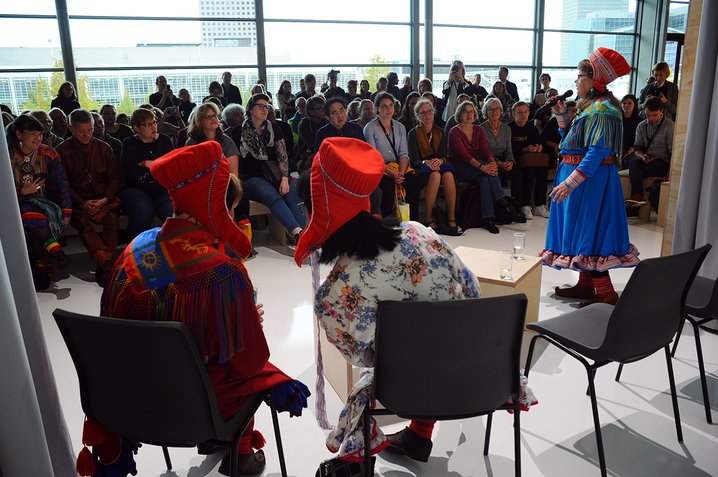 From the left: Inga Ravna Eira, Biret Risten Sara and Karen Anne Buljo at Frankfurter Buchmesse, Stage 2 in the Guest of Honour Pavilion. Photo: Sabine Felber
We are happy to share some key figures from Norway as a Guest of Honour at this year's Frankfurter Buchmesse. NORLA's Guest of Honour project report will be presented in the first quarter of 2020:
- 510 titles from or about Norway in the German-language market in the autumn of 2018 – 2019. 296 translations, hereof 229 new, from 217 publishers.
- 100 authors from Norway took part in the Frankfurt Book fair, 198 authors participated in a program in Germany, Austria or Switzerland in 2019.
- 100,000 guests came to the Guest of Honour pavilion.
- In 2019 there were 1,120 literary or cultural events in the German-speaking area in connection with Norway as Guest of Honour. There were 120 literature programs in the Norwegian pavilion, 30 at other venues at the fair and over 40 in the city of Frankfurt.
There were also 60 cultural events in city during the fair week. There were 700 literature events taking place in 108 venues, organized in collaboration with 358 partners, including over 200 bookstores. In addition, 170 cultural events took place outside the fair grounds.
- In October, 8,385 articles about Norway as a Guest of Honour were printed in German-language media, there were 1084 radio programs, 262 TV shows, 3,256 online issues. In all, Norway as Guest of Honour was mentioned 14,997 times.
Watch or listen to program posts from the book fair
For all those who were unable to be in Frankfurt – or who were there but unable to attend everything – we have compiled recordings of the program posts, the author's opening speeches – and pictures from the Guest of Honour Pavilion and the many events which took place around the trade fair area.
You can experience it all here