News from NORLA
February greetings from the Frankfurt team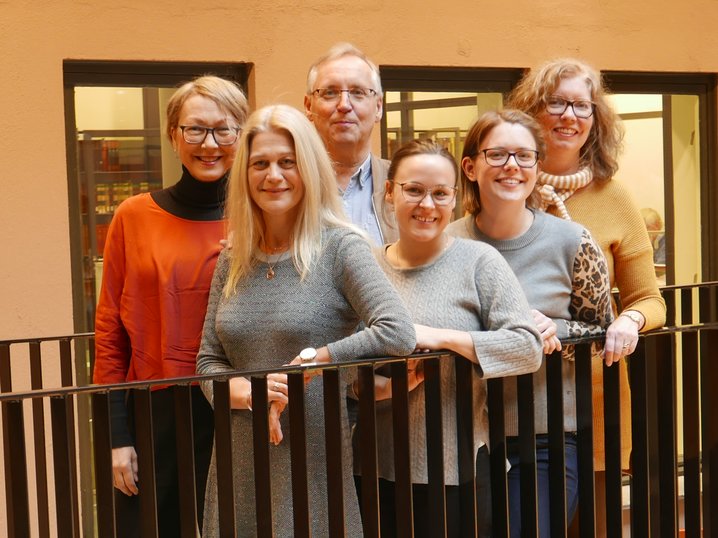 From the left: Marit Ingvill Sande (Coordinator Cultural Programme), Margit Walsø (Director), Halldór Gudmundsson (Project Manager), Sunniva Adam (PR Officer), Ellen Trautmann Olerud (Project Assistant), Andrine Pollen (Coordinator Literary Programme). Photo: Dina Roll-Hansen
In 2019 Norway will be Guest of Honour at the Frankfurt Book Fair. The project involves hundreds of literary and cultural programs in Germany throughout 2019 and culminates at the Frankfurt Book Fair in October 2019. NORLA and the Frankfurt team, together with a number of partners, will be using 2018 to ensure that Norway makes the most of our Guest of Honour year!
2017 was the year in which the project team was complete; the website Books from Norway was launched; 70 publishers, mainly from Germany, visited Norway; translation seminars were organised and NORLA had another record year. In 2017, NORLA granted support for 538 titles. 52 of these were translations into German – a big increase from recent years. The increase testifies to the large and concerted efforts made by the Norwegian book industry to strengthen rights sales approaching the Guest of Honour year.
2018 is the year in which the cultural and literary program will be finalised, the project's visual profile and channels will be clarified, press tours will be conducted and the design of the pavilion will be decided. 2018 is also the year in which Norway will take over the role from Georgia as a Guest of Honour – we are very much looking forward to the last day of the Frankfurt Book Fair this year.
Only a month into the year and so much has happened already. In January we have, among other things, announced an open architecturalcompetition for the design of Norway's Guest of Honour pavilion at the Frankfurt Book Fair 2019; we have announced funds for participation in the cultural program; we have celebrated that Books from Norway includes over 1000 titles; and we have been visited by 15 German publishers. We are also preparing for a strong Norwegian presence at the Leipzig Book Fair in March and at the London Book Fair in April.
We are extremely grateful for the commitment and willingness to contribute which we have been met with in Norway and Germany. From the book industry, cultural institutions, promoters, organisations, business, politicians and government agencies. These valued partnerships will make themselves noticed during an all-encompassing, entertaining and momentous year as a Guest of Honour in 2019.
We look forward to a hectic spring!
Warm regards from Halldór Guðmundsson and the Frankfurt team