News from NORLA
Happy Sami National Day!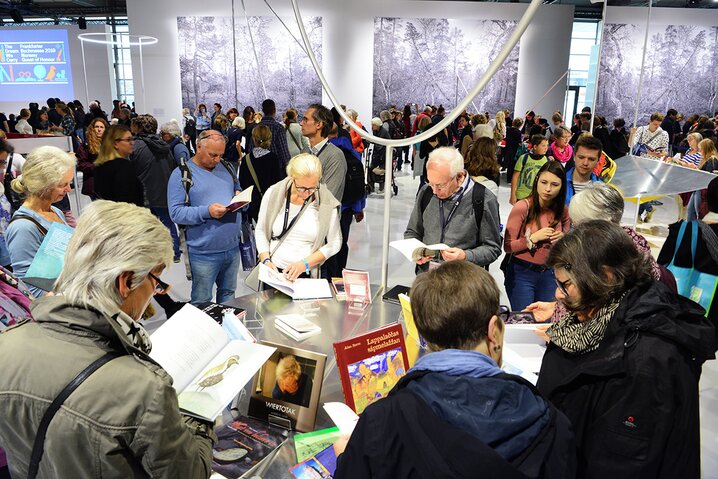 There was a great interest in Sami books in the Norwegian Guest of Honour Pavilion at the 2019 Frankfurter Buchmesse.
Today is the Sami National Day, and everyone at NORLA offers our warmest congratulations to all our Sami friends and the Sami people: Læhkoeh biejjine – Vuorbbe biejvijn – Lihkku beivviin – Gratulerer med dagen!
We are celebrating with a throwback to the Sámi program during Frankfurter Buchmesse 2019. We got to experience Sámi literature, culture, music and joik. We also had a table dedicated to Sámi books, both in translation and original.
Click here to see our main stage program "Music and Literature" with poetry and joik. Enjoy!
We also recommend the Book Fair's official Guest of Honour film from Norway's pavilion, which includes Sámi joik from 03:40 mins. and a soundtrack by Elle Márjá Eira – who also performed at the opening ceremony of the fair.
Watch the film here.
Read more
Learn more about Sami literature at our Guest of Honour website norway2019.com.
See the book covers of Sami literature translated into other languages through NORLA's translation subsidy at our Flickr account.
And see presentations of Sami books in Books from Norway.
Read about the Sami National Day
We also recommend the joint Sami bibliography for Norway, Sweden, Finland and Russia available courtesy of the Norwegian National Library
(All photos: Sabine Felber)