News from NORLA
Huge venture by German-language publishers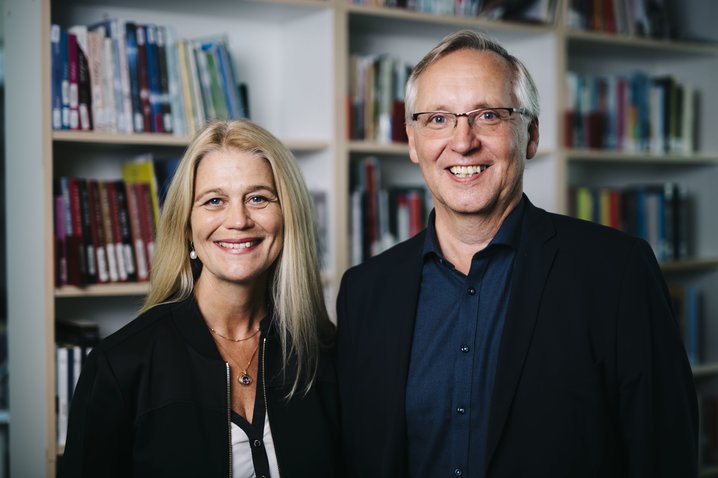 NORLA's Director Margit Walsø and Project Manager Halldór Guðmundsson. Photo: Fartein Rudjord
400 publications from and about Norway in German in 2018/2019!
Norway's status as Guest of Honor country at the Frankfurt Book Fair this year has led to a record interest in literature from and about Norway in German-speaking countries. From September 2018 to December 2019, German-language publishers will have released 400 titles from and about Norway. The translators are making a formidable effort.
"It's a pleasure to see the immense interest from the German-language publishing world; as many as 175 publishers are releasing books from and about Norway in 2018/2019. It really goes to show the value of the Book Fair's Guest of Honor status as a springboard for many authors and books," says Halldór Guðmundsson, project manager for Norway as Guest of Honor at the Frankfurter Buchmesse.
By comparison, Iceland had 230 and Finland had 215 titles when they were Guest of Honor countries in 2011 and 2014, respectively.
The 400 titles include publications of new books by Norwegian authors, books about Norway by Norwegian and German authors, new releases, and pocket editions.
Literary quality
Promoting stories and authorship from Norway is an essential part of the host country project.
"Literature from Norway has held a strong position in Germany for a long time and testifies to Norwegian authors' ability to capture foreign readers. The Guest of Honor status strengthens the position of Norwegian literature in Germany. Now, German readers have access to a record number of titles and new authors to get to know and enjoy in the future. We can thank the authors and their stories for that, which the literary agents do an outstanding job of selling internationally," says Margit Walsø, director of NORLA.
Strategic work
German-language publishers know that the literature coming from the Guest of Honor country receives a great deal of attention. In the years leading up to the Guest of Honor project, agents, translators from Norwegian, and NORLA have worked strategically to raise awareness of Norwegian titles in the German market.
As many as 70 German publishers visited Norway in 2017 and 2018. On their brief but intensive visits, they had the chance to meet a number of authors and agents. The result of which we are now seeing.
The list can be downloaded here.