News from NORLA
High level of international activity during the Norwegian Festival of Literature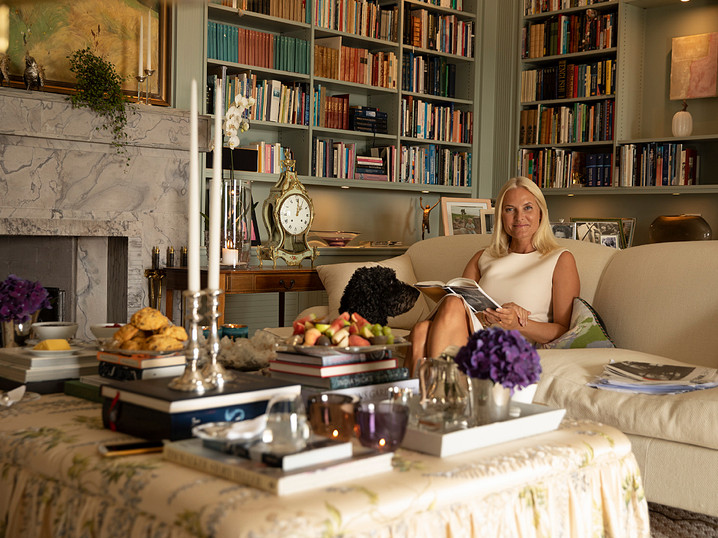 HRH Crown Princess Mette-Marit at Skaugum. Photo: Sigurd Fandango, The Royal Court.
This week The Norwegian Festival of Literature takes place in Lillehammer. And from May 25th to the 28th, NORLA arranged a number of webinars for our international contacts. We are proud to be the Norwegian Festival of Literature's partner for this year's innovation Lillehammer Rights.
This year's digital meetings celebrated the launch of Lillehammer's new rights centre with an official opening by HRH Crown Princess Mette-Marit, who is the ambassador for Norwegian literature abroad. The Crown Princess also appeared in conversation with the author Gulraiz Sharif – at a meeting which took place at her official residence, Skaugum.
Watch the opening ceremony of the new rights centre here (in Norwegian)
Watch the conversation between the Crown Princess and Sharif here (in Norwegian)
NORLA's Lillehammer program began with a translation workshop with the author Anne Sverdrup-Thygeson, which took a look at her latest book Tapestries of Life. Six translators from five countries participated. The Nordic countries are the theme for this year's festival so NORLA invited representatives from Nordic publishing houses to take part. Three webinars, devoted to various genres, were attended by 31 guests who conducted over 150 so-called speed-dating meetings with Norwegian agents and rightsholders.
NORLA has collaborated with the Norwegian Festival of Literature since it was first held in 1995. So it is with great pleasure that, thanks to the festival, we can offer free digital festival passes to those participating in Digital Lillehammer Rights. In addition, NORLA has shared 50 digital festival passes to various translators around the world, thereby giving them access to the streamed program.
We hope that in 2022 we can welcome more of our participants to the physical rights centre Lillehammer Rights!
Read more
Read more about the festival, which lasts until Sunday, May 30th here (this year the events are in Norwegian only)
More about the Crown Princess' commitment to literature here