News from NORLA
Highlights: Frankfurter Buchmesse 2018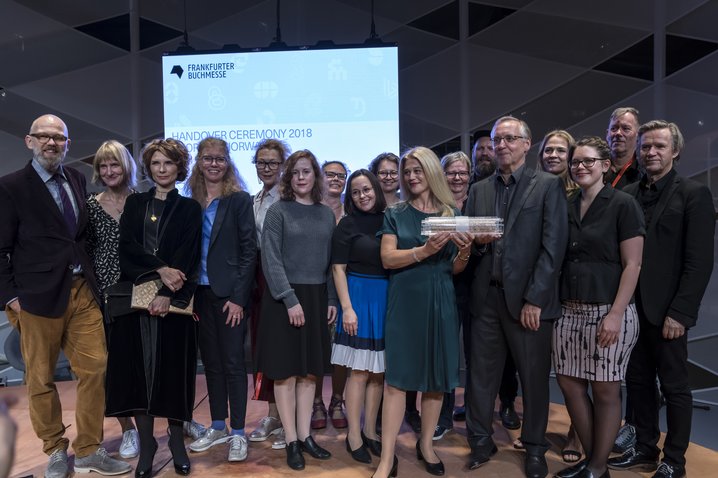 Photo: Siegbert Kastaun
What a wonderful week!
We are looking back on days filled with exciting meetings and events at Frankfurter Buchmesse 2018. After Sunday's Handover Ceremony, Norway officially is Guest of Honour.
See pictures below for highlights of our week and interesting people we met.
Press conference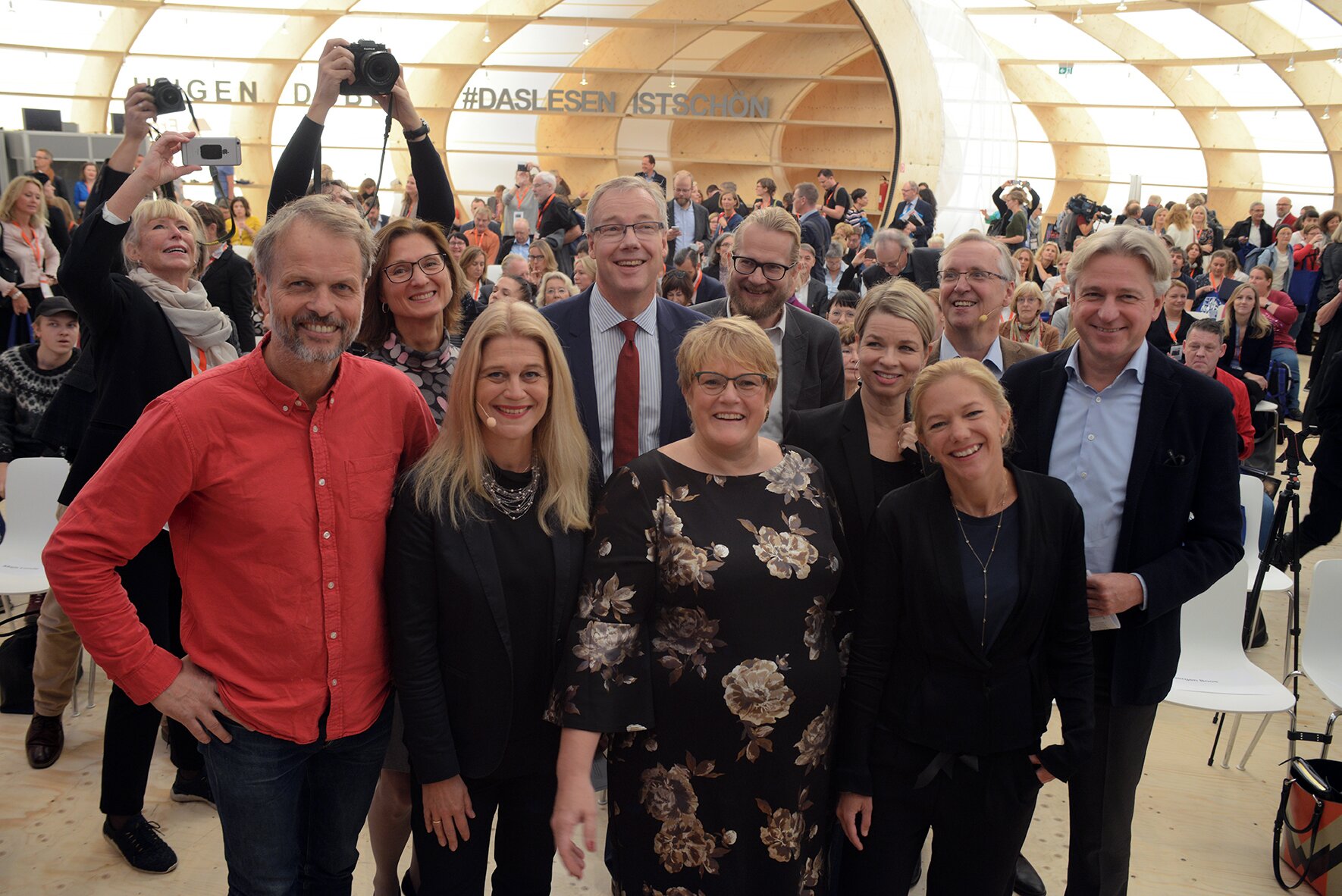 The press conference was an amazing experience for us. There were 350 attendants! Never before have this many attended a Guest of Honour country's press conference.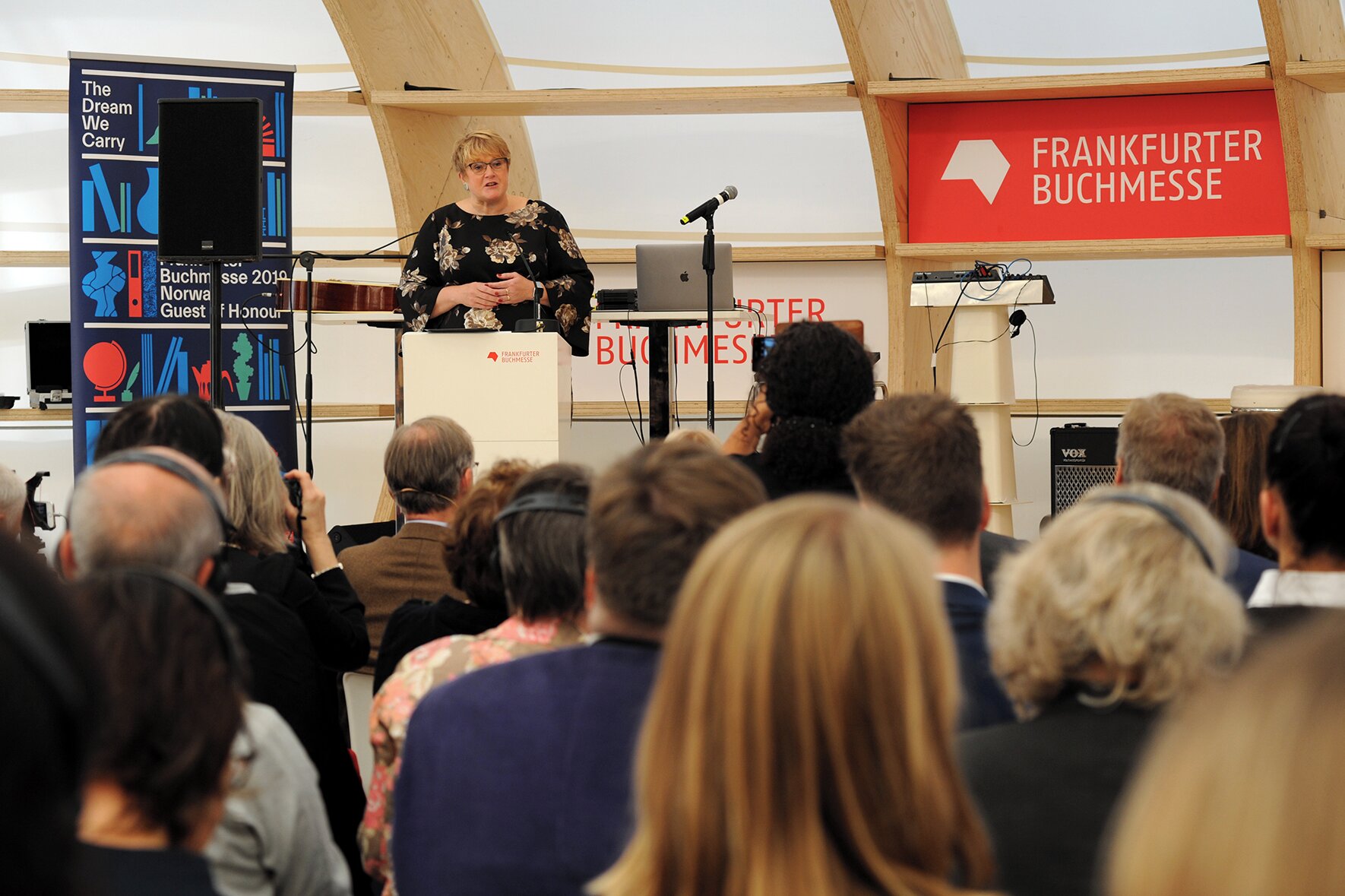 The audience experienced speeches from Juergen Boos, CEO and President of Frankfurter Buchmesse, Trine Skei Grande, Norway's Minister of Culture and from Halldor Gudmundsson and Margit Walsø, the Project Manager and the Director of NORLA.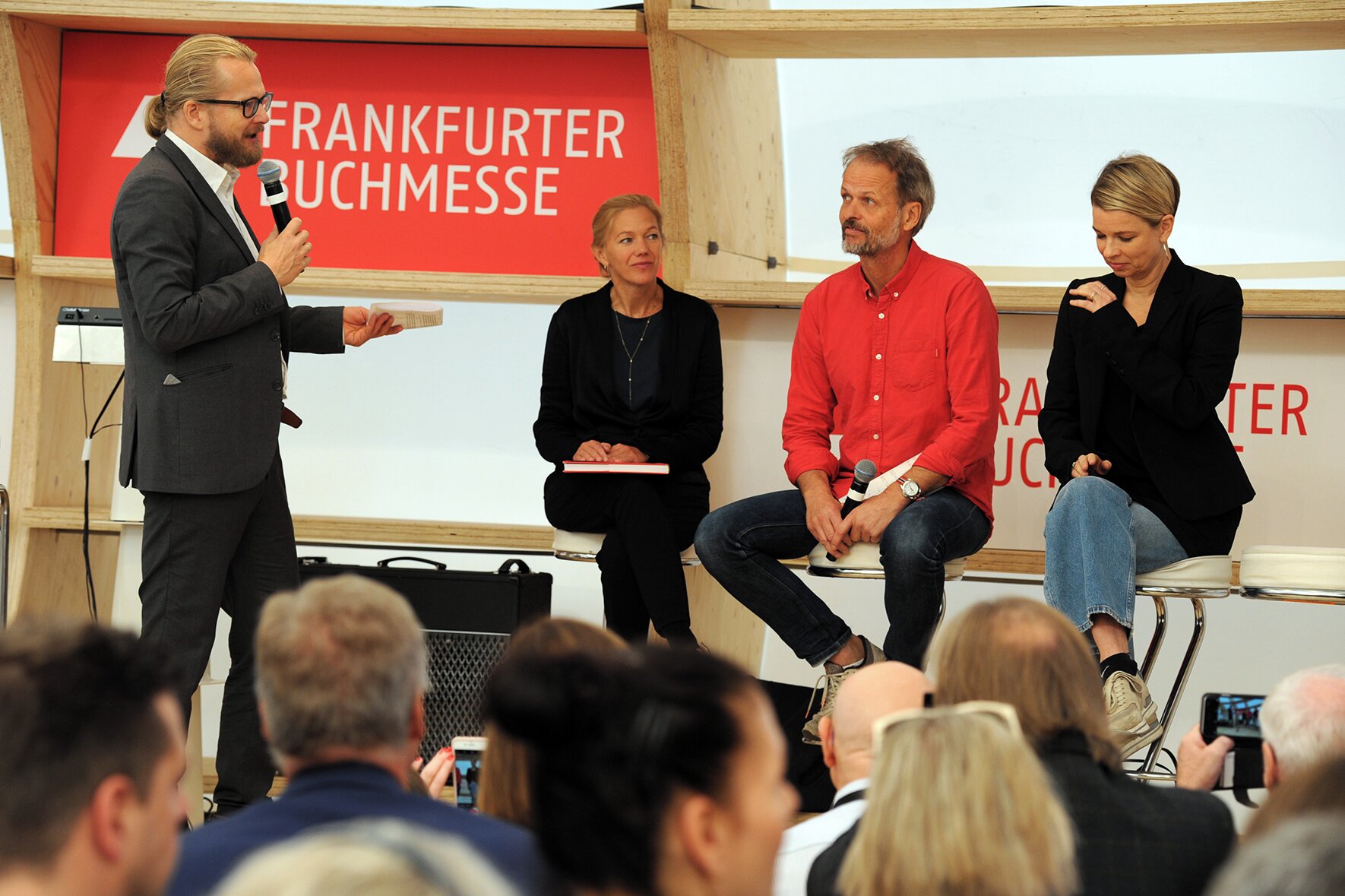 Additionally, three authors (Maja Lunde, Erling Kagge and Linn Ullmann) took part in a conversation with Aslak Sira Myhre, the director of the National Library of Norway.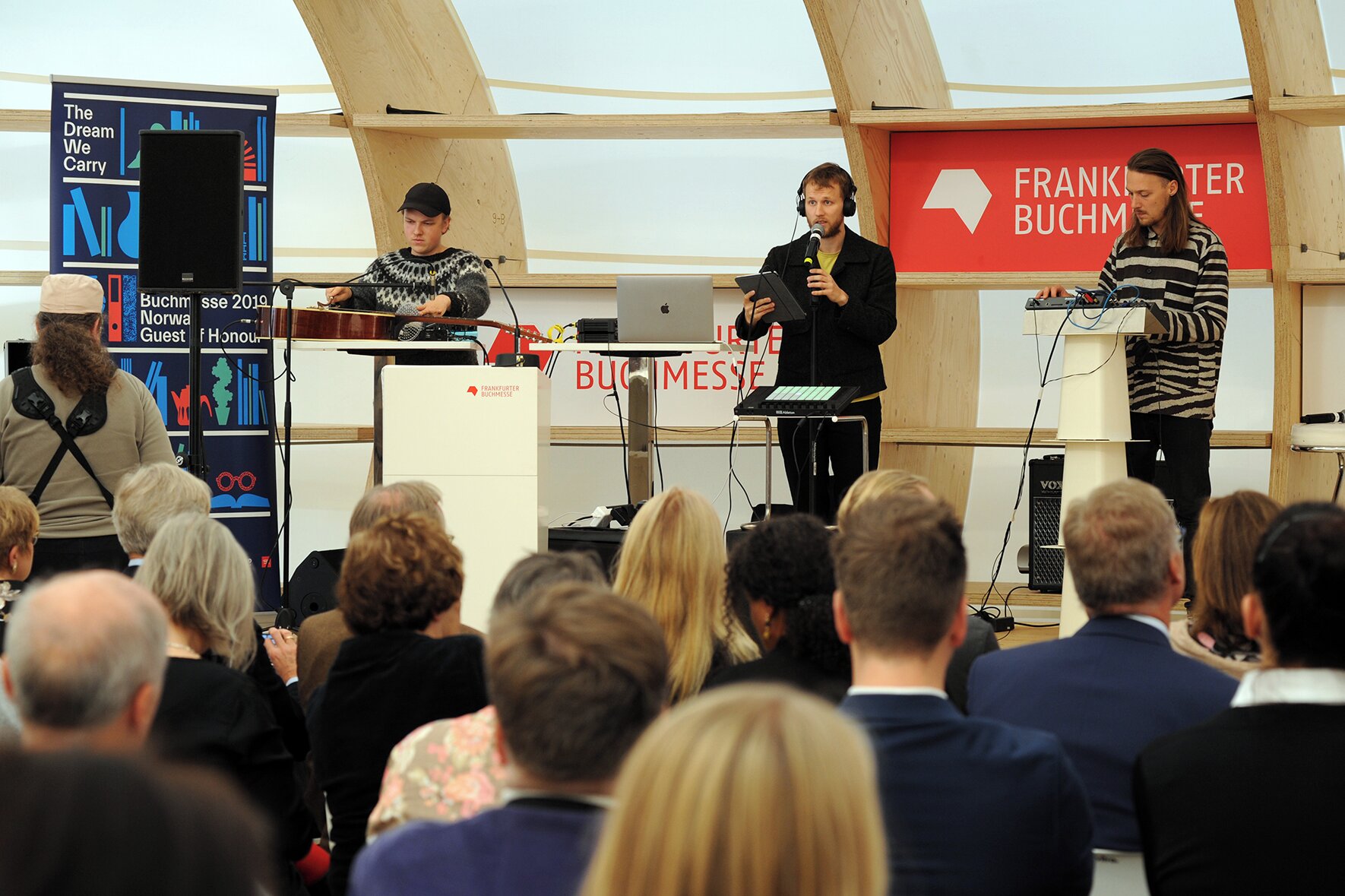 The musical performance at the press conference 11 October was given by Ferdigsnakka with Bendik Baksaas, Jo David Meyer Lysne and Fredrik Høyer.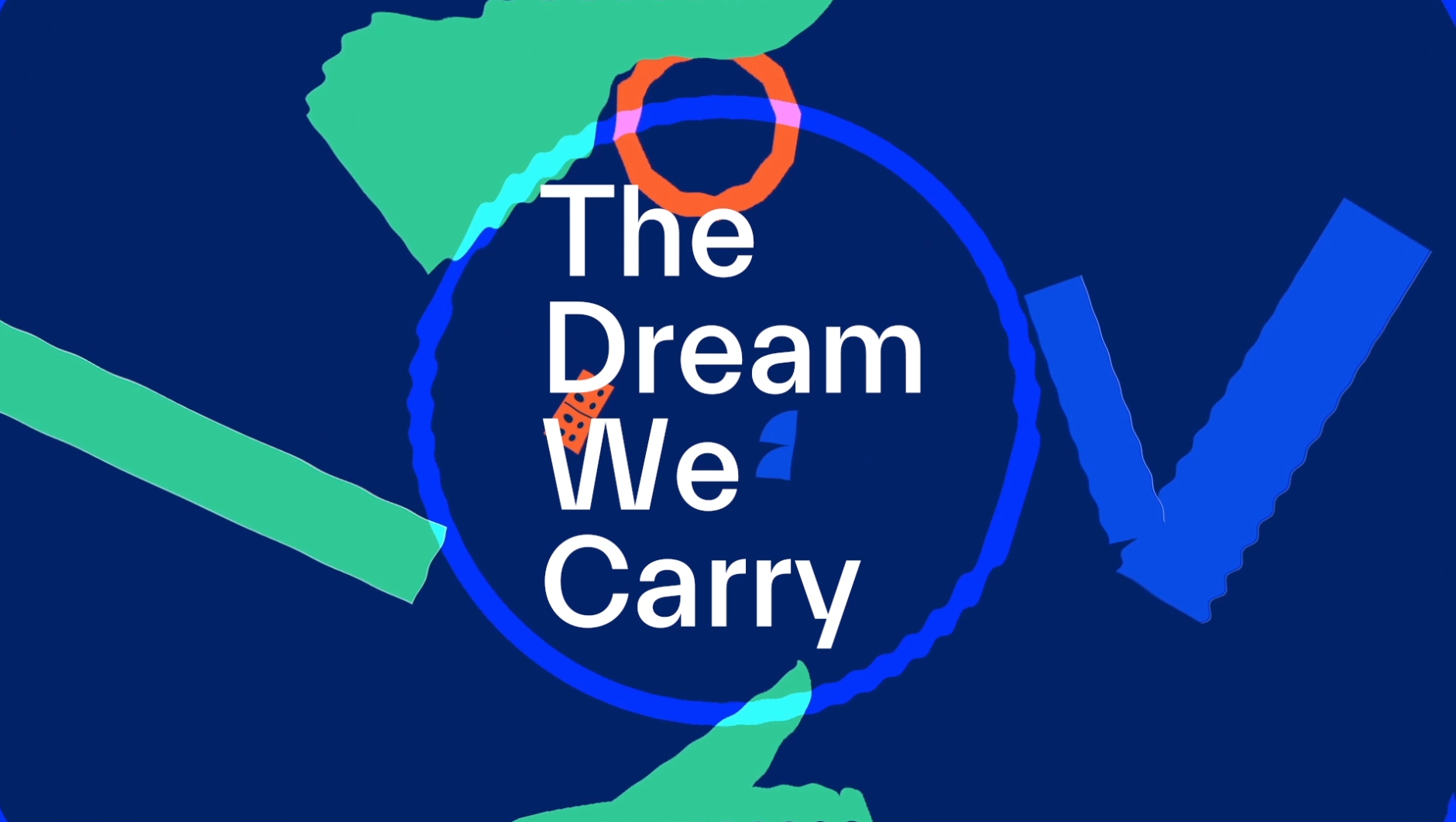 "The Dream We Carry" is Norway's motto as Guest of Honour at Frankfurter Buchmesse 2019 derives from the poem "It Is That Dream" by the beloved Norwegian poet Olav H. Hauge. In our film you can experience this poem. The soundtrack in the film is created by Ferdigsnakka with Fredrik Høyer, Jo David Meyer Lysne and Bendik Baksaas. The poem is read in Norwegian by Fredrik Høyer. The film is created by NODE Berlin Oslo in collaboration with Steph Hope and Martin Sverdrup. The poem is translated into English by Olav Grinde and into German by Klaus Anders.
The German version of the movie can be found at our new Facebook-page
See the press conference here
NORLA's Translator's Award 2018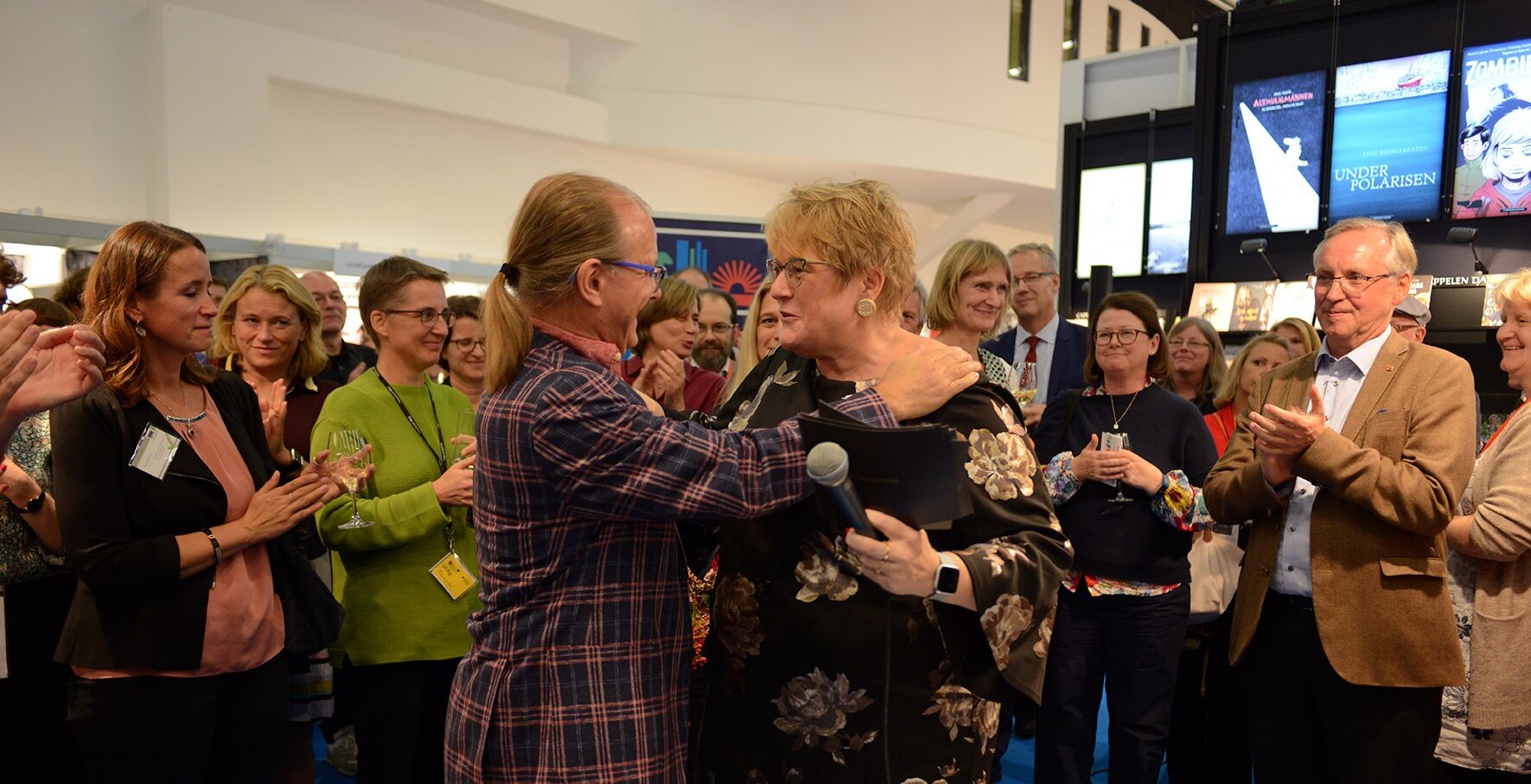 During a reception at the Norwegian common stand, Trine Skei Grande, Norway's Minister of Culture, handed out NORLA's Translator's Award 2018 to German translator Frank Zuber.
Handover Ceremony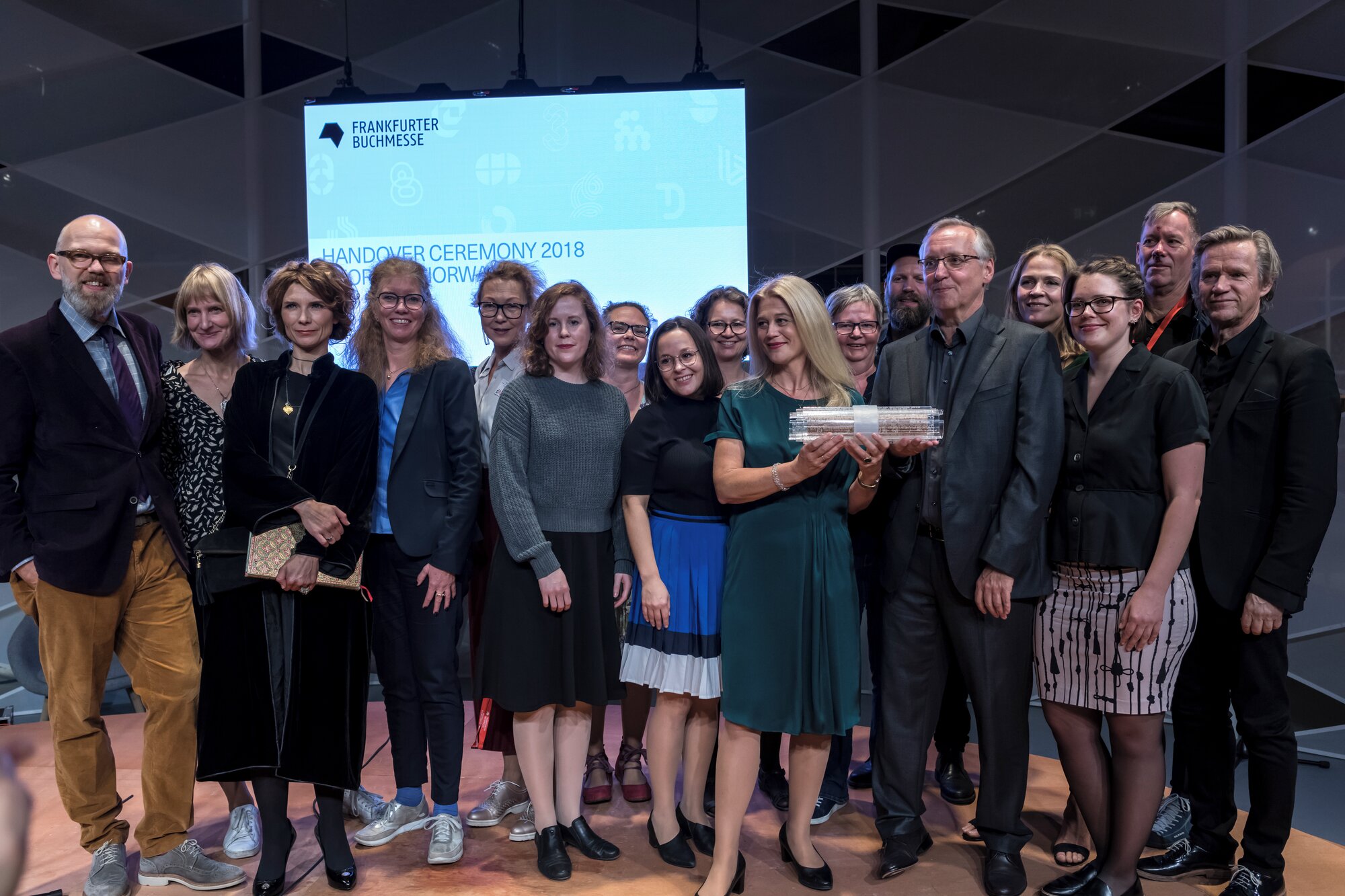 The Handover Ceremony was a moving event with fantastic speakers and musicians which marked the official start for Norway as Guest of Honour at Frankfurter Buchmesse. We are thankful to the Georgian Guest of Honour team and to Frankfurter Buchmesse.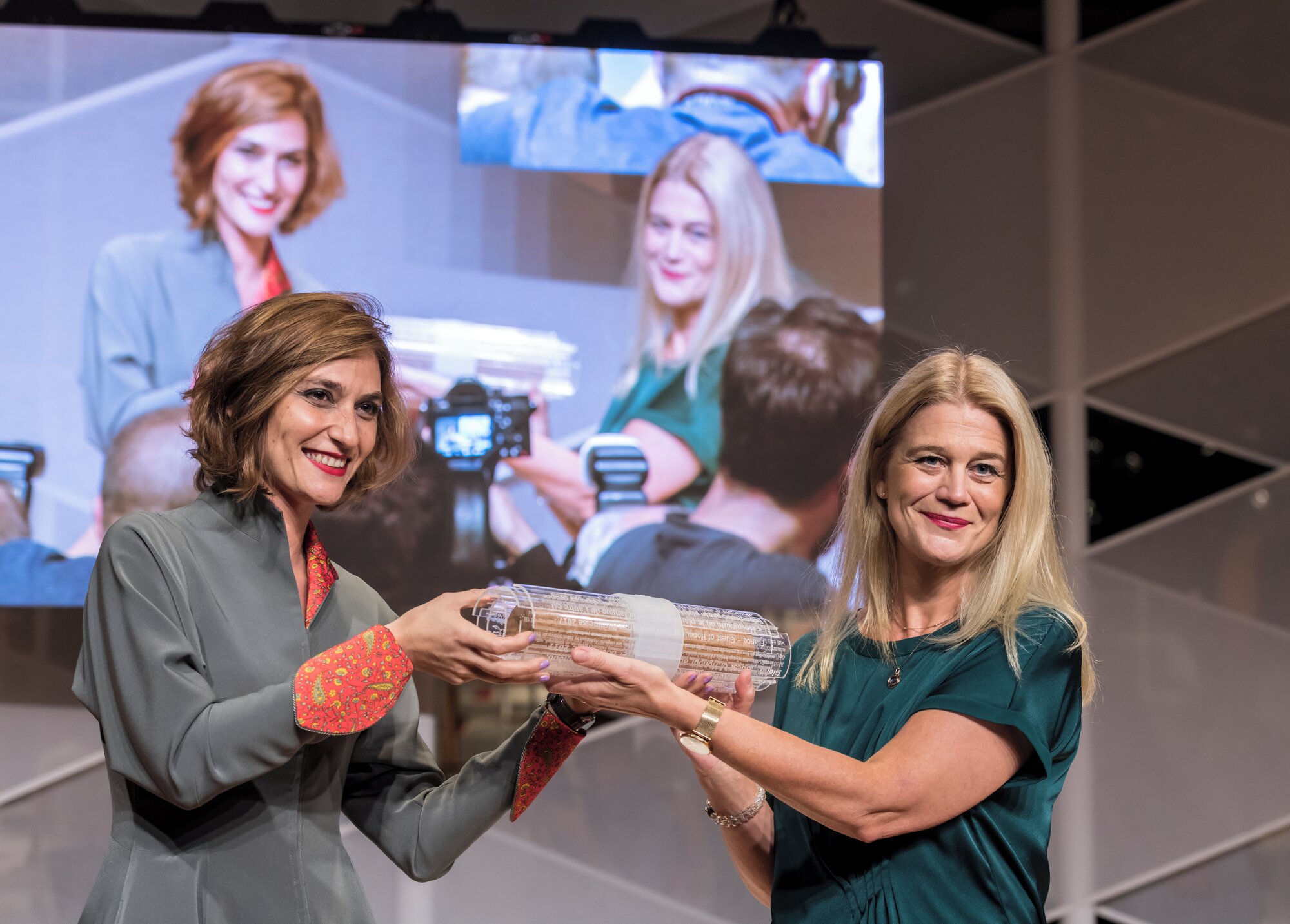 Margit Walsø, Director of NORLA, receives the Guest Scroll from Medea Metreveli, director of the Georgian National Book Center.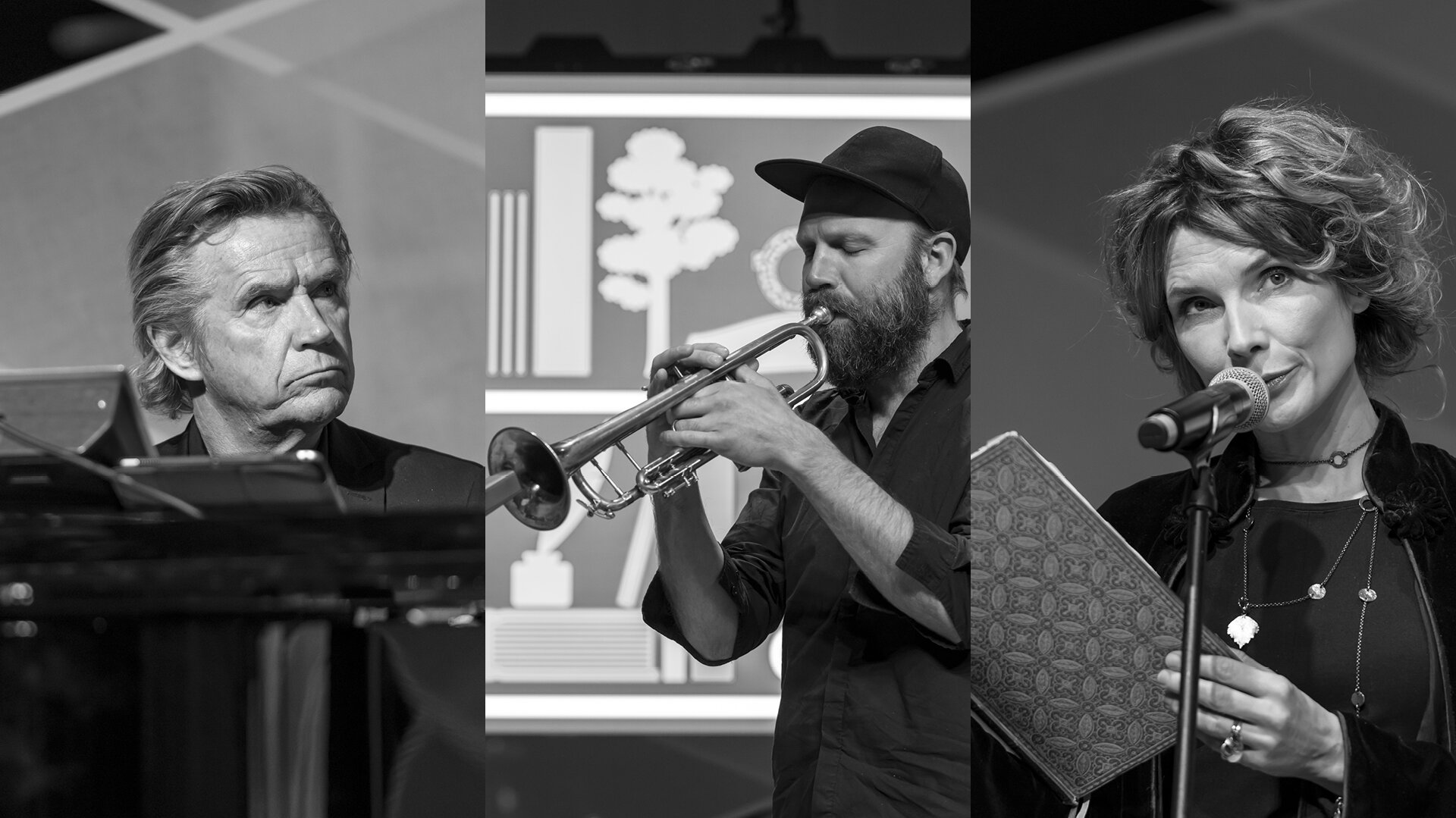 Musicians Kjetil Bjerkestrand, Mathias Eick and Herborg Kråkevik performed during the Handover Ceremony.
See the whole ceremony (starting at approx. 12 mins) here
Sponsors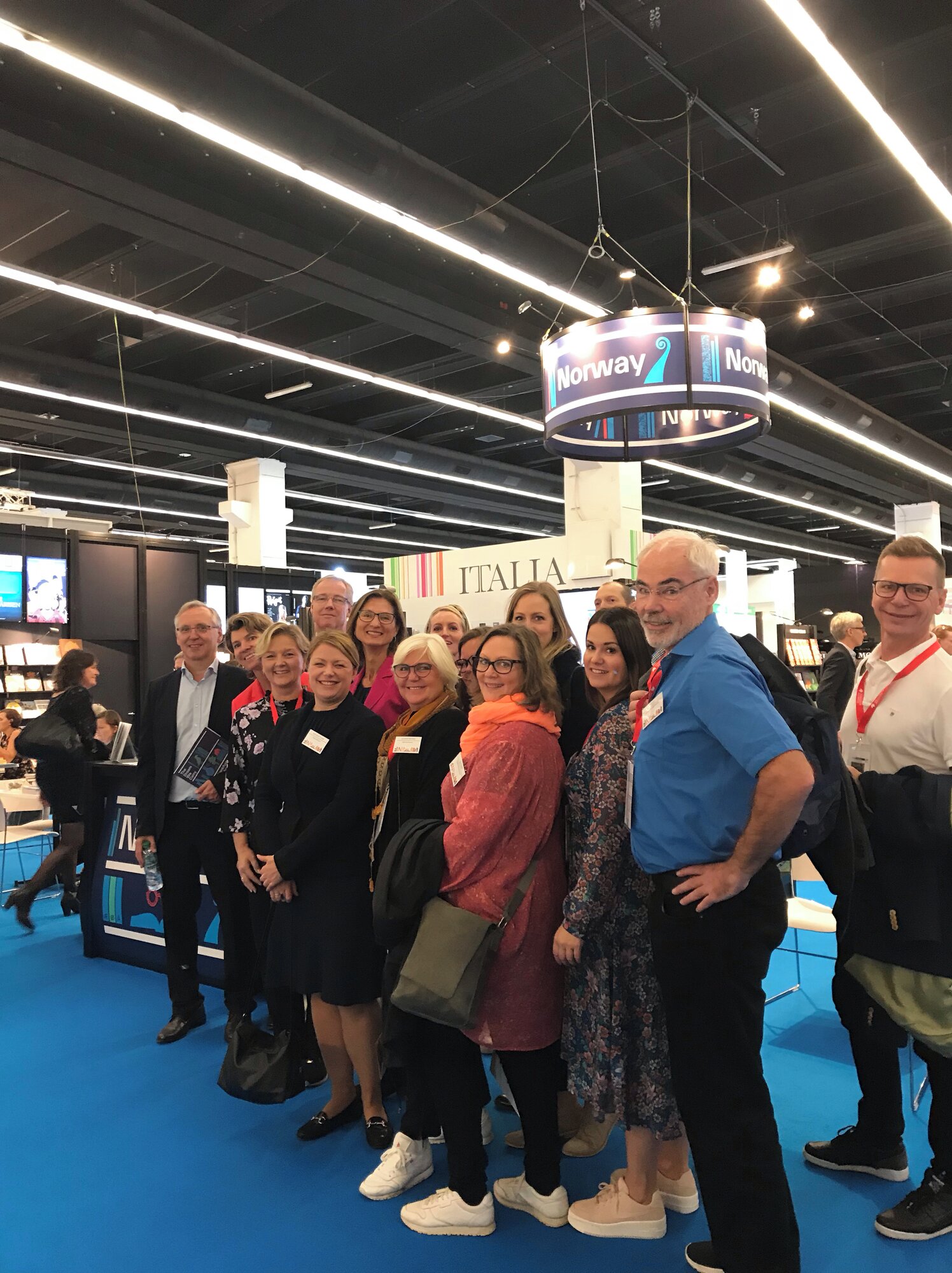 Our sponsors, partners and collaborators are crucial for making the most out of the year as Guest of Honour! Wednesday 10 October we had great guided tours together with representatives from our sponsors. We experienced Frankfurter Buchmesse and Museum Angewandte Kunst (MAK) together. Additionally, we met with State Secretary Marianne Hagen at the Norwegian common stand. Our main sponsors are Thon Hotels, Norway Health Tech, Oppland Fylkeskommune and The City of Oslo. Vestre and Visit Norway are event sponsors connected to the exhibition at Museum Angewandte Kunst in 2019 "House of Norway".
More pictures
See more snapshots from the busy bookfair week in our Insta-stories here