News from NORLA
Jury work is under way!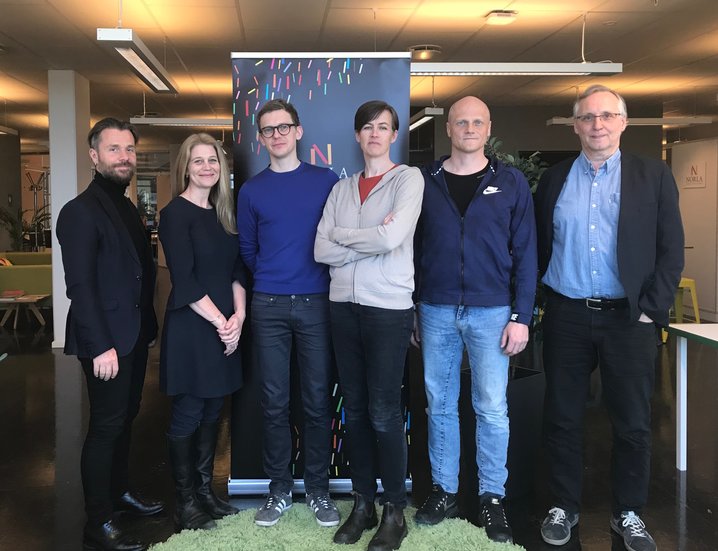 From the jury's first meeting. From the left: Gisle Nataas, Margit Walsø, Espen Røyseland, Ingerid Helsing Almaas, Stian Hole and Halldór Guðmundsson.
The Guest of Honour pavilion is the most visually important part of The Frankfurt project. In January, NORLA and DOGA announced an open architecture competition for the pavilion's design. 66 proposals were approved for further consideration, and in early April the jury met for the first time.
Jury leader and project manager Halldór Gudmundsson has been very excited about the competition and all the incoming proposals. On Friday, April 6, the first jury meeting was held.
– The jury meeting has been very inspiring and educational. I'm humbled and impressed at the level of the work that has been put into the proposals. I'm very much looking forward to the next stage of the process, says Halldór.
The jury will meet several times during the spring to assess the incoming proposals. The jury has been assembled to ensure the best possible evaluation of the proposals, and consists of members from a wide range of academic expertise.
The members of the jury are:
• Halldór Gudmundsson. Jury leader and project manager for The Frankfurt Project (engaged by NORLA).
• Margit Walsø. Director of NORLA.
• Ingerid Helsing Almaas. Architect MNAL, and Senior Advisor at The Norwegian Centre for Design and Architecture (DOGA).
• Espen Røyseland. Architect MNAL, appointed by Norwegian Architects Association.
• Stian Hole. Author and Illustrator.
The role of jury secretary is taken care of by Gisle Nataas, architect MNAL/Competition Manager NAL, of the Norwegian Architects Association.
The winner of the competition will be announced towards the end of May 2018.