News from NORLA
Large-scale launch of Norwegian books in China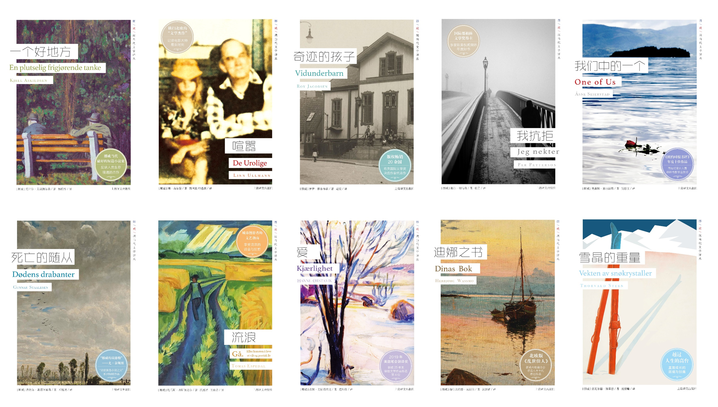 Wednesday, August 14th was a big day for Norwegian literature: ten Norwegian books were released during Shanghai International Literature Week. The books are being published by Shanghai Translation Publishing House.
"Over the past five years, Norwegian literature has experienced a huge increase in popularity in China. It's mainly been literature for children and young adults – illustrated books in particular – and non-fiction for adults. It's therefore especially gratifying that Shanghai Translation Publishing House's efforts are now giving Chinese readers access to a wide selection of Norwegian novels in addition to an important non-fiction book," says Margit Walsø, director of NORLA.
Author Roy Jacobsen is traveling to Shanghai with Walsø to attend the launch. He then has a comprehensive program in both Shanghai and Beijing. The launch is taking place in close cooperation with the Norwegian Consulate in Shanghai and Shanghai Translation Publishing House.
"The books were selected by the publisher after they visited Oslo and Bergen, where they got the chance to meet a number of Norway's foremost authors and their literary agents. It's wonderful that Norway's Guest of Honor initiative at the Frankfurt Bookfair has had a ripple effect in other languages as well," says Walsø.
Children's book author and illustrator Åshild Kanstad Johnsen is also participating in the Shanghai Book Fair with a diverse program of her own. Her books about Kubbe have been translated into Chinese. The Fair has a special focus on children and young adult literature.
The ten titles currently being released are:
Åsne Seierstad: One of Us (En av oss), translated from the English by Qian Siwen
Thorvald Steen: The Weight of Snow Crystals (Vekten av snøkrystaller), translated from the Norwegian by Shen Yunlu
Roy Jacobson: Child Wonder (Vidunderbarn), translated from the English by Zhao Yi
Linn Ullmann: Unquiet (De urolige), translated from the English by Guo Guoliang and Ye Yiqi
Per Petterson: I Refuse (Jeg nekter), translated from the English by Zhang Yun
Tomas Espedal: Tramp (Or the art of living a wild and poetic life) (Gå. Eller kunsten å leve et vilt og poetisk liv), translated from the Norwegian by Shen Yunlu and Wang Yanyan
Gunnar Staalesen: The Consorts of Death (Dødens drabanter), translated from the English by Deng Yuexian
Hanne Ørstavik: Love (Kjærlighet), translated from the French by Fan Weiwei
Kjell Askildsen: A sudden liberating thought (En plutselig frigjørende tanke), translated from the German by Yang Zhizi
Herbjørg Wassmo: Dina's Book (Dinas bok), translated from the Norwegian by Shen Yunlu
Event at the 2019 Frankfurt Bookfair
The publication of the ten books will be featured during this year's Frankfurt Book Fair in a program at the Norwegian Guest of Honor Pavilion in Forum, Level 1. Here, the publisher will participate in a conversation with authors Roy Jacobsen and Hanne Ørstavik.
Join us on Friday, October 18th from 10:00 to 10:30!
See the Frankfurt event, which was live-streamed, on our YouTube-channel.
Read more
More about the launch in Publishing Perspectives.
Norwegian literature and NORLA in China
*The last few years have been unmatched with regards to the spread of Norwegian literature in China and Taiwan. More and more authors are achieving success among Chinese readers and critics alike.
There's a particular interest in children's books and non-fiction.
Read about NORLA's activities in China here.
*See the covers of the many Norwegian books published in Chinese with support from NORLA (since 2011) here.
*For the major Chinese book fairs in Beijing and Shanghai in recent years, NORLA has produced informational material about relevant Norwegian titles in both Chinese and English.
See a selection from the last couple of years here