News from NORLA
New export program takes Norwegian literature abroad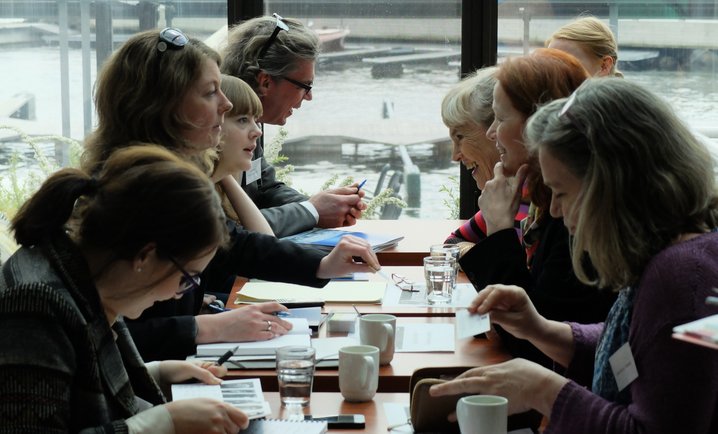 Norwegian literary agents meeting with translators. Photo: Ebba D. Drolshagen
Innovation Norway is launching a new export program in cooperation with NORLA, which will assist literary agents in selling more Norwegian literature abroad.
As part of the government's commitment to the cultural and creative industries, Innovation Norway has been commissioned to implement an export program for Norwegian literary agents in cooperation with NORLA. Literature Go Global (Litteratur ut i verden) will contribute to strengthening Norwegian literature's competitiveness in international markets; building solid agencies that can represent Norwegian authors internationally; and make use of the 2019 Frankfurt Book Fair, as a strategic arena for selling Norwegian literature.
– It is an honour to be able to announce the third export program for the cultural and creative industries. The demand for Norwegian literature abroad is strong and increasing. More and more Norwegian authors are taking part in international arenas, and an increasing number of titles are being translated into a growing number of languages. At the same time, the export potential of Norwegian industry players is significantly greater than what is currently being realised, says Margit Klingen Daams, head of creative industries at Innovation Norway.
Mapping Literature in figures shows that the Norwegian literature industry has a strong domestic market, with sales of more than 6 billion kroner during 2016, while exports account for a relatively small proportion of revenues. Despite the fact that export sales from books have increased by 13% since 2013, they amounted to only 125 million kroner in 2016.
Many of the authors who sell the most internationally are represented by foreign agents, and therefore the export value is assumed to be greater than that shown in the survey.
In connection with Norway being Guest of Honour at the 2019 Frankfurt Book Fair, the Norwegian publisher's agencies have strengthened their efforts and established several new agencies. Norwegian authors report that they are increasingly contacted by Norwegian agents wanting to represent them internationally. Literature Go Global will help to reinforce this development.
– It is wonderful that Innovation Norway are establishing an export program for the literature industry, which is being built up during the Norway as Guest of Honour at the Frankfurt Book Fair 2019 project. The Norwegian book industry already invests heavily in rights sales and the program will increase the industry's international opportunities and can contribute to a lasting strengthening of Norwegian literature exports, says Margit Walsø, director of NORLA.
Literature Go Global is based on the models and experiences from the export programs Games Go Global and Architecture Go Global.