News from NORLA
Ninth season of NORLA's Translators Hotel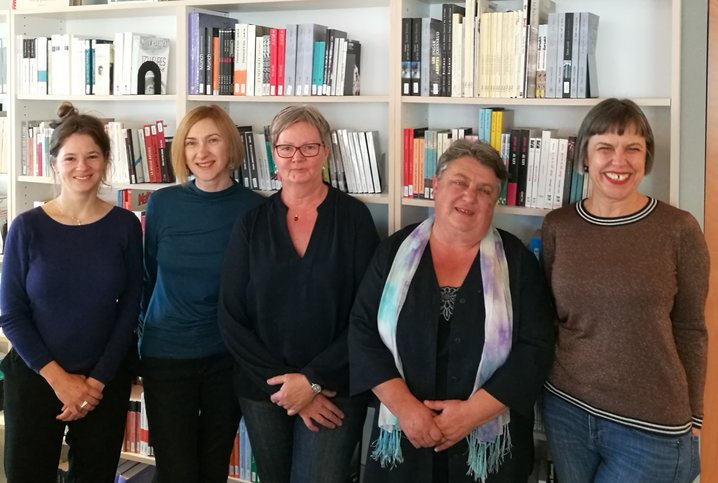 From the left: Aude Pasquier, Egle Isganaityte-Paulauskiene, NORLA's Torill Johansen – who administers the Translator's Hotel scheme – Natalia Ivanychuk and Kari Dickson.
Today, NORLA had the pleasure of welcoming four new translators to Oslo for the ninth season of our translators hotel at Hotell Bondeheimen.
The four translators are:
Aude Pasquier (French)
Egle Isganaityte-Paulauskiene (Lithuanian)
Natalia Ivanychuk (Ukrainian)
Kari Dickson (British)
We look forward to spending the next two weeks in their company!
The translators are currently working on Herbjørg Wassmo's novel The One Who Sees (in Norwegian; Den som ser), Lotta Elstad's I Refuse to Think (Jeg nekter å tenke) and Gudrun Skretting's award-winning children's novel Anton and Other Squares (Anton og andre flokkdyr). One translator is on the lookout for authors to be included in a forthcoming anthology.
During their stay in Oslo the four translators hope to meet with the authors they are translating, as well as literary agents and publishers in order to become updated on contemporary authors and great, new titles.
The translators will also have several opportunities to attend the many book launches and literary events taking place in the Norwegian "Book autumn" (bokhøsten), and we know they are thoroughly looking forward to this!
All four translators will also be having work stations in our office, so we look forward to seeing them almost daily.
The Norwegian Ministry of Foreign Affairs contribute towards NORLA's translators hotel scheme.
Read more about our translators hotel and previous seasons here.