News from NORLA
NORLA's translator's hotel is celebrating - here's to its 10th season!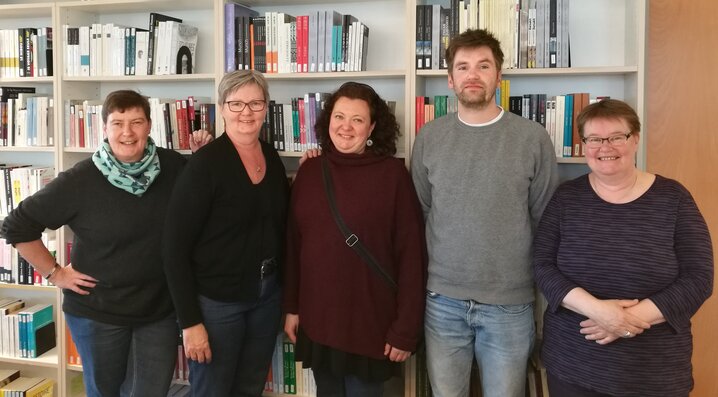 From the left: Ina Kronenberger, NORLA's Torill Johansen (who is reponsible for the Translator's Hotel scheme), Vera-Ágnes Pap, Stefan Pluschkat and Kaija Anttonen.
At NORLA we are happy to welcome four translators to Oslo and a two-week stay at Hotell Bondeheimen. And this spring markes a jubilee, as our guests take part in the popular scheme's tenth season!
The four translators are:
Ina Kronenberger (German)
Vera-Agnes Pap (Hungarian)
Pluschkat (German)
Kaija Anttonen (Finnish)
The four are currently working on translations of Dag Solstad's novel 16.07.41, Gerd Mikalsen's Farsmålet, Morten Traavik's Traitor's Guide to North Korea (Forræderens guide til Nord-Korea) and Per Petterson's Men in My Situation (Menn i min situasjon).
The translators look forward to meeting publishers and agents for updates and tips on new, great books. And since there are also many different literary events taking place in the following weeks, we hope they find inspiration!
They also have the possibility to use office spaces in NORLA's premises, so we are looking forward to spending a lot of time with them in the days to come.
We look forward to two pleasant and hopefully productive weeks in the company of the translators!
The translator hotel receives financial support from the Norwegian Ministry of Foreign Affairs.
Read more about our translators hotel and previous seasons here.