News from NORLA
NORLA's Translator's Award 2016 goes to Nargis Shinkarenko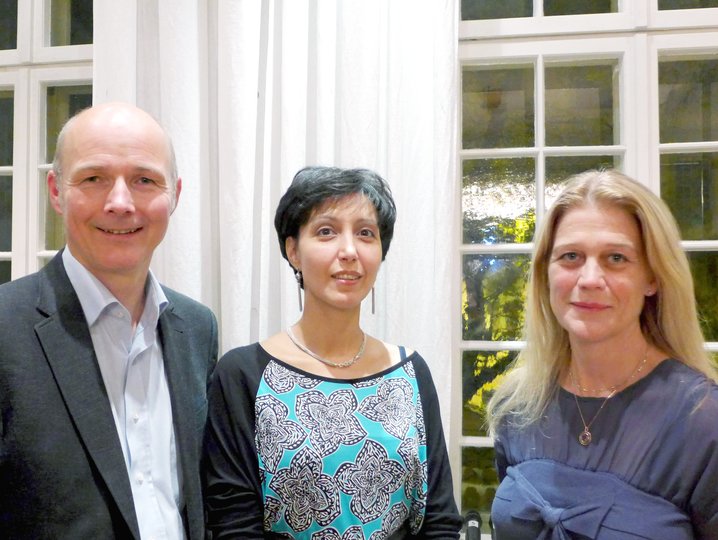 On September 29th in Oslo, during the celebration of St. Jerome, the patron saint of translators, the 11th recipient of NORLA's Translator's Award was announced. The award was established in 2007 to spotlight the work done for Norwegian literature by foreign language translators. The award is to be given to a talented translator and is intended as a measure to encourage the promotion of Norwegian literature.
The award is given annually and on an alternating basis to translators of non-fiction and fiction. This year's award is for non-fiction and the award recipient is Nargis Shinkarenko, who translates into Russian.
Translators are often invisible, particularly when they do a good job, and this is perhaps the case to an even greater extent for non-fiction translators. But the translation of non-fiction requires great precision, a substantial amount of specialized knowledge and frequently entails a lot of research. What makes Nargis Shinkarenko's translation work unique is her professional expertise. She is a trained psychologist, something which finds clear expression in her translations. In addition to having translated works on philosophy by Lars Fr. H. Svendsen, she has worked in particular on the transmission of Norwegian non-fiction literature on psychology in Russia, including the works Mobbingens psykologi. Hva kan skolen gjøre ("The Psychology of Bullying") by Erling Roland, Selvfølelsen hos barn og unge ("The Self-esteem of Children and Adolescents") by Guro Øiestad and Psykopatens grep ("The Psychopath's Grasp") by Aud Dalsegg and Inger Wesche. All these books fill a vacuum in the Russian book market and represent an important educational contribution.
In addition to being highly proficient both professionally and linguistically, Nargis Shinkarenko is a passionate ambassador for Norwegian non-fiction in Russia. Behind each and every non-fiction title sold abroad, there is usually an enthusiastic soul who has invested a great deal of time and effort in finding a foreign publisher for precisely that book. This personal dedication is often pivotal to the publication of a book in another language and its subsequent meeting with new readers throughout the world. This is particularly the case for this year's award recipient, who has contributed to the publication of a number of Norwegian non-fiction books in Russia.
NORLA's Translator's Award comprises a cash prize of NOK 20,000 and a three-week stay at the author's apartment at The House of Literature in Oslo.

We congratulate Nargis Shinkarenko as the recipient of NORLA's Translator's Award for 2016!
You will find more information about NORLA's Translator's Award and a list of previous award recipients here.
(From the left: Per Øystein Roland, Senior Adviser of NORLA, Nargis Shinkarenko, Margit Walsø, Director of NORLA. Photo: Mette Børja)