News from NORLA
NORLA's Translator's Award 2017 conferred on Maike Dörries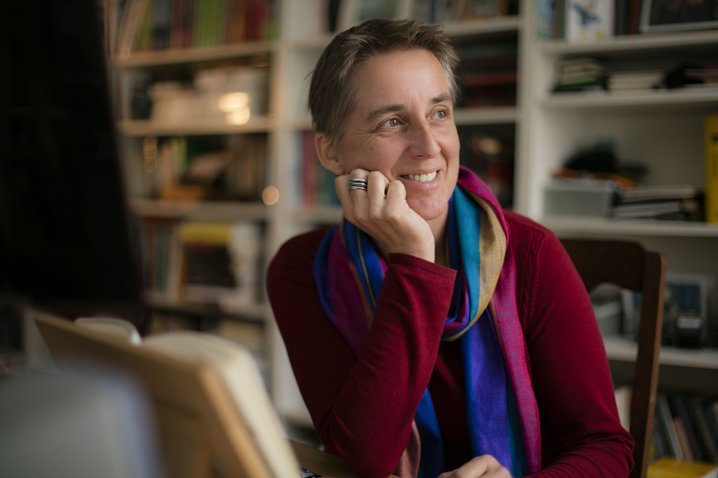 Photo: Johannes Vogt.
In conjunction with the celebration of the Feast of St. Jerome on 28 September in Oslo, NORLA's Translator's Award was conferred for the twelfth time.
The award is given annually to a translator of Norwegian literature and was established to spotlight the contribution made by foreign translators to Norwegian literature. The award shall go to a translation talent and is intended as measure to encourage the ongoing investment in Norwegian literature.
The award is given on an annually alternating basis to translators of fiction and non-fiction. This year's award is for fiction and the prize money comes from former NORLA Director Kristin Brudevoll's Anniversary Fund.
The translator's award comprises a cash prize of NOK 20,000, and a stay of to up three weeks in Oslo – at the author's apartment at The House of Literature in Oslo (subject to availability).
NORLA's Translator's Award for 2017 goes to Maike Dörries, who translates from Norwegian to German. She did graduate level studies in Scandinavian languages at the University of Göttingen, and started her career as an editor for children and young people's literature at a German publishing house. She did her first translation in 1989, and she has worked full time as a translator since 1998.
This year's award winner has translated literature from all genres – fiction, crime, handicraft books, and fact books, but the area in which she has most excelled is that of her extensive list of brilliant translations of books for children and young people. She has translated close to 200 titles from Swedish, Danish and Norwegian – more than 100 of these from Norwegian and very many of these books are children's books. Hilde Kvalvaag, Alf Kjetil Walgermo, Marit Kaldhol, Endre Lund Eriksen and Heidi Linde are just some of the authors whose work she made available to German readers.
The language of a children's book is to be recreated in the target language in a manner that will meet the young readers where they are, in their reality and in their language. This is an art form this year's winner wholly masters. For the first time, NORLA's translator's award is being conferred upon a German translator and it is particularly for the enormous investment she has made in the dissemination of quality Norwegian literature for children and young people that Maike Dörries is now being honoured.
We anticipate that Maike Dörries' work will contribute to the translation of even more Norwegian authors into German.
Congratulations on being honoured with NORLA's Translator's Award 2017!
Maike Dörries lives in Mannheim, Germany.
Read more
See all titles translated by Maike Dörries in this German Wikipedia entry.
In June and July, Maike was NORLA's Translator of the Month. Read our interview (in English) here.
More information about NORLA's Translator's Award and a list of former award winners can be found here.