2017-03-02
Norway Guest of Honour at the Book Fair in Frankfurt 2019 – NORLA building its project team
The increasing salience of Norwegian literature internationally of recent years continues and the focus on Norway at the Book Fair in Frankfurt 2019 provides the opportunity to further this success. NORLA will carry out this huge undertaking for Norway and collaborate with authors, publishers, agents, translators and culture institutions in Germany and Norway on the creation of an attractive and innovative culture programme that will involve all art disciplines and present an abundance of contemporary literature in all genres.
Halldór Gudmundsson assumed the position of project manager for the Norwegian Guest of Honour project on 01 March. Senior Advisor at NORLA, Andrine Pollen, will join the project team as literature coordinator. Joining them is Marit Ingvill Sande, who will function as coordinator for the culture programme in the coming year. The Norwegian project team will be supplemented by a PR executive and a coordinator who will succeed Marit Ingvill Sande starting in 2018. These positions will be announced at a later date. The project team for Frankfurt 2019 is a part of NORLA, and the project manager will report to NORLA's director.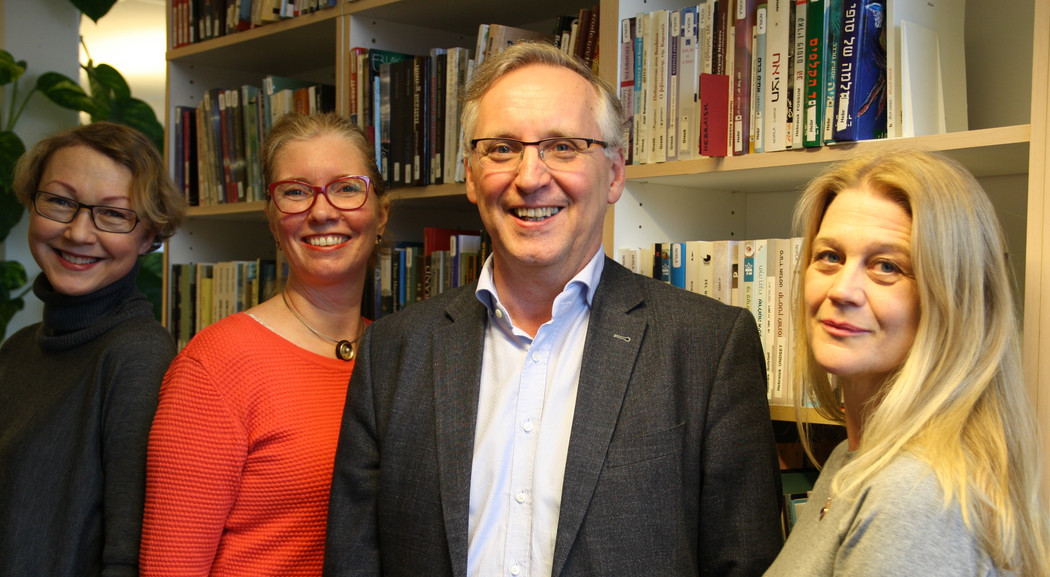 Background:
Halldór Gudmundsson was born in Reykjavik in 1956 and has extensive experience from the field of literature and culture in Iceland, including as head of the publishing compay Mál og menning. In the period 2008-2011 he was project manager and director of "Sagenhaftes Island" – Iceland's Guest of Honour project for the book fair in Frankfurt. Starting in 2012 he held the position of director of the Concert House Harpa in Reykjavik. (norsk sak: linke til bok365-intervjuet)
Andrine Pollen (dob 1968) has been employed at NORLA since 1997. She has a degree in Comparative Literature with German as one of her areas of specialization. She has extensive experience in the international dissemination of culture and the promotion of Norwegian literature and authors abroad. She has in-depth knowledge of translation and a broad network in the international and Norwegian book trades.
Marit Ingvill Sande (dob 1966) is employed at the Ministry of Foreign Affairs and was Assistant Director General of the Section for Cultural Affairs in 2013-2016. She was cultural attaché at the Norwegian embassy in Moscow during the period 2008-2013, and her education is in Slavic languages and culture, which she studied in Paris. At present, she is an observer at NORLA. She has extensive knowledge of Norwegian art, design and culture and a large international network.
NORLA, Norwegian Literature Abroad, promotes the export of Norwegian literature through active profiling work and translation subsidies. Norway as Guest of Honour nation in Frankfurt 2019 is financed through both state and private funds.
The Book Fair in Frankfurt is the world's largest and most important literary meeting place and every year singles out one country to be given a particular focus, including a separate pavilion at the Book Fair itself and a comprehensive activity programme. In addition to books and authors, the Guest of Honour nation's history, culture and trade and industry are spotlighted through a large number of events and press items, and there is no other venue in the world offering such a comprehensive, consolidated focus on a single nation.
Read more about the book fair in Frankfurt and about being Guest of Honour on the Book Fair's website.