News from NORLA
Norway – The Dream We Carry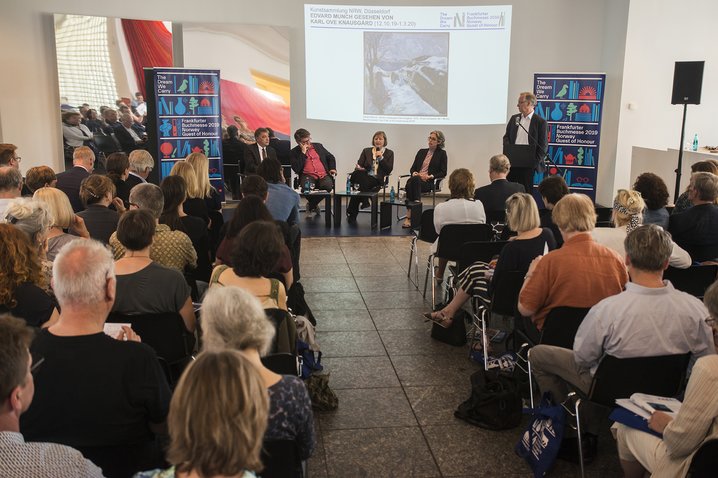 Project Manager Halldór Guðmundsson (right) interviewing (towards the left): Esther Schilcht (Schirn), Anette Kruszynski (Kunstsammlung NRW), Matthias Pees (Mousonturm) and Matthias Wagner K (MAK). Photo: Sabine Felber
The Guest of Honour at Frankfurter Buchmesse 2019 presented its extensive cultural programme, the concept for the Guest of Honour Pavilion and the list of authors who will attend the fair. Her Royal Highness The Crown Princess Mette-Marit will travel across Germany on a literary train tour in collaboration with Deutsche Bahn AG. Erika Fatland and Karl Ove Knausgård will speak at the fair's opening ceremony.
FRANKFURT. At a press conference held 4 June at Museum Angewandte Kunst, representatives from Norway presented the country in its role as Guest of Honour at Frankfurter Buchmesse 2019 (16 to 20 October). "The Dream We Carry" is Norway's slogan as Guest of Honour and it derives from the poem "It Is That Dream" by the poet Olav H. Hauge (1908-1994). Speakers at the press conference were Juergen Boos (President of Frankfurter Buchmesse), Petter Ølberg (Ambassador of Norway to Germany), Stein Olav Henrichsen (Director of the Munch Museum), Margit Walsø (Director of NORLA – Norwegian Literature Abroad) and Halldór Guðmundsson (Project Manager for the Guest of Honour 2019 presentation). Representatives of the collaborating German cultural institutions took part in a conversation led by Guðmundsson: Esther Schlicht (Exhibition Manager at Schirn Kunsthalle Frankfurt), Anette Kruszynski (Deputy Artistic Director of Kunstsammlung NRW), Matthias Pees (Artistic Director of Künstlerhaus Mousonturm) and Matthias Wagner K (Director of Museum Angewandte Kunst). Even Aleksander Hagen (County Mayor) and Jan Åge Fjørtoft (Head of International Relations) represented two of the project partners, respectively Oppland County and Thon Hotels.
The cultural programme
In addition to the literary programme, Norway will have an extensive cultural programme, encompassing fine art, performing arts, music, film and architecture. From 26 September 2019 to 12 January 2020, Schirn Kunsthalle, located in Frankfurt, will present an exhibition of 26 works by the textile artist Hannah Ryggen (1894–1970). From 11 October 2019 to 26 January 2020, Museum Angewandte Kunst will dedicate all of its exhibition space to the fair's Guest of Honour. As House of Norway, it will offer an outstanding collection of Norwegian art and culture, design, crafts and architecture. From 12 October 2019 to 1 March 2020, Kunstsammlung NRW in Düsseldorf will present "Edvard Munch as Seen by Karl Ove Knausgård". At Museum Wiesbaden there will be a retrospective of the painter Harald Sohlberg, performances of plays by Henrik Ibsen and Jon Fosse at Schauspiel Frankfurt, exhibitions dedicated to contemporary artists, and numerous concerts. Participants in the cultural programme in Frankfurt will also include Deutsches Architekturmuseum, Fotografie Forum Frankfurt, Portikus, Künstlerhaus Mousonturm and Deutsches Filminstitut Filmmuseum, among others.
"The cultural programme will surprise, excite and engage the public, and show Norway and Norwegian culture from a new angle. The extensive cultural programme we are presenting is the result of a wonderful collaboration between German and Norwegian cultural institutions. We are also looking forward to seeing the long-lasting impact of these collaborative projects in the coming years", said Margit Walsø, Director of NORLA.
Authors in Frankfurt
Erika Fatland and Karl Ove Knausgård will be the literary speakers at the opening ceremony of Frankfurter Buchmesse 2019. The journalist and author Erika Fatland speaks eight languages and has published several highly acclaimed books, including Sovietistan, which won the Norwegian Booksellers' Prize and has already been published in ten countries; her book Grensen (The Border) has just been published in Germany. Karl Ove Knausgård is perhaps Norway's most important contemporary author. His books, including his six-volume autobiographical project Min Kamp (My Struggle), have been translated into over 30 languages and have won multiple awards. Overall, more than 75 Norwegian authors are expected in Frankfurt during the fair, including Maja Lunde, Jo Nesbø, Dag Solstad and Maria Parr. The list of authors is available in the press kit which you can download here.
"This year, we will get to know Norway's vibrant literary scene, which I personally am looking forward to very much. We can learn a lot from this year's Guest of Honour: Not only are authors and translations in all genres receiving ongoing support, but reading itself is being given considerable attention in Norway as a foundation for every form of democratic interaction. This is apparent not least from the privileged position that libraries enjoy in the country. Personally, I am much looking forward to meeting authors like Tomas Espedal, Maja Lunde, Linn Ullmann and Karl Ove Knausgård and to making many literary and cultural discoveries this year", said Juergen Boos, President of Frankfurter Buchmesse.
The literary train
HRH The Crown Princess Mette-Marit is ambassador for Norwegian literature abroad. Through a wide array of activities and events the Crown Princess shows her engagement for literature and reading. One of these activities is the literature train in which the Crown Princess has travelled around Norway with annually visiting libraries and houses of literature. This year, for the first time, she will travel on a literary train tour outside Norway: The Crown Princess will arrive at Frankfurter Buchmesse with a literary train which will travel across Germany.
The literary train tour is a collaboration between the Norwegian Foreign Ministry, NORLA and Deutsche Bahn AG. On Monday, 14 October, the Crown Princess, who will first travel to Düsseldorf and Berlin, will board the train on its way to Cologne and will be joined by a group of schoolchildren. After Norwegian authors board the train in Cologne, it will continue on to Frankfurt.
"I'm proud and grateful for the unique opportunity to highlight Norwegian literature. I am looking forward to traveling across the country with some of our best authors and to getting to know German readers along the way. Of course, I'm also looking forward to representing Norway at the world's most important venue for literature and freedom of speech. Frankfurter Buchmesse is a one-of-a-kind opportunity to spread Norwegian literature to readers worldwide", said HRH The Crown Princess Mette-Marit.
"Germany and Norway have long shared a connection and mutually inspire each other through many cultural projects. We are like-minded neighbours with frequently coinciding political interests and values. We both believe in international cooperation, democracy, human rights and freedom of expression. We will use the Guest of Honour activities at Frankfurter Buchmesse, including the literature train of Her Royal Highness The Crown Princess Mette-Marit and the broad cultural programme, to deepen this partnership further", said Petter Ølberg, Norway's ambassador to Germany.
The Guest of Honour Pavilion
The winning design for the 2,300-square-metre exhibition hall was presented at the press conference. The concept, co-created by the two architecture firms LCLA and Manthey Kula, depicts an imaginary geography of Norwegian literature. The design combines an area for larger events and an extensive interior landscape of table-like objects that are both sculpturally abstract and narratively playful. The design is inspired by Norwegian poems and draws on details from the interiors of famous libraries – from Louis Kahn's study carrels in Exeter to Gunnar Asplund's water fountain in Stockholm. At the same time, the Pavilion includes space for the international exhibition "Books on Norway", stages for readings and and other programme events, as well as a café.
About the Guest of Honour
Norway is the Guest of Honour at Frankfurter Buchmesse 2019 (16 to 20 October 2019). The organiser of the Guest of Honour presentation is NORLA – Norwegian Literature Abroad, a role it has taken on at the request of the Norwegian government and the country's publishing industry. NORLA was founded in 1978 and has supported the translation of close to 5,500 Norwegian books into 65 languages since 2004 alone. The Guest of Honour presents its literature and culture at the fair, in the city of Frankfurt and at many other locations throughout Germany. The motto of Norway's appearance as Guest of Honour is "The Dream We Carry". Read more.
About Frankfurter Buchmesse
Frankfurter Buchmesse is the international publishing industry's biggest trade fair – with over 7,500 exhibitors from 109 countries, around 285,000 visitors, over 4,000 events and some 10,000 accredited journalists and bloggers in attendance. It is the most important international marketplace for content – from novels and children's books to academic databases and stories for films, games and virtual reality experiences. Publishing professionals from around the world meet here with partners from the technology sector and from related creative and cultural industries, sparking new partnerships and business models. A strong conference programme ensures that Frankfurter Buchmesse is a major source of inspiration for content experts from around the world. Since 1976, the book fair has featured an annual Guest of Honour country, which showcases its book market, literature and culture to attendees in a variety of ways. Frankfurter Buchmesse organises the participation of German publishers at around 20 international book fairs and hosts trade events throughout the year in major international markets. Frankfurter Buchmesse is a subsidiary of the Börsenverein des Deutschen Buchhandels (German Publishers & Booksellers Association).
You are welcome to visit the project website norway2019.com for an overview of the forthcoming events plus articles and more information about Norway's Guest of Honour project.
Visit us on Facebook: @norwegen2019 and Instagram: @norwegianliterature Hashtag; #norwegen2019
See pictures from the press conference in our Facebook album