News from NORLA
Norwegian picture book wins the BolognaRagazzi Award Opera Prima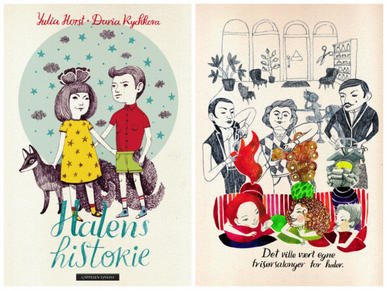 NORLA offers its warmest congratulations to author Yulia Horst and illustrator Daria Rychkova. Their picture book Tails Throughout Time (Halens historie) has won the 2014 BolognaRagazzi Award in the category Opera Prima, an award devoted to works by new authors and illustrators.
This is what the BolognaRagazzi Award jury said about the book:
"The Jury felt that this was an astonishingly mature and culturally literate debut. The book explores the proposal, 'what the world would be like if we all had tails?' Every aspect of life and relationships is explored in relation to this theme. Lovers gently and coyly entwine their tails, athletes build up their tail muscles in the gym while punks carefully groom theirs into the requisite spikey shapes. The artist skips between colour and black and white, drawing with an eye for anecdotal detail in human interaction."
Actes Sud Junior bought the French rights to Tails Throughout Time last year, and several other publishers are considering the book for publication.
Have a look inside the book here.
Tails Throughout Time is a shrewd and lexical text combined with classic and beautiful illustrations. It entices the reader to visit a hypothetical world – a world populated by people with tails! We see how tails can be used to convey emotions, how they can come in handy when we want to flirt a little, or even to poke fun at others. We gain an insight into how tails influence fashion trends and why some individuals have a strained relationship with their tail and take drastic steps in order to fit in with beauty ideals. But there's also a look at more day-to-day matters, such as how to exercise your tail and how to avoid your tail being stepped on.
Tails Throughout Time is a beautiful and charmingly outlandish picture book written in the style of a factbook, all about the history of the tail.
Only two Norwegian books have previously won the BolognaRagazzi Award, in 2007 the winner was Stian Hole's Garmann's Summer (Garmanns sommer) and in 2008 the winner was Øyvind Torseter's Detours (Avstikkere). Both books are published by Cappelen Damm.