News from NORLA
Open architecture competition for the design of the pavilion is announced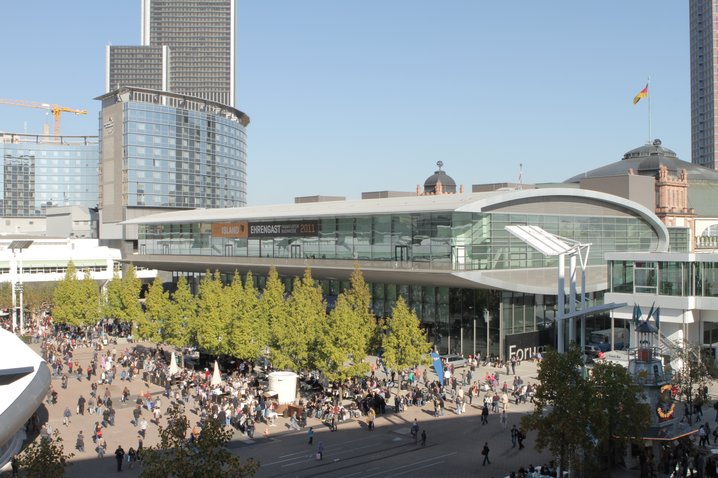 The photograph shows Forum, the hall in which the Guest of Honour pavilion will be constructed. The photograph was taken when Iceland was Guest of Honour in 2011. Photo: Thorsteinn J. Vilhjalmsson
In 2019, Norway will be the Guest of Honour at the Frankfurt Book Fair. The project is Norway's largest commitment to cultural-export, ever. As part of the Guest of Honour project, NORLA, in cooperation with The Norwegian Centre for Design and Architecture (DOGA), will launch an open architecture competition for the design of an indoor pavilion, which will be 2300 sqm. The competition was announced January 12 2018.
The Frankfurt Book Fair, Frankfurter Buchmesse, is the world's biggest book fair and the largest arena for cultural exposure in Germany. The book fair is held annually every October, and is attended by almost 10,000 journalists, and 300,000 visitors, who travel from over 100 countries. Each year, one country is the focus of the fair – as a Guest of Honour: In 2019 it will be Norway.
– The Guest of Honour project is a unique opportunity to showcase the best of Norwegian literature, and other art forms, internationally. The pavilion should be a window to Norwegian literature, it should be alive, playful, promote the joy of reading, and surprise a world audience, says Halldór Guðmundsson, NORLA's project manager for Frankfurt 2019.
NORLA and DOGA
NORLA – Norwegian Literature Abroad, is coordinating the Guest of Honour project in its entirety. NORLA is collaborating with DOGA to announce the open architecture competition for the design of the Guest of Honour pavilion.
– The pavilion is the most visually important part of the Guest of Honour project, and there are high expectations attached to it. For the winning team, the pavilion will serve as a business card and a possible gateway to further international work, says Tor Inge Hjemdal, acting Managing Director of DOGA.
Open architecture competition
NORLA and DOGA encourage interdisciplinarity in the teams.
– Interdisciplinarity in the teams can, for example, consist of designers, architects, landscape architects, industrial designers, scenographers and artists, says Guðmundsson.
The competition is announced as a single stage open architecture competition (in Norwegian, Plan- og designkonkurranse). The comeptition was announced January 12 2018. The Norwegian Architectural Association (NAL) will act as technical official.
All information about the competition is available at NAL's website (in Norwegian only).