News from NORLA
Prestigious translators' award to Hinrich Schmidt-Henkel
Earlier this week German translator Hinrich Scmidt-Henkel was awarded the Eugen Helmlé Award in Sulzbach in Saarland and NORLA congratulates him warmly!
Eugen Helmlé was a well known German translator from French, who has had this award named after him. The award is given for an "outstanding literary translation achievement by the translation from French to German or vice versa."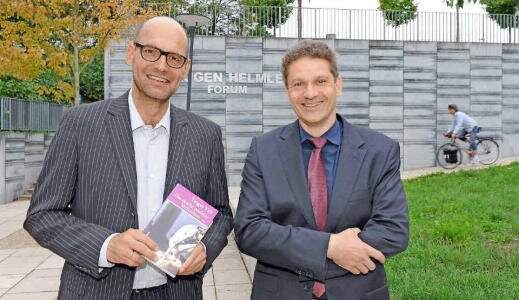 To receive this award is especially nice for Hinrich Schmidt-Henkel, as he grew up in Saarland, and Helmlé was the person who inspired and encouraged him to become a translator.
Hinrich tells Saarbrücker Zeitung that the first book he read, was the Norwegian children's book Folk og røvere i Kardemomme by (by Thorbjørn Egner), and he is equally known for his translations from Norwegian into German, by among many others Henrik Ibsen and Jon Fosse.
Read more (in German) here and here.
More about Hinrich Schmidt-Henkel (in German) here.
And see the impressive list of his translations of Norwegian literature here.
(Photo: From the left Hinrich Schmidt-Henkel and Florian Höllerer.
© Saarbrücker Zeitung)