News from NORLA
Seventh season of NORLA's translators hotel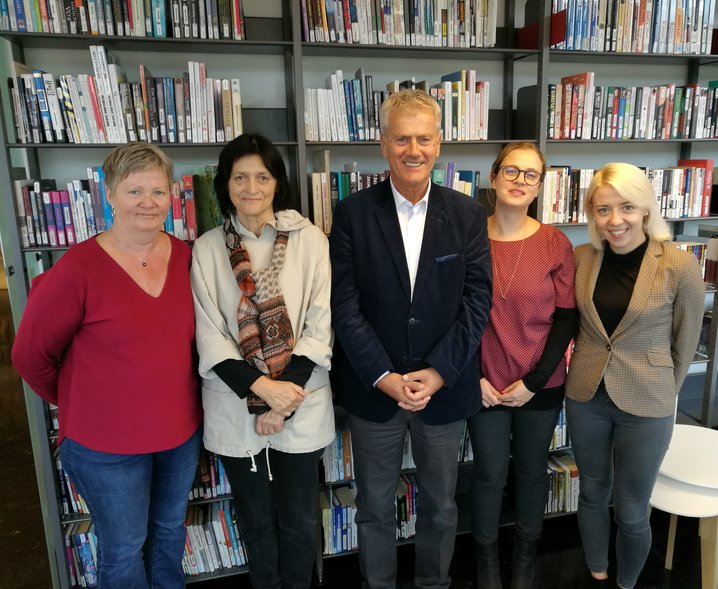 From the left: NORLA's Torill Johansen (who adiministeres the Translator Hotel scheme), Jarka Vrbová, Rasim Muratvic, Sara Culeddu and Agné Guigaité. Photo: Hege Langrusten
Today, NORLA had the pleasure of welcoming four new translators to Oslo for the seventh season of our translators hotel at Hotell Bondeheimen:
The four translators are:
Jarka Vrbová (Czech)
Rasim Muratovic (Bosnian)
Sara Culeddu (Italian)
Agné Guigaité (Lithuanian)
We look forward to spending the next two weeks in their company!
The translators are at present translating among others the following books: Arv og miljø by Vigdis Hjorth, Hanne Ørstavik's Det finnes en stor åpen plass i Bordeaux, Morten Strøksnes' Havboka and Politisk psykologi by Nils Johan Lavik and Nora Sveaas. One of them is also about to finish articles for Ny skandinavisk litteraturhistorie.
The four translators will during their stay in Oslo meet Norwegian publishers and literary agents in order to learn more about Norwegian literature in several genres. Some are also hoping to meet the authors they are translating, or will be translating.
The translators will have several opportunities to get to know Oslo better and enjoy being surrounded by all things Norwegian. We also hope they will be able to take part in several literary events and book launches during their stay, as well as visits to bookshops.
All four translators will also be having work stations in our office, so we look forward to seeing them almost daily.
Read more about NORLA's Translators Hotel and previous seasons here.