News from NORLA
Meet Iben Akerlie - Selected Title Author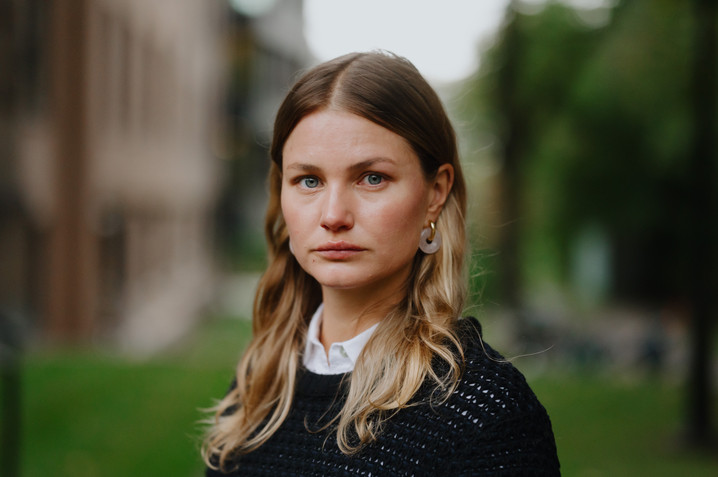 Iben Akerlie. Photo: Fartein Rudjord/NORLA
We are happy to present our selected title author Iben Akerlie. She has written The Summer Everything Happened (original title: Sommeren alt skjedde).
The book is one of NORLA's Selected Titles of the autumn 2022.
Read our short interview with Iben here.
What is the book about?
Nora is going to spend her summer vacation with a grandmother she doesn't know, far out in the countryside. Her grandmother is a retired war correspondent, and has prioritized her career over her family. Nora is dreading her visit, but when she meets Abbas, her days get brighter, and Nora notices something begin to stir in her body for the first time.
Abbas' parents came to Norway from Afghanistan twenty years ago. His mother died several years ago, and now he lives with his father and brother.
Pretty quickly, Nora realizes that there are different rules in the village for her and Abbas. Especially when they meet the owner of the local shop, Dorrit, who discriminates and spews casual racism.
Neither Nora nor Abbas talk about what's going on, because it's easier to just get along, and when the two of them are together, everything is perfect.
So perfect, that when Nora discovers that her grandmother was directly involved in the death of Abbas' mother, she chooses to keep it to herself, rather than disturb their idyll.
But when Dorrit discovers Nora and Abbas in the hunting lodge, and throws both hands and ugly words at Abbas, and Nora still doesn't act or stand up for Abbas, their friendship comes to an abrupt end.
The summer is almost over, but is there enough time left to make everything right again?
What inspired you to write this book?
In this book, I wanted to write about racism, but address the subject from a "white" point of view. About practicing anti-racism, how important it is, and the consequences of not being anti-racist.
Nora chooses an easy solution over the "right" one, as I believe many do, simply because you can. I think many may recognize themselves in Nora's choices and can follow the consequences, while at the same time, this is a story that hasn't been told much before — and not for this age group.
I also wanted to write about the things that are passed down through generations, about where we come from, about belonging, and about knowing who you are — and knowing your truth.
Read more
See full presentation of the book here
Read more about the author here
See all NORLA's Selected Titles for the autumn 2022 here