News from NORLA
Meet Nina Anderson Sjødal - Selected Title Author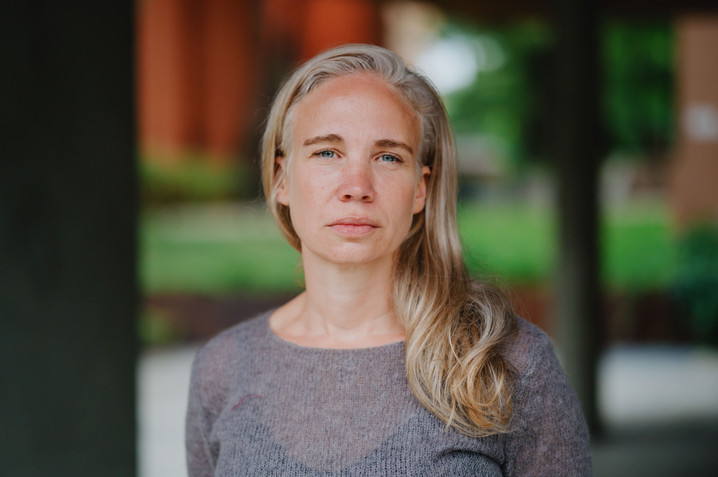 Nina Anderson Sjødal. Photo: Fartein Rudjord/NORLA
We are happy to present our selected title author Nina Anderson Sjødal. She has written Vilde's Drawer (original title: Vildeskuffen).
The book is one of NORLA's Selected Titles of the autumn 2022.
Read our short interview with Nina here.
What is the book about?
Vilde's Drawer is about 11-year-old Eline. She has a best friend called Thea. Eline and Thea like to sit in "their" tree during their breaks; there they can talk about anything and everything, get laughing cramps, and look down at the popular girl, Anna. They have invented a word only the two of them know the meaning of, SKVEAKIN'.
At home, Eline's family has a drawer in the kitchen they call "The Vilde Drawer". In the drawer lie baby bottles and dummies that belonged to her baby sister, Vilde, who died before she turned one. Even though it's been over a year since Vilde died, Eline's mother is still so sad she can't go to work. She can barely get up from bed and dress herself. Eline wants her mother to get it together and be normal, like Thea's mother.
To hide what her home life is like, Eline begins to lie about things. Thea can tell she's lying, and becomes angry and upset. She even starts hanging out with Anna … Eline does everything she can to get her best friend back. But it all just becomes a big mess.
What inspired you to write this book?
It started with a look back at my own childhood; I especially remember that pre-teen period being difficult. Like Eline, I had two best friends, and I was given an ultimatum by a girl in my class: you can only have one best friend, so I had to choose. Those were the rules. The sorrow of "losing" a good friend was deep. I wanted to try to describe how meaningful friendship can be, and the fear of being rejected if someone discovers your secret.
I also wanted to write about children and mental health. About death. About a family's grief. Eline reacts with anger when her mother has retreated. She feels unsafe without her mom steering the way. She wants a "normal" mother. Grief has taken up so much of her mother, that she's not quite able to see her daughter. She doesn't have the capacity to be present for her.
It was important to end the story with hope for Eline.
Read more
See full presentation of the book here
Read more about the author here
See all NORLA's Selected Titles for the autumn 2022 here