Norway is the Guest of Honour of the Book Fair in Warsaw 2022
Norway was Guest of Honour at the Book Fair in Warsaw on 26 – 29 May 2022. The book fair took place at the Palace of Culture and is the most important book fair in Poland. According to estimates, the Fair was visited by approximately 90,000 people, a new record.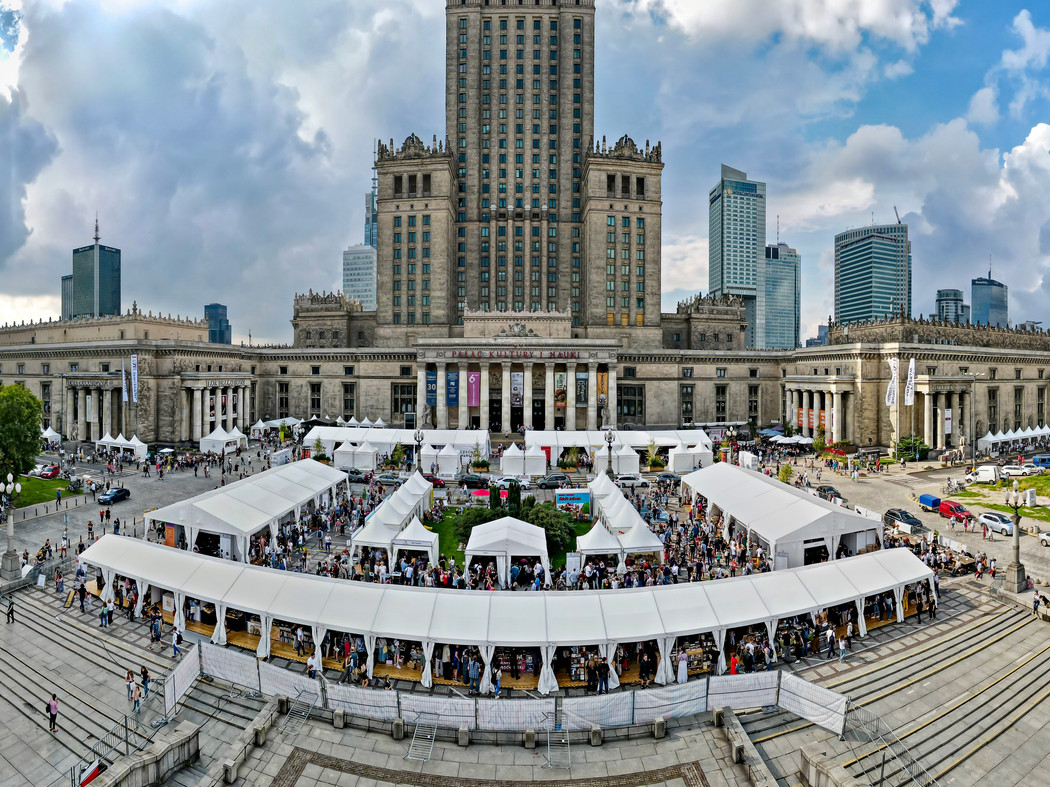 The Guest of Honour project was organized by NORLA in close cooperation with the Royal Norwegian Embassy in Warsaw.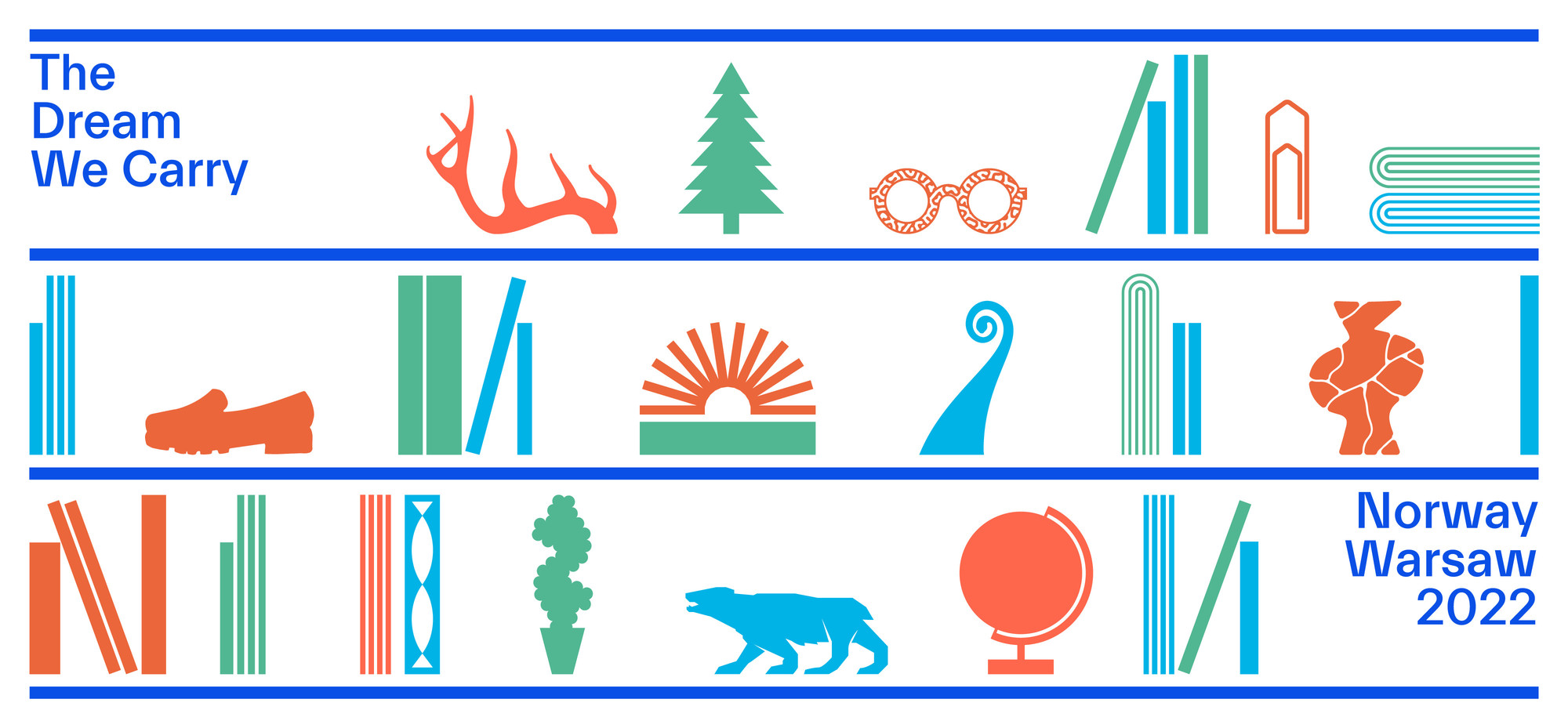 NORLA's Guest of Honour Report
Norwegian authors were at the centre of attention when Norway was the Guest of Honour at the 2022 Book Fair in Warsaw, 26 – 29 May.
30 writers and illustrators from Norway featured in 50 different events, and met engaged Polish readers on various books fair stages and in long signing queues.
Read NORLA's report on the Guest of Honour project here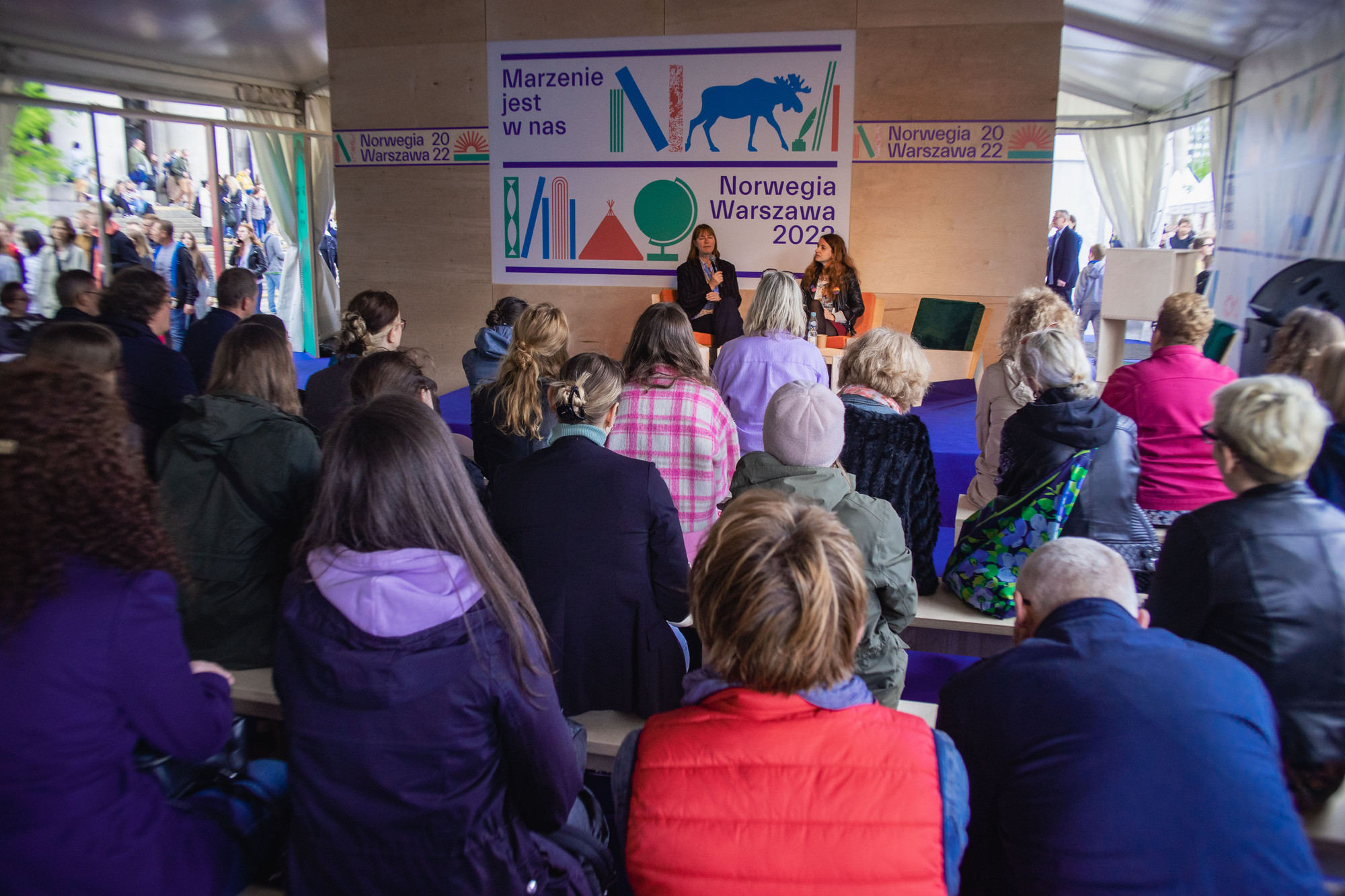 The 2022 Warsaw Book Fair summarized
The Book Fair is the biggest literary event of the year, and hosted more than 500 exhibitors from 13 countries, including Poland, Norway and Ukraine, as well as Armenia, Belgium, Czech Republic, France, Germany, Hungary, Romania, Spain, Switzerland, and the UK.
Visitors were invited to meet nearly 800 authors interviewed on several different stages, including 30 authors and illustrators from Norway taking part in 50 events.
Read more and see pictures from the successful Norwegian Guest of Honour project

Extensive Norwegian program at the Book Fair in Warsaw 2022
The book fair is an exciting opportunity to present a wide range of Norwegian literature in the Polish market. Several Norwegian authors will engage with their Polish audience and strengthen the connection between our two countries. "The Dream We Carry" is our slogan and on April 26, we proudly presented our program:
We are very pleased that 30 authors from Norway are coming to Warsaw and will feature in 50 literary events during four days at the Palace of Culture and Science.
NORLA also offers meeting places between Norwegian agents and foreign book trade professionals.
There will also be pop-up Norwegian language courses, and children are welcome to our creative workshops on Friday and Saturday.
Four authors/illustrators also take part in the comics festival Komiksowa Warszawa, which is held at the Palace of Culture and Science during the book fair.
Read more and see the full program here
More about the authors/illustrators here
About the Guest of Honour program:
Poland has become an important market for Norwegian literature and there is a large interest ranging from crime and Nordic noir to children's books and cartoons. Polish literature is also well received in Norway. Being the Guest of Honour is a testament to this common interest in our cultures and languages.
"I am thrilled that Norway will be the Guest of Honour at this year's Book Fair in Warsaw. Great literature can move us, provoke us and make us see all that we have in common, something we need more than ever as we try to leave the pandemic behind. Norway's presence at the fair will make Norwegian literature even more accessible to a Polish audience, for the benefit of both authors and readers" says Anniken Huitfeldt, Norwegian Minister of Foreign Affairs.
"We are very excited to be the Guest of Honor of the Book Fair in Warsaw. This is a big opportunity to once again present authors and books from Norway to an international market, this time to Polish readers. During the last five years, Polish has been among the top 10 languages of NORLA's translation grants. Many authors from Norway are already available in Polish translation, so the literary program will show all aspects of contemporary Norwegian literature", says Margit Walsø, director of NORLA.

Translators of Norwegian literature into Polish
Are you looking for translators from Norwegian into Polish?
Please see the detailed overview at the website Books from Norway
We are in full swing preparing Norway's Guest of Honour participation at the Book Fair in Warsaw 25-29 May
The planning of the literary program for the book fair is well underway, and NORLA is working closely with the Royal Norwegian Embassy in Warsaw. At the end of March, we look forward to traveling to Poland to meet various partners:
In Poznan we will visit the Raszynskich Library and the university, and we will meet Norwegian language lecturers, translators and also students. Then we travel on to Warsaw to meet both representatives from the book fair, the university and the embassy.
Universities that teach Norwegian as a foreign language are very important both for the recruitment of translators and for the dissemination of Norwegian literature. In Poland, there are as many as 9 universities offering studies in Norwegian language and culture, and NORLA is hoping to involve these in the Guest of Honour project in different ways.
Ahead of the book fair in May, we will visit Poznan, Gdansk and Warsaw. A group of Norwegian language students from Poznan will also participate as volunteers during the Norwegian Festival of Literature at Lillehammer with grants from us. In early May, we travel to Gdansk to attend a seminar for university students on the topic of translation.
All universities will also get the opportunity to receive travel grants for students who wish to travel to Warsaw during the book fair.
Would you like to work with literature and be part of Norway's upcoming Guest of Honour project at the Warsaw Book Fair, May 26-29?
Are you well organized and fond of writing?
We are searching for a Polish speaking intern
As an intern at NORLA you will get a foot in the door in the Norwegian literary sphere and useful experience in project management as well as communication and PR. The position is suitable for a student or graduate who is fluent in Polish and English and is looking to obtain experience.
Working hours are flexible within 3 days a week (with an option for 5 days) for a limited period of time from the end of April through the end of June.
The place of work is Oslo.
Application deadline was April 25
Read more
Visit the Book Fair's website (in English and Polish)