October 09-October 14 2018
NORLA and Norwegian events at the Frankfurter Buchmesse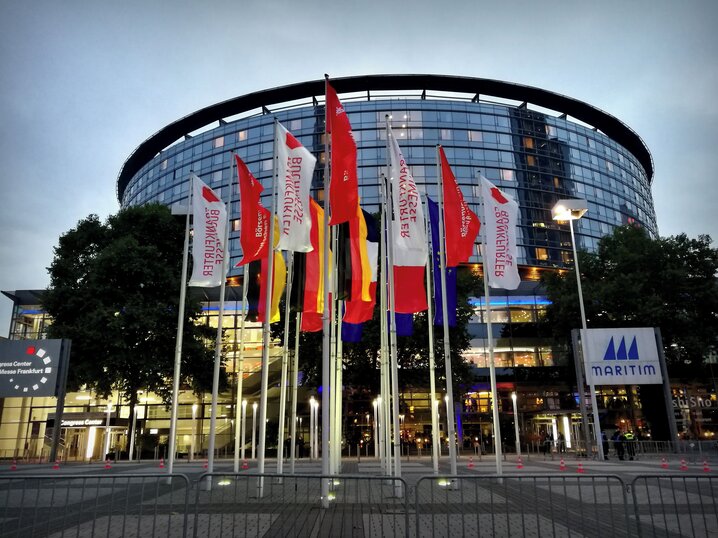 Norway officially becomes Guest of Honour during the Frankfurter Buchmesse 2018. NORLA will, of course, be part of the Norwegian book industry's exhibition stand in hall 5.0, A53, where we will also present autumn's selected titles.
There will be several great events with Norwegian authors and also musicians.
We are also very excited that Norway's Minister of Culture, Trine Skei Grande and State Secretary for the Norwegian Ministry of Foreign Affairs, Marianne Hagen, will take part in this year's bookfair.
NORLA will be accompanied by author organisations and Norwegian institutions that want to become more familiar with the Frankfurt Book Fair. And we will also host events for the German booksellers and journalists who have visited Norway earlier this year.
We are looking forward to welcome old and new contacts!
Please contact us if you want to arrange a meeting.
In addition to our regular meetings, we invite evereyone to the following events:
Our press conference on Thursday October 11th, at 11 am, where the Guest of Honour project will be presented. There will be speeches by Norway's Minister of Culture, Trine Skei Grande, Director of the Frankfurter Buchmesse, Juergen Boos as well as Halldór Guðmundsson and Margit Walsø.
There will be a conversation between three prominent authors and the Director of The National Library of Norway, Aslak Sira Myhre, who is also chairman of NORLA's board.
The authors participating are Maja Lunde, Erling Kagge and Linn Ullmann. In addition there will be a program by Ferdigsnakka with Fredrik Høyer, Bendik Baksaas and Jo David Meyer Lysne.
In addition NORLA will present exciting upcoming events, and also our new visual profile and website.
Read more.
In the brand new Frankfurt Pavillion there will also be readings from Monica Isakstuen, Matias Faldbakken, Tomas Espedal and Linn Ullmann, as well as Maja Lunde and Erling Kagge. The conversations will be held in English, moderated by Thomas Böhm.
See the program for the event Thursday October 11th at 12 noon here, and for Friday October 12th, at 7 pm here.
(Please note that a free registration – here – is necessary for access to the exhibition center after 5 pm).
Friday October 12th at 10.30 am, Margit Walsø takes part in a conversation about the publishing programmes of three of countries that are all Guest of Honour at the Frankfurter Buchmesse; Finland, Georgia and Norway.
Read more.
Sunday October 14th at 12 noon, Åsne Seierstad and Halldór Guðmundsson will be interviewed live at the bookfair by the TV channel Arte Deutschland TV GmbH.
Read more.
This year's bookfair will be rounded off Sunday October 14th, at 3.30 pm, with a handover ceremony of the GuestSchroll, in Georgia's pavillion.
We are looking forward to an exciting program: Åsne Seierstad in conversation with Georgian author Zurab Karumidze, the Norwegian Guest of Honour-film will be screened for the very first time and the ceremony closes with a musical performance with the trio Herborg Kråkevik, Mathias Eick and Kjetil Bjerkestrand.
Read more here.
See the covers of Norwegian books recently published in German through NORLA's translation subsidies on our Flickr-profile.
(Photo: Hege Langrusten)