March 18 2016
Translation workshop in Calcutta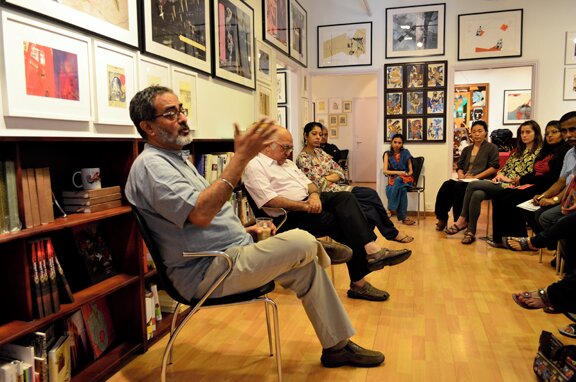 NORLA has for some time been cooperating with Seagull School of Publishing about a masterclass/seminar on translation to/from Indian languages. The seminar was originally planned for the autumn 2015, but will now take place March 18.
Norwegian writer Pedro Carmona-Alvarez will participate and work together with the translators on an excerpt from his novel "The Weather changed, Summer came, and so on", which has been translated from the Norwegian by Diane Oatley. The English text will be used as a basis for translations into Indian languages.
Read a very nice report from the masterclass here.
Read more about the event here.
This is the first time the Seagull School arranges a workshop for translation.
The school receives funding from the Norwegian embassy in India. Read more about this here.
Read more about Seagull Books here.
Read more about Pedro Carmona-Alvarez' award-winning novel here.
And more about Diane Oatley here.
(Photo: Naveen Kishore, founder of Seagull Books, lecturing at the Seagull School of Publishing).