Norway was Guest of Honour at the Frankfurt Book Fair 2019!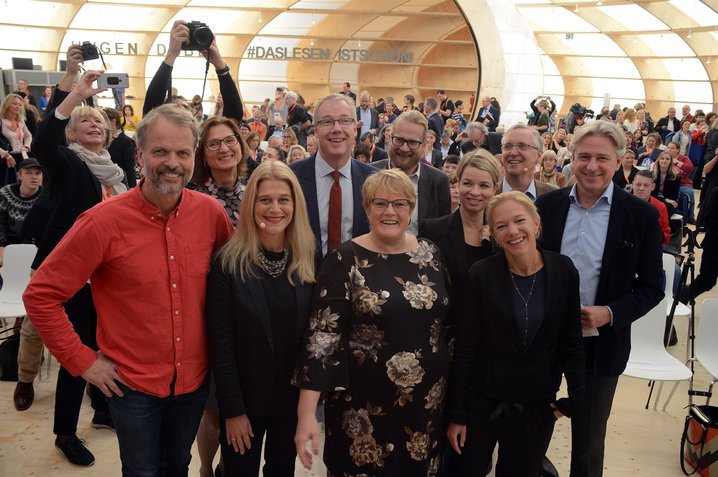 Picture from our press conference October 11 at Frankfurter Buchmesse 2018. Never before have so many people attended a Guest of Honour's first press conference! From left, 1st row: Erling Kagge (author), Margit Walsø (NORLA), Trine Skei Grande (Minister of Culture), Maja Lunde (author). 2nd row: Marianne Hagen (State Secretary, MFA), Petter Ølberg (Norway's Ambassador to Germany), Aslak Sira Myhre (The National Library), Linn Ullmann (author), Halldor Gudmundsson (NORLA), Juergen Boos (Frankfurter Buchmesse). Photo: Sabine Felber
Norway was Guest of Honour at the Frankfurter Buchmesse 2019. Please visit our website Norway2019.com for information about the project, events and news.
The Guest of Honour project comprised hundreds of activities in the German speaking area throughout 2019, and culminated at the book fair in October 2019.
NORLA was in charge of the process towards 2019, and cooperated closely with authors, publishing houses, literary agents, art institutions, our network Norwegian Arts Abroad and other cultural entities in order to create a solid and attractive Guest of Honour program.
See the program for the main stage of the Guest of Honour Pavilion here and read more about the cultural programme here.
The Facebook page for the project was called Norwegen2019, you can visit the page here.
On Instagram we shared updates on our daily work. You may also get a feel from the very midst of the busy Fair by looking at our Insta-stories: Part 1 and Part 2.
Below you may download the Norwegian Bid book ("søknad") Norway as Guest of Honour at the Frankfurt Book Fair 2019.