2023-03-17
Bookstore Buddies - Rustie Baker
We are pleased to present a new Bookstore Buddy; Rustie Baker is the Assistant Manager at Rossiter Books, an independent chain of three bookshops in Monmouth, Ross-on-Wye and Leominster. We got to know Rustie at the last Cheltenham Networking Breakfast, and now he has kindly agreed to answer a few questions about his bookshop and beyond.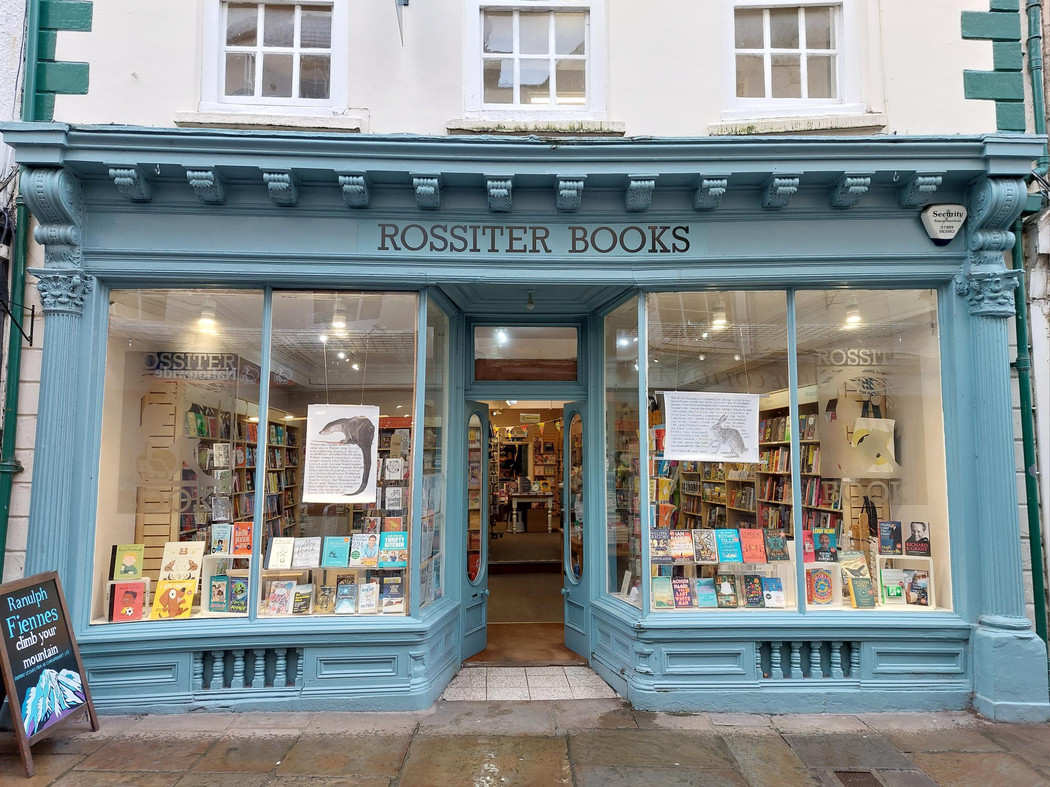 Could you please describe the final stretch of the route you take in the mornings to your bookshop?
We have four shops and I spend time working between each one, so this answer varies depending on which location I am working in. But my favourite journey is to our Ross-on-Wye shop, because I happen to live in the town. Herefordshire is a rural county and so my walk to work is surrounded by green hills and fields. The final stretch is through the grounds of the historic St. Mary's whose church yard overlooks the stunning views of the Wye Valley. It can be missed if you are a visitor as the church is on the edges of town, but it's definitely the most appealing feature of Ross.
Throughout the day … When the bookshop door opens and someone steps inside…
In truth, the immediate feeling I have when the first customer walks through the door is relief. Today is not going to be the day when nobody turns up! This has never happened, but the fear always remains regardless. We try to create a safe, relaxed, and happy environment for whoever walks through our doors, so we greet customers who come in and ask them if they need any help or would just like to browse. You can normally gauge the mood of a customer, sometimes they just desperately want a conversation, other times they want to be left alone. Either way we try to engage first, even just to say hello. Our job is to cater for everyone as much as possible. Then of course there are the cuddles with dogs. We love dogs!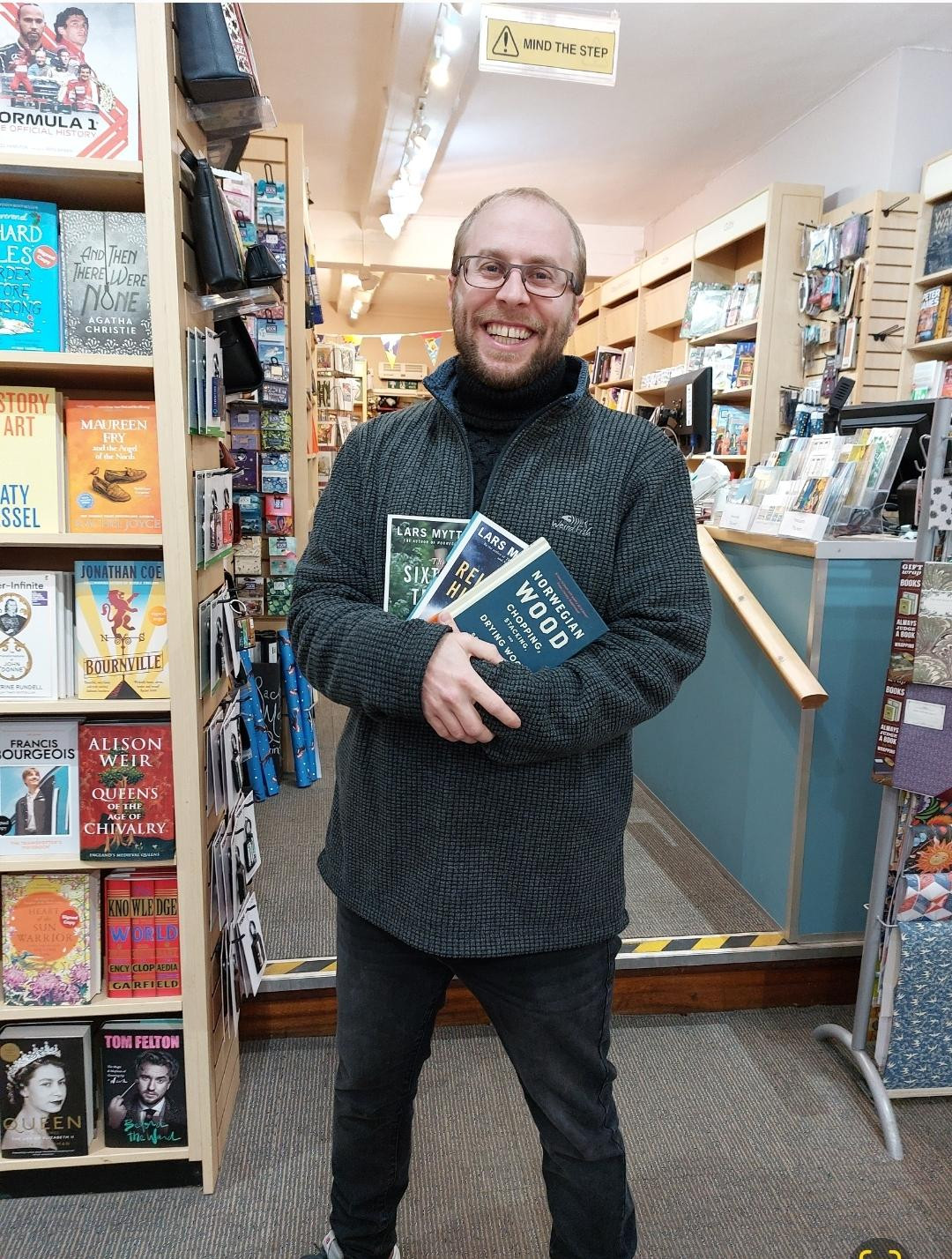 There is this wonderful thing that happens when we read. What is it?

I was having a discussion with my friend (The poet Ben Ray) about this just last night. We concluded that the most wonderful part of reading is its representation of freedom on multiple levels. The freedom to read the words of others that have been sent out into the world. The freedom to spend time reading for pleasure, study, or work. The freedom to be transported into other worlds, whether completely fantastical or into locations and scenarios that feel all too real. The freedom of self-education. This last point is so important because it can lead to so many different reading experiences. When you read broadly, you're exposing yourself to ideas/cultures/experiences/ideologies that are not your own. It can be joyful and uplifting, heart-breaking or healing, life transforming. It could challenge beliefs you always thought to be true or strengthen others. When times are hard, it can, for a moment at least, take us to somewhere else that feels more comforting. But finally, and this should not be overlooked, it could simply be entertaining.

Many say they don't have the time to read. What can they do about it?
I'm lucky in that I currently have no dependants, so my time is my own. But for those who are busy I would suggest not to overlook moments which could be spent reading. Lunch breaks, the commute to work if you use public transport. 15 minutes of reading is better than none! The only other advice I can give is to be more intentional with your time, if you truly want to read, find time. Wake up half an hour earlier or set aside the last half an hour of your day. Maybe cut down on other stuff, like social media or tv.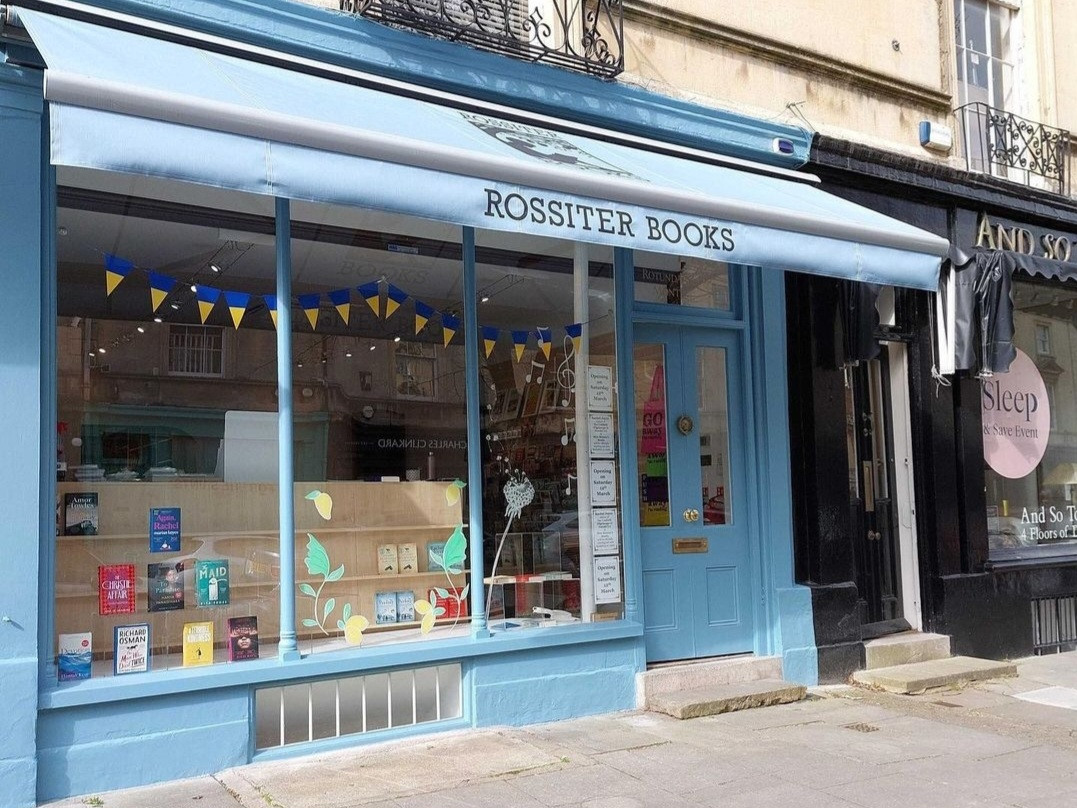 Has a Norwegian book given you a reading experience that you remember with pleasure?
The last Norwegian book I read was The Reindeer Hunters by Lars Mytting. This is the second book in The Sister Bells Trilogy. It's a historical sequel set 20 years after the The Bell in the Lake but could be read as a standalone. Lars is one of those rare authors whose writing transports you into the setting, as if you are there witnessing it yourself. Great characters and amazing attention to detail. You come away with a rich depth of cultural knowledge, and a sense of the landscape of 1900s Norway that would be hard to gather elsewhere. Special shout out to both MacLehose Press and the translator, Deborah Dawkin, for such a good job on these novels. Whilst you're reading these two check out Lars' other novel The Sixteen Trees of the Somme.
Our slogan as Guest of Honour is "The Dream We Carry". What is your dream?
In his essay "Writing For Comics", Alan Moore commented that he wanted to write something that had meaning for those people living in the final days of the 20th century. The result was Watchmen. I guess if I had any kind of dream, it would be to shadow Alan's sentiments and write something that has meaning for those people living in the beginning days of the 21st century.
Read more
Visit the website of Rossiter Books.
About NORLA's Bookstore Buddies
NORLA initiated a bookseller strategy as part of Norway being Guest of Honour at the 2019 Frankfurter Buchmesse. And we were very happy to get to know, and cooperate closesly, with great booksellers all over Germany and also Switzerland.
Read the interviews with our Bookstore Buddies here (also available in German).
When Norway was Guest of Honour at the Warsaw Book Fair in May 2023, we also befriended three Polish Bookstore Buddies.
Read their interveiw here (also available in Polish)