News from NORLA
Greetings from the Frankfurt team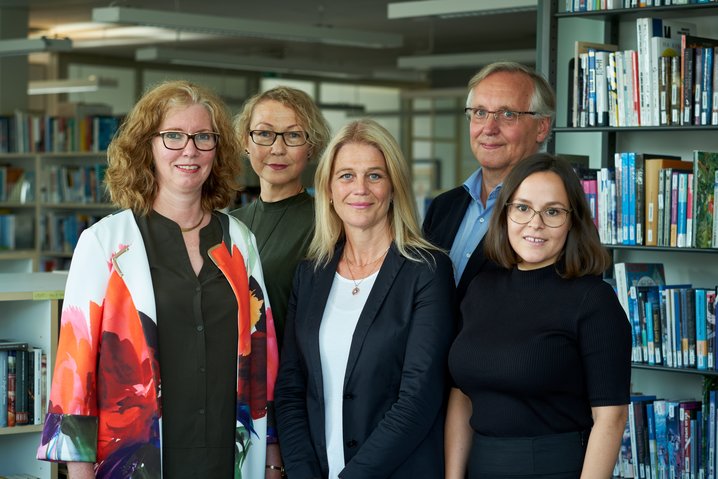 From left: Coordinator for the Literary Programme Andrine Pollen, Coordinator for the Cultural Programme Marit Ingvill Sande, NORLA's Director Margit Walsø, Project Manager Halldór Gudmundsson, PR Officer Sunniva Adam. Project Assistant Ellen Trautmann Olerud was not present when the photograph was taken. Photo: Eivind Røhne.
As of today, only 452 days remain until 1 January 2019. Starting on this day, Norway has Guest of Honour status in connection with the Frankfurter Buchmesse 2019. Throughout the entirety of 2019 Norwegian literature and culture will be spotlighted in Germany. How we look forward to this!
NORLA and the Frankfurt 2019 team are working actively on all aspects of the project, from a large translation seminar in Hamburg in November to dialogues with potential sponsors and planning of the comprehensive cultural programme that will take place throughout all of Germany in 2019.
Last week the culture coordinator of the Frankfurt 2019 team, Marit Ingvill Sande, was in Lofoten. She took part in Coast Contemporary to give a presentation of the Guest of Honour project. Coast Contemporary is a trip on the Coastal Steamer convening culture stakeholders, journalists and artists from all over the world for a presentation of Norwegian contemporary art. This week the Sami Parliament held its culture conference, and Literature Coordinator Andrine Pollen and Project Manager Halldor Gudmundsson attended.
During the book fair in 2019 Norway will have its own 2300 m2 pavilion. At this time we are working with the concept and design of the pavilion. In the near future we will announce a competition for development of the pavilion's concept and design.
We are now preparing for an eventful and hectic week at this year's Frankfurter Buchmesse together with a large Norwegian delegation. We are looking forward to showcasing the opportunities that the Guest of Honour status entails. Also stay tuned for an exciting launch!
We would like to remind our readers that the translation subsidies for German and English have been increased in connection with the Frankfurt project. Applications for translation subsidies that are approved for books to be published in 2018 and 2019 are guaranteed 50% translation funding. In addition to this, works of substantial cultural significance that do not necessarily have a large commercial potential, in some cases can be granted translation subsidies amounting to 75%. Funding applications for such works will be evaluated by the Frankfurt team. Read more about our translation subsidies here.
Best wishes from the Frankfurt team
Do you want to get in touch with us? You can find our contact information here.