News from NORLA
Happy Pride 2021 - Reading tips for children and young adults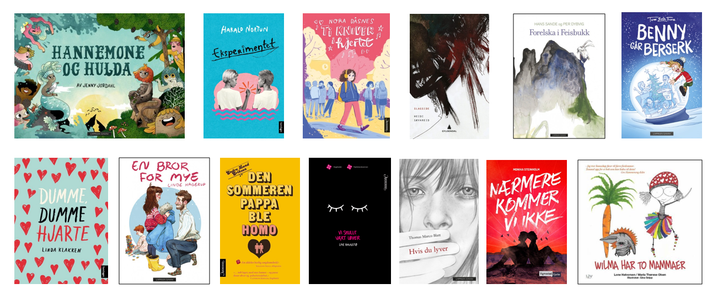 June sees the celebration of Pride Month worldwide and today is the first day of Oslo Pride, which will take place both in the city and online. On Saturday June 26 there will be a digital parade as well as a boat parade on the Oslo fjord.
At NORLA, we are happy to join in the celebration by sharing a selection of LGBT+ themed books available for children and young adults. Below we have included titles updated from last year's list made by IBBY Norway (International Board on Books for Young People).
HAPPY PRIDE!
All books are originally published in Norwegian. Presentations available in English unless otherwise indicated.
Mari Grydeland: Kys mik (2021) | For readers 9-12 years old
Read more (in Norwegian only)
Nora Dåsnes: Cross My Heart and Hope to Die (Ti kniver i hjertet) (2020) | 9-12 years
- Awarded Gold for Best Illustrated Children's Book 2021 (The GRAFILL's Visual Prize The Year's Most Beautiful Books / The Norwegian Designer's Guild). Winner of the 2020 Ministry of Culture's Graphic Novel Prize and The 2020 Pondus Prize.
- Nominated for: The 2021/2022 Avid Reader Award "Bokslukerprisen" and the 2021 Children's Book Prize (Bergen Library).
Foreign sales to: Danish, French, German, Italian, Korean, Spanish (Latin America and North America), Spanish (Spain), Swedish.
Read more
Alexander Kielland Krag: This Stays Between Us (Dette blir mellom oss) (2020) | Young adults – Instagram book
- Awarded Fast Company's 2021 World Changing Ideas Awards in the media and entertainment category.
Read more
Line Baugstø: Jeg er Leona (2020) | 9-12 years
- Awarded the 2020 Ministry of Culture's Literary Prize.
- Nominated for the 2020 ARK Children's Book Prize and the 2021/2022 Avid Reader Award "Bokslukerprisen"
Foreign sales to: Danish.
Read more
Endre Lund Eriksen: Hvordan jeg tjente min første million (2020) | 12-16 years
Read more (in Norwegian only)
Ida Hegazi Høyer and Øivind Hovland (ill.): Kim Friele (2019) | 3-6 years
Read more (in Norwegian only)
Tom Erik Fure and Kenneth Larsen (ill.): Benny Goes Berserk (Benny går berserk) (series, 2019) | 9-12 years
Foreign sales to: Swedish.
Read more
Line Baugstø: If We Were Lions (Vi skulle vært løver) (2019) | 9-12 years
- Awarded the 2018 Norwegian Book Bloggers' Prize.
- Nominated for the 2018 ARK Children's Book Prize, the 2018 Avid Reader Award "Bokslukerprisen" and for the 2019 Children's Book Prize.
Foreign sales to: Danish, Faroese, German, Italian, Swedish.
Read more
Jenny Jordahl: Hannemone and Hulda (Hannemone og Hulda) (2017) | 4-6 years
Foreign sales to: Spain.
Read more
Linda Klakken: Stupid, Stupid Heart (Dumme, dumme hjarte) (2017) | 9-12 years
- Nominated for the 2018 Norwegian Writers for Children First Book Prize ("Trollkrittet")
Read more
Tor Fretheim: Leon's Secret (Leons hemmelighet) (2017) | 13-18 years
Read more
Monika Steinholm: Nærmere kommer vi ikke (2017) | 12-16 years
Read more (in Norwegian only)
Heidi Sævareid: Lopsided (Slagside) (2016) | 12-16 years
- Shortlisted for the Brage Prize 2016 and for the Southern Norway's Literature Prize 2016.
Read more
Linde Hagerup and Jens A. Larsen Aas (ill.): A Brother Too Many (En bror for mye) (2016) | 8-13 years
- Nominated for the 2020 Deutscher Jungendliteraturpreis.
Foreign sales to: Faroe Islands, Germany, Russia.
Read more
Harald Nortun: The Experiment (Eksperimentet) (2015) | 9-12 years
Foreign sales to: Belgium, Denmark, France, Sweden.
Read more
Lone Halvorsen, Maria Therese Olsen and Gina Snipp (ill.): Wilma har to mammaer (2015) | 3-6 years
Read more (in Norwegian only)
Hans Sande and Per Dybvig (ill.): In Love woth Billy Backfire (Forelska i Feisbukk) (2014) | 4-8 years
Read more
Thomas Marco Blatt: If You Lie (Hvis du lyver) (2014) | 10-13 years
Foreign sales to: Denmark.
Read more
Endre Lund Eriksen: The Summer Dad Turned Gay (Den sommeren pappa ble homo) (2012) | 12-16 years
Foreign sales to: Danish, Dutch, French, German.
Read more
Kari Tinnen and Mari Kanstad Johnsen (ill.): Barbiedoll Nils and the Gun Problem (Barbie-Nils og pistolproblemet) (2011) | 3-6 years
Foreign sales to: French and Spanish.
Read more
Read more
See the complete IBBY list here (in Norwegian)