News from NORLA
Happy Women in Translation Month!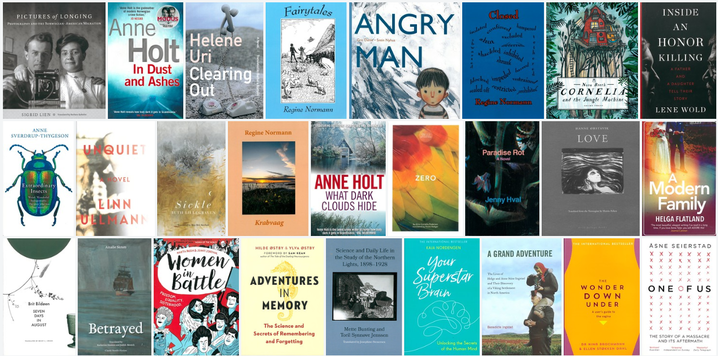 Women in Translation, or WIT, is a global collaborative project to help remedy the discrepancy between the amount of works by women published in English translation, and how they are critically received. WITMonth is held held every August, to help promote women writers from around the world who write in languages other than English. Here at NORLA we would like to share our own contribution to WITMonth with you.
On NORLA's Flickr pages you can find the beautiful covers of Norwegian books – in all genres – published in translation with NORLA's support since 2011. To celebrate WITMonth we have gathered all the covers of female Norwegian authors translated into English here.
Out of the 273 books that are translated into English currently on our Flickr-page, 88 (32%) are written by a female author.
We encourage all lovers of literature out there to use WITMonth to explore some of these amazing books! Maybe you will find a new favourite?
Translations into English
A report by Nielsen Book a few years back showed that translated literary fiction made up only 3.5 % of the literary fiction titles published in the UK, but accounted for 7 % of the volume of sales. Only a tiny fraction of fiction published in English is translated, and only about a quarter of that translated fiction was originally written by women.
However, in March this year, The Guardian brought joyful news: According to Nielsen Book Research, "overall sales of translated fiction in the UK were up last year by 5.5%, with more than 2.6m books sold – the highest level since Nielsen began to track sales in 2001. Over the last 18 years, sales of fiction in translation have risen "steadily", with the performance of translated literary fiction in particular standing out for its "extreme growth", up 20% in 2018 year-on-year." British readers now "overwhelmingly" read translated fiction from Europe, with French literature accounting for 17% of volume sales, the biggest language represented, while Norwegian was in second place and Swedish third.
Read more
About WITMonth
WITMonth was founded by Meytal Radzinski on her blog. It was inspired by a fellow book blogger and started in August 2014.
Approximately 25% of new translations of literary fiction into English are of books by women writers. Given how few books are translated into English to begin with, this means that women are a minority within a minority. The problem then filters down to how books by women writers in translation are reviewed/covered in the media, recognized by award committees, promoted in bookstores, sent out to reviews, and ultimately reach readers themselves.
While imperfect, WITMonth gives many publishers the chance to promote their existing titles written by women in translation, while also giving readers an organized means of finding the books that already exist. WITMonth ultimately serves to help readers find excellent books.
Read more about Women in Translation Month, and what you can do to contribute, at womenintranslation.com.