News from NORLA
Klaus Anders - Translator of the Month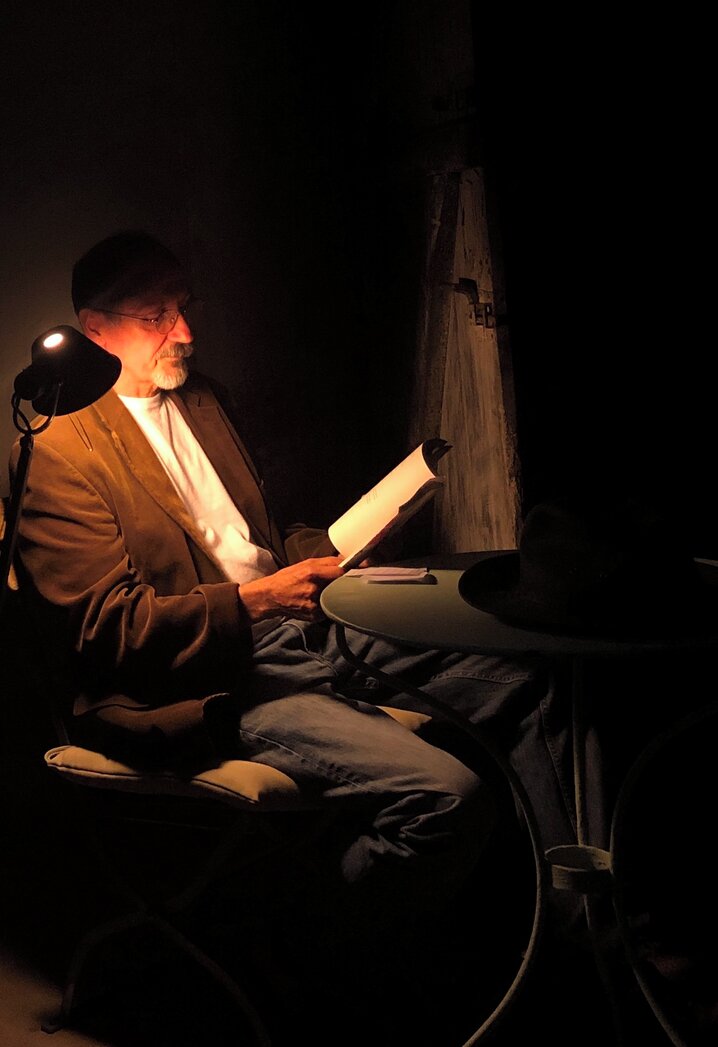 Klaus Anders. Photo: Frank Wierke
The translator of the month for October is Klaus Anders, who is German. He both writes and translates poetry, and Klaus' first translation was the poems of Olav H. Hauge.
Next week, Norway is Guest of Honour at the Frankfurter Buchmesse, where Hauge and his beloved poem "It Is That Dream" occupy a central place: The motto of the guest of honour project is "The Dream We Carry", which, in German, has become "Der Traum in uns".
Now we invite you to get a bit better acquainted with both the translator and Hauge.
How did you end up as a translator of Norwegian literature?
After taking my first steps, I sent a poem by Olav Nygard that I had translated to Asbjørn Aarnes in Oslo. He rang me and said: "You have to translate more".
I came across Olav H. Hauge quite by chance on the internet. I found a photograph of him there, and a couple of poems in Nynorsk and English. I was instantly fascinated and wished I could read the poems in the original language. So I started to teach myself Norwegian, both Bokmål and Nynorsk.
One might say that "This is the Dream" is Norway's national poem. Does that make it scarier to tackle a translation?
Scarier? No.
Did you ever meet Hauge?
He was already in heaven by the time I encountered his poetry.
Which book are you translating right now?
None. I'm taking a break.
You're a trained gardener and write your own poetry. Olav H. Hauge was an apple farmer. Has this similar background been important to your work with the translations?
Yes. For example when Hauge writes in his journal about plants and working with plants.
I don't have to do any research: I know from previous experience and knowledge what it is about.
Do you have a translator role model – if so, who and why?
Johannes Gjerdåker is my role model. He is a superb translator of poetry.
A good translation reproduces a work of art in a different language in a perfectly "craftsmanlike" way. A superb translation is a work of art in its own right. It is – as a work of art – at least as good as the original.
It is much more time-consuming to translate poetry than prose – how long does it take you to translate a poem by Hauge, for example?
It varies quite a lot. Simple, short poems with fixed metre and rhymes are the most difficult ones.
Translating poems like that requires a great deal of time and you are never quite satisfied afterwards.
What's the best thing about being a translator?
When you finish a translation and say: "That's that".
Det er den draumen
Det er den draumen me ber på
at noko vedunderleg skal skje,
at det må skje —
at tidi skal opna seg,
at hjarta skal opna seg,
at dører skal opna seg,
at berget skal opna seg,
at kjeldor skal springa —
at draumen skal opna seg,
at me ei morgonstund skal glida inn
på ein våg me ikkje har visst um.
Das ist der Traum
Das ist der Traum, den wir tragen,
daß etwas Wunderbares geschieht,
geschehen muß –
daß die Zeit sich öffnet,
daß das Herz sich öffnet,
daß Türen sich öffnen,
daß der Berg sich öffnet,
daß Quellen springen –
daß der Traum sich öffnet,
daß wir in einer Morgenstunde gleiten
in eine Bucht, um die wir nicht wußten.
It Is That Dream
It is the dream we carry
that something wonderful will happen,
that it must happen –
that time will open,
that our hearts may open,
that doors shall open,
and the mountain shall open
that springs will gush forth –
that our dream will open,
and that one morning we'll glide
into a cove we didn't know.
(Olav H. Hauge "Det er den draumen" from Dropar i austavind, published by Noregs boklag 1966, translated into German by Klaus Anders and translated into English by Olav Grinde).
Read more
Learn more about Klaus here (in German).
A number of his translations are registered in the National Library of Norway's database, Oria. Take a look at them here.
Read more about Olav H. Hauge here.
See other translators interviewed in our Translator of the Month series here.