News from NORLA
Lillehammer goes digital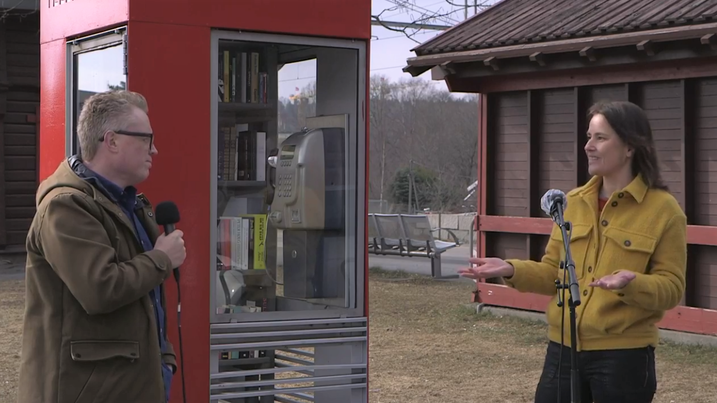 "The world's smallest literature festival" outside the reading kiosk at Kjelsås, Oslo. From left: Vidar Kvalshaug interviewing festival director Marit Borkenhagen. Photo: Screenshot from the Facebook live stream.
Due to the corona virus pandemic, the Norwegian Festival of Literature in Lillehammer has made substantial changes to it's original plans and programming.
Instead of a physical festival at Lillehammer, there will be a free digital festival May 29-31 – the largest of it's kind in the Nordic region.
The festival's children's book program – the Pegasus program – is postponed until September, when schools and kindergartens hopefully are back to normal.
The Sigrid Undset Days will be back! It once formed the basis of the festival itself, in the form of a seminar on Sigrid Undset's writing that started in 1993. In Novemner the Sigrid Undset Days will resume, in the Nobel laureate's home (and now museum) Bjerkebæk. The program will take place November 21-22, which is exactly 100 years after the first publication of Kransen, from Undset's masterpiece the Kristin Lavransdatter trilogy.
As a premiere to it all, the festival offered the world's (possibly) smallest festival – digitally – Thursday March 26, from 2 pm (CET/GMT +1). This micro festival offered conversations with authors taking place in a former telephone booth that has been converted into a reading kiosk. The program was streamed on Facebook, but NB: in Norwegian only!
We suggest you start now by looking forward to all the festival events you will be able to experience from your own living room!
Read more
Visit the festival's website.
(The altered program will be announced when all details are in place).
Read all about the fesitval changes here
Did you know that in 2017, the Norwegian Festival of Literature at Lillehammer was named one of the best literature festivals in the world by Penguin Random House The Writers' Academy?
And also in 2017, Lillehammer was named a creative city of literature in the UNESCO Creative Cities Network.