News from NORLA
NORLA congratulates the winners of the 2018 Ministry of Culture's literary prizes for children and young adults!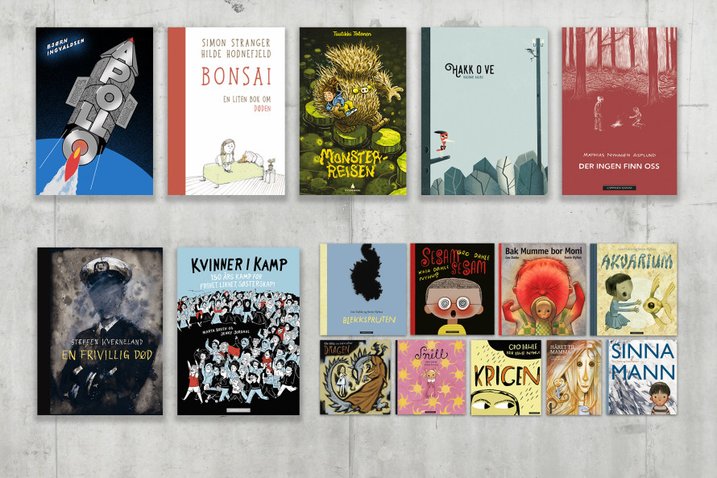 Today, the Norwegian Minister of Culture, Trine Skei Grande, awarded the prestigious 2018 Ministry of Culture's literary prizes for children and young adult literature published in 2018.
A total of NOK 415,000 were awarded in eight different categories for children's and YA literature; Best Fiction Book, Best Picture Book, Best Non-fiction Book, First Book Award, Best graphic novel/Cartoon, The Illustration Award, The Translation Award and The Special Award.
BEST FICTION BOOK
Bjørn Ingvaldsen for Apollo
Gyldendal
BEST PICTURE BOOK
Ragnar Aalbu for Knock On Wood
(original title: Hakk o ve)
Ena – an imprint of Vigmostad & Bjørke
BEST NON-FICTION BOOK
Marta Breen og Jenny Jordahl for Women in Battle
(original title: Kvinner i kamp. 150 års kamp for frihet, likhet, søsterskap)
Cappelen Damm
FIRST BOOK AWARD ('Debutantprisen')
Mathias Nyhagen Asplund for Where No one Can Find Us
(original title: Der ingen finn oss)
Cappelen Damm
BEST GRAPHIC NOVEL / CARTOON
Steffen Kverneland for A Voluntary Death
(original title: En frivillig død)
No Comprendo Press
THE ILLUSTRATION AWARD
Hilde Hodnefjeld for the illustrations of
Bonsai. En liten bok om døden by Simon Stranger
Magikon
THE TRANSLATOR'S AWARD
Tor Tveite for the translation from Finnish of
Tuutikki Tolonen: Monsterreisen
Gyldendal
THE JURY'S SPECIAL AWARD ('Spesialprisen')
Gro Dahle, Svein Nyhus and Kaia Dahle Nyhus for picture books of excellent quality about taboo topics
Read more
About the winners (in Norwegian only) here.