2020-06-15
NORLA presents its report on Norway as Guest of Honour at the Frankfurter Buchmesse 2019
Norway as Guest of Honour at Frankfurter Buchmesse 2019 is the country's largest overall cultural initiative abroad. The main goals set for the initiative by NORLA were achieved. The goals were to renew the foothold of Norwegian literature in Germany, to create new international interest in Norwegian literature, to showcase Norway as a modern cultural nation and to revitalize the relationship between Norway and Germany through cooperation on literary and cultural projects.
The Frankfurter Buchmesse is beyond doubt the world's most important book fair when it comes to the sale of foreign rights and international dissemination of literature in all genres. The Norwegian guest of honour status was used as an arena for the presentation of a myriad of voices from Norway, as well as sparking the joy of reading and, not least, it served as a platform for promoting freedom of speech.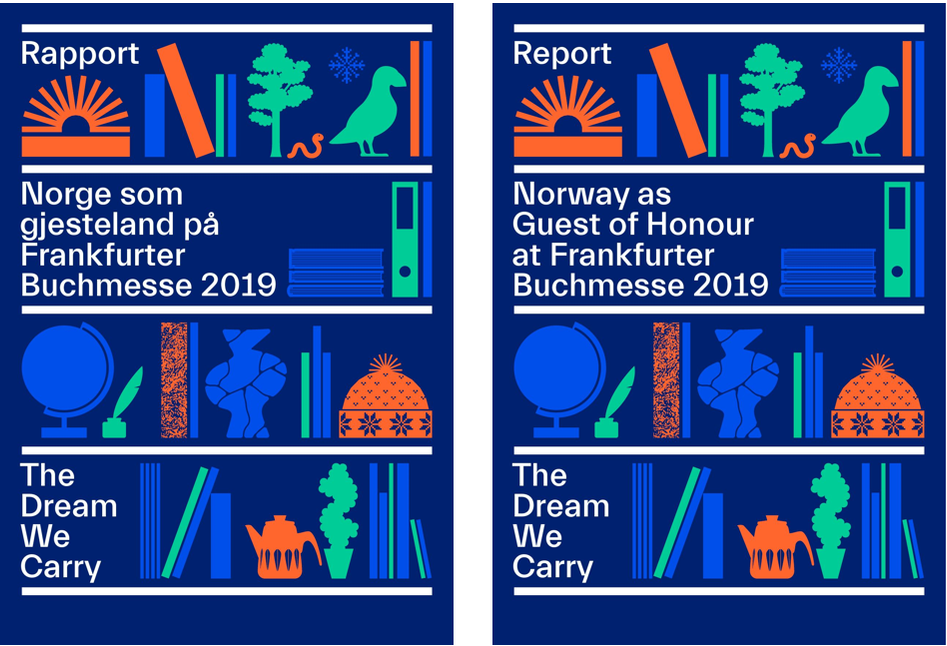 Record number of releases in German
510 Norwegian titles appeared on the German book market in 2019, both translations from Norwegian and books written about Norway in German. Of these, 296 were books from Norway. 80 Norwegian authors were translated into German for the first time. Six Norwegian titles appeared on bestseller lists in Germany during 2019. Norway has had a strategic collaboration with German bookstores, which is unique in context with being guest of honour.
Great media attention in Germany
Norway as the 2019 guest of honour sparked an enormous media interest in Germany, and writers from Norway, the country's literature, culture and society have received extensive coverage in TV features, radio and print media. In October 2019, themes related to Norway as the guest of honour were mentioned close to 15,000 times in German media, which is a guest of honour record. The so-called "Advertising-Value-Equivalency" estimates to around NOK 800 million.
Comprehensive literary and cultural programme
In 2019, around 200 authors from Norway presented their books in more than 100 cities and locations in Germany, Switzerland and Austria. 100,000 visitors came to the guest of honour pavilion during the book fair, where 100 authors participated in the program.
Central to the collaboration with Her Royal Highness Crown Princess Mette-Marit as ambassador for Norwegian literature during the guest of honour year was the literary train in Germany, where nineteen authors participated.
Through 2019, several hundred program events were arranged in which art and culture from Norway have been included, exhibitions, concerts, guest performances, tours, film screenings, performing arts, architecture, artist talks and workshops. A highlight was the exhibition of Hannah Ryggen's tapestries in Schirn Kunsthalle.
Report
The total cost of the project is around NOK 52 million, which is in line with the budget for the guest of honour initiative. This report documents and evaluates NORLA's work on the project and results in relation to the goals for the initiative, adopted by the board of NORLA and incorporated in the letters of support from the Government. The Ministry of Culture is the principal for an ordinary, external evaluation of the results achieved for all partners in the guest of honour initiative, which will be conducted in 2020.
Read NORLA's report here (Exerpt in English)
The full report is available in Norwegian here