News from NORLA
NORLA's Translator's Award for 2019 goes to Ursel Allenstein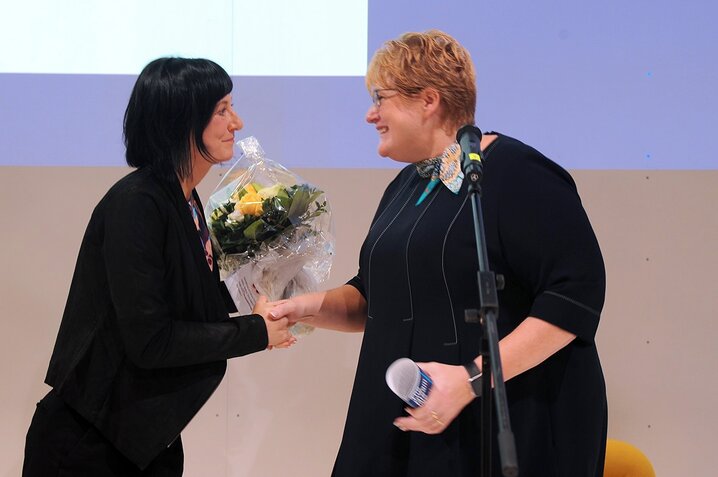 From the left: Ursel Allenstein receives the award from Minister of Culutre Trine Skei Grande. Photo: Sabine Felber
At the Frankfurt Book Fair, NORLA's translator award was today awarded for the 14th time. And it was handed out by the Norwegian Minister of Culture, Trine Skei Grande.
Read the minister's speech:
Each year NORLA awards a prize to a translator of Norwegian literature. NORLA's Translator's Award is granted to a young translation talent to encourage their continued efforts to advance Norwegian literature. This year, the prize goes to a translator who has made a special contribution to fiction. The fiction award is granted courtesy of Kristin Brudevoll's Anniversary Fund. It is a particular pleasure to be able to award this prize in Frankfurt today, with Kristin Brudevoll here at the Buchmesse.
Germany was the first country Kristin focused on when she started up in NORLA in 1978. She made contact with German universities and sought out Scandinavian studies students with an interest in literature and translation. Since then, stone has been laid upon stone until now, today, we find ourselves standing in a veritable cathedral here in the Norwegian pavilion: Norway is the guest of honour here in Frankfurt, and the Buchmesse has calculated that there are no fewer than 510 new publications in German from and about Norway.
Yet it is not a foregone conclusion that this year's prize-winner should come from Germany: we are lucky enough to have many fine candidates for NORLA's Translator's Award from many different countries. However, there was one candidate who stood out, and as it happens that person is German.
This year's prize-winner quickly drew attention to herself as a major translation talent, with the precise combination of skills that enables a translator to do justice to a literary text: a stylistically assured feel for language, precision and playfulness. Her very first translation from Norwegian in 2011 earned her an award: the Hamburger Förderpreis für literarische Übersetzung for Kjersti Annesdatter Skomsvold's The Faster I go, the Smaller I Get. Since then, she has won numerous prizes for her translations and today NORLA's Translator's Award goes to Ursel Allenstein for her work with Norwegian literature.
Ursel has translated a great many of Norway's contemporary writers. She has given a German voice to authors as diverse as Geir Gulliksen, Sissel Verøyvik and Long Litt Woon, and it is her translations of Maja Lunde's novels that have had such tremendous success here in Germany.
Her latest tour de force is the translation of Johan Harstad's Max, Misha and the Tet Offensive. Here at the Buchmesse she will, on Friday evening, be awarded the Jane Scatcherd Preis, primarily for her "congenial translation of the novel (…), in which, with great precision and linguistic refinement, she reproduces the novel's literary polyvocality," as it says in the citation.
We wholeheartedly agree with the citation. The work you do for Norwegian literature is important. We hope this prize will help ensure that you continue to disseminate the work of Norwegian authors to a German audience for many years to come.
And so I have the pleasure of presenting you with NORLA's Translator's Award, consisting of 20,000 Norwegian kroner and a free stay of up to three weeks in Oslo.
Congratulations!
Read more
More about Ursel Allenstein here
More about NORLA's Translator's Award here