2023-08-20
Norwegian Literature in the Heart of Europe
Norway was Guest of Honour during Authors' Reading Month in Czech and Slovakia in July. It was a huge success, with wide press reach and packed events. Translator and moderator, Miluše Juříčková, gives us her take on this summer's literary happening on the continent.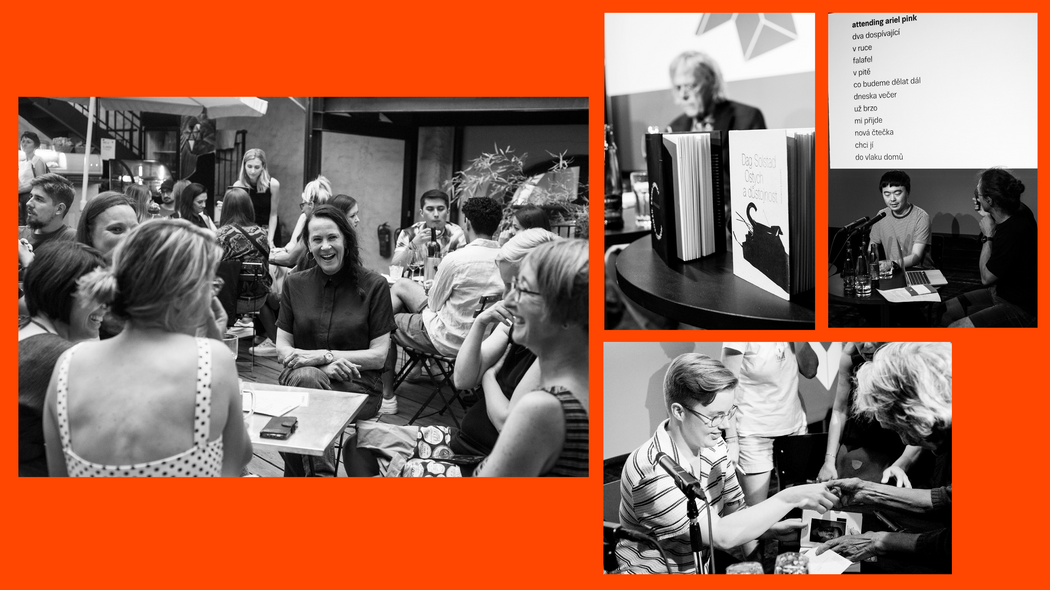 Norwegian literature has left a significant mark in Czech arts and culture throughout the last 150 years. Knut Hamsun and Arne Garborg was already being read back in the 1880s (the latter in German), and today you will find over 1600 Norwegian titles translated to Czech, including novels, poetry, drama, and non-fiction.
Why this enormous interest?
New voices and living classics
The explanation could be composite: a romantic fairy tale urge, crime stories appeal and an interest for poetic prose about Norwegian nature, for instance? In July, Czech and Slovakian readers could experience something truly unique. We got to meet 31 Norwegian authors on stage at Authors' Reading Month, where Norway was Guest of Honour. Amongst the authors were women and men, new voices and living classics. In most cases, the events were fully packed with people, even though the outside temperature was way over 30 degrees.
It is obvious that the professional interpreters, Marta Bartošková and Daniela Mrázová, both with background from the Universities in Brno and Prague, played an important role. The moderators were also significant. I myself was given the honour of moderating two nights with authors I had translated and knew well, something I very much appreciated. In addition, I moderated two authors that I hadn't met before, and even though I knew their authorships well, it was lovely to get to know them as humans as well.
Substantial press coverage
The authors who accepted the invitation for the month of July, did it perhaps with a certain scepticism. They were probably surprised about the festival's substantial press coverage across Czech and Slovakian media, including radio, TV and newspapers. And not only that; every day there was a long queue of audiences in all ages wanting to get a signature or just say hello and give their thanks for the evening's performance.
Many wanted to see Dag Solstad, and several I spoke to were fascinated by the interesting way in which Kjartan Fløgstad formulated his answers. Almost every evening the scheduled timings were pushed, due to a range of question from the audience. Åsne Seierstad didn't have any time to read from her book, as the conversation was so dynamic. Dynamic was also the event with Vigdis Hjorth, where she posed some compelling arguments with regards to the well-known debate around auto fiction.
Humour, charm and message
It seemed to me that the audience was seduced by the authors' humour, charm and messages, regardless if their books were translated into Czech, such as those by Bjarte Breiteig, Hanne Ørstavik or Nina F. Grünfeld, or if they had been translated for the occasion, such as Alexander Fallo, Kjersti Anfinnsen, M. Seppola Simonsen and Lotta Elstad.
31 Norwegian days have passed, and the unique experience of meeting the authors and getting to know them as people remains. Why was the interest for Norwegian literature so enormous? The answers is still a riddle to me, but this summer I have definitely witnessed it myself – right in the heart of Europe.
Miluše Juříčková,
31th July 2023
About Miluše Juříčková
Miluše Juříčková works as an Associate Professor at the Department for German, Scandinavian and Dutch studies at the Masaryk University in Brno. She translates from Norwegian to Czech, and was given the Norwegian King's Medal of Merit in 2017 for her many years of work.
About the festival Authors' Reading Month
The Literature Festival Authors' Reading Month (ARM) in Czech and Slovakia is the biggest literary festival in Europe. This year, Norway was Guest of Honour and 31 Norwegian authors participated – in addition to many Czech and Slovakian authors.
See the festival's video interview with all authors here.
… and here are some lovely photos from the festival – also with a recording of some of the events, and most of the authors' videos texted in Czech.