News from NORLA
The 2022 Warsaw Book Fair summarized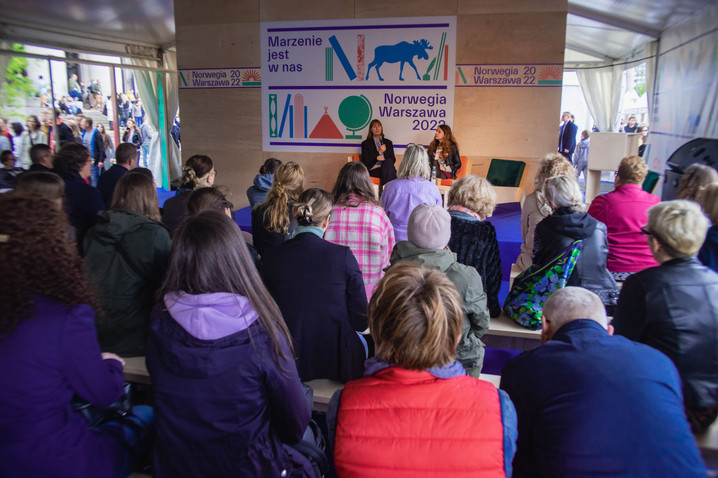 A packed tent! From the left: Cecilie Enger on stage with her translator Karolina Drozdowska. Photo: Michal Mitoraj
The Book Fair in Warsaw was held on May 26 – 29, 2022, with Norway as the Guest of Honour. The venue was Plac Defilad and the Palace of Culture and Science in Warsaw.
According to estimates, the Fair was visited by approximately 90,000 people, a new record.
The Book Fair is the biggest literary event of the year, and hosted more than 500 exhibitors from 13 countries, including Poland, Norway and Ukraine, as well as Armenia, Belgium, Czech Republic, France, Germany, Hungary, Romania, Spain, Switzerland, and the UK.
Visitors were invited to meet nearly 800 authors interviewed on several different stages, including 30 authors and illustrators from Norway taking part in 50 events.
In total, over 1,000 events took place during the four days – meetings on stages, in zones, within 9 program blocks, and at exhibitors' stands.
Press clippings (Book Fair)
Number of publications in media: 3 994*
Estimated reach of all publications (number of potential contacts) – 500,1 mln*
Estimated AVE (Advertising Value Equivalent) – 5,9 mln PLN*
*According to Press Service Monitoring Mediów (21.03-21.06.2022)
Norway – Guest of Honour
The Guest of Honour program invited Polish readers to meet 30 authors and illustrators from Norway, in 50 events.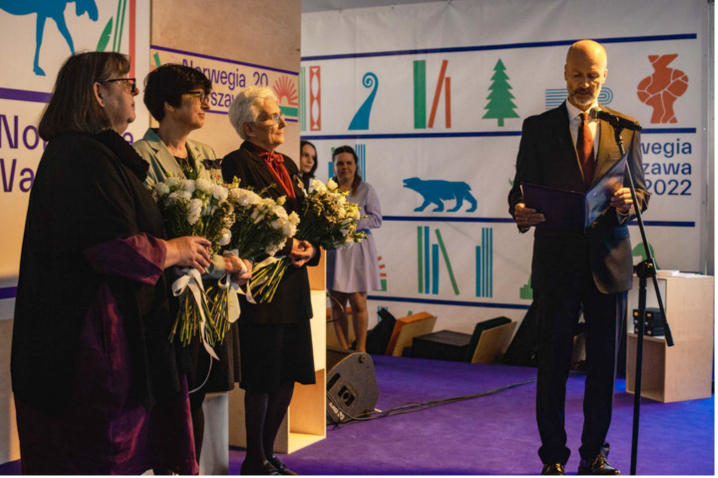 Architect Anetta Blassej recte Błażej had designed the Norwegian tent and the common stand in Hall Marmurowa in the Palace of Culture and Science. The design was in a light colourpalette with emphasis on openness, conversations and the literature, corresponding with the slogan "The Dream We Carry" / "Marzenie jest w nas" which is derived from the much loved poet, Olav H. Hauge.
Hall Marmurowa was also the main working place for the Norwegian literary agents participating at the book fair: Cappelen Damm Agency, Egmont Kids Media, Gyldendal Agency, Magikon, Northern Stories Literary Agency, Oslo Literary Agency and Stilton Literary Agency.
Hall Marmurowa also offered a stage with a program for book trade professionals, abook exhibition of Norwegian books translated to Polish, a creative corner with children's books as well as a staffed info desk.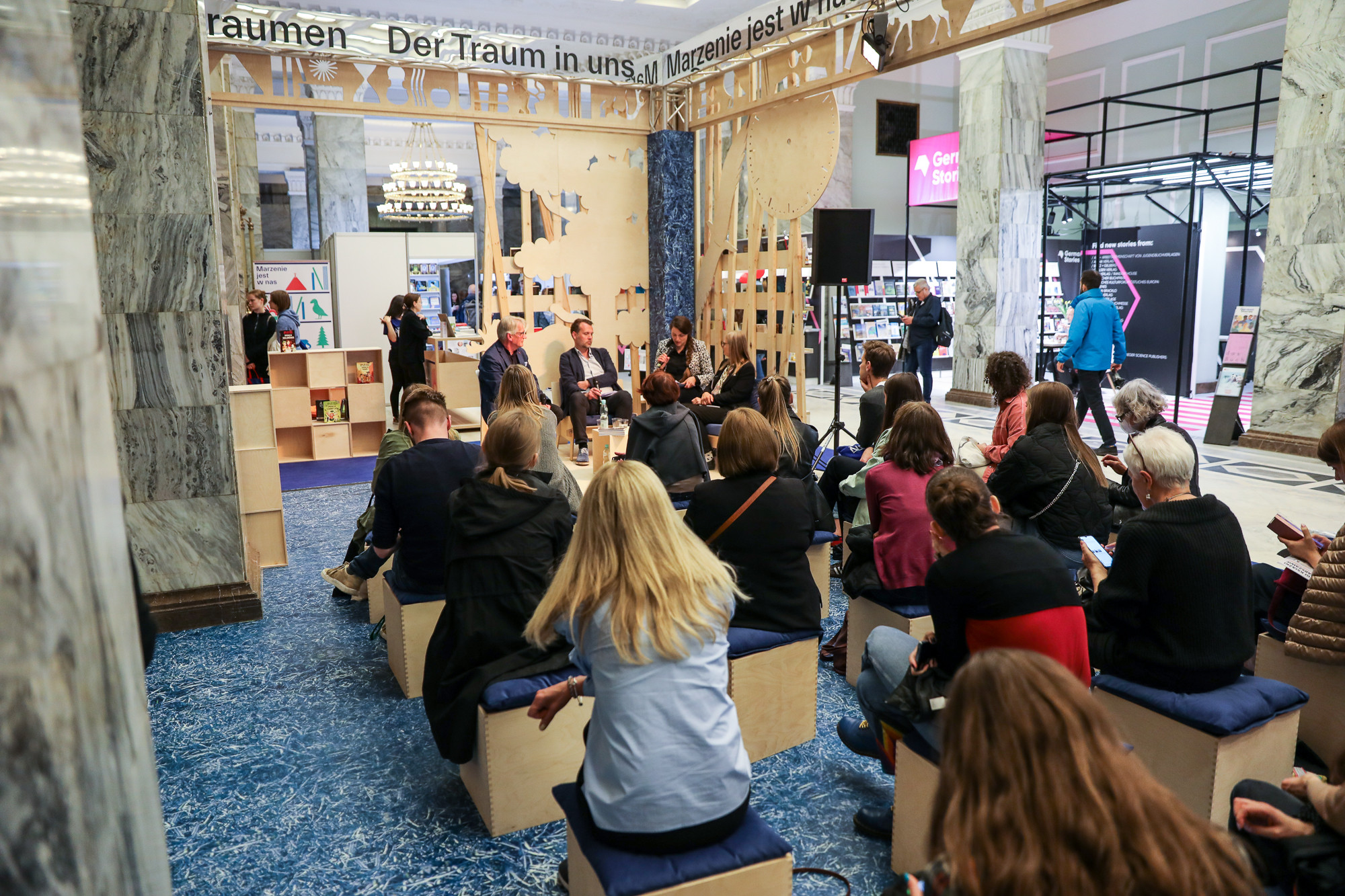 The Norwegian tent (Namiot E) was situated directly in front of the Palace of Culture and Science. The design of the tent mirrored Hall Marmurowa. The Norwegian tent was also the main stage for the Norwegian program with daily program, a book shop run by Moda na Czytaine and a designated area for book signing after the literary events.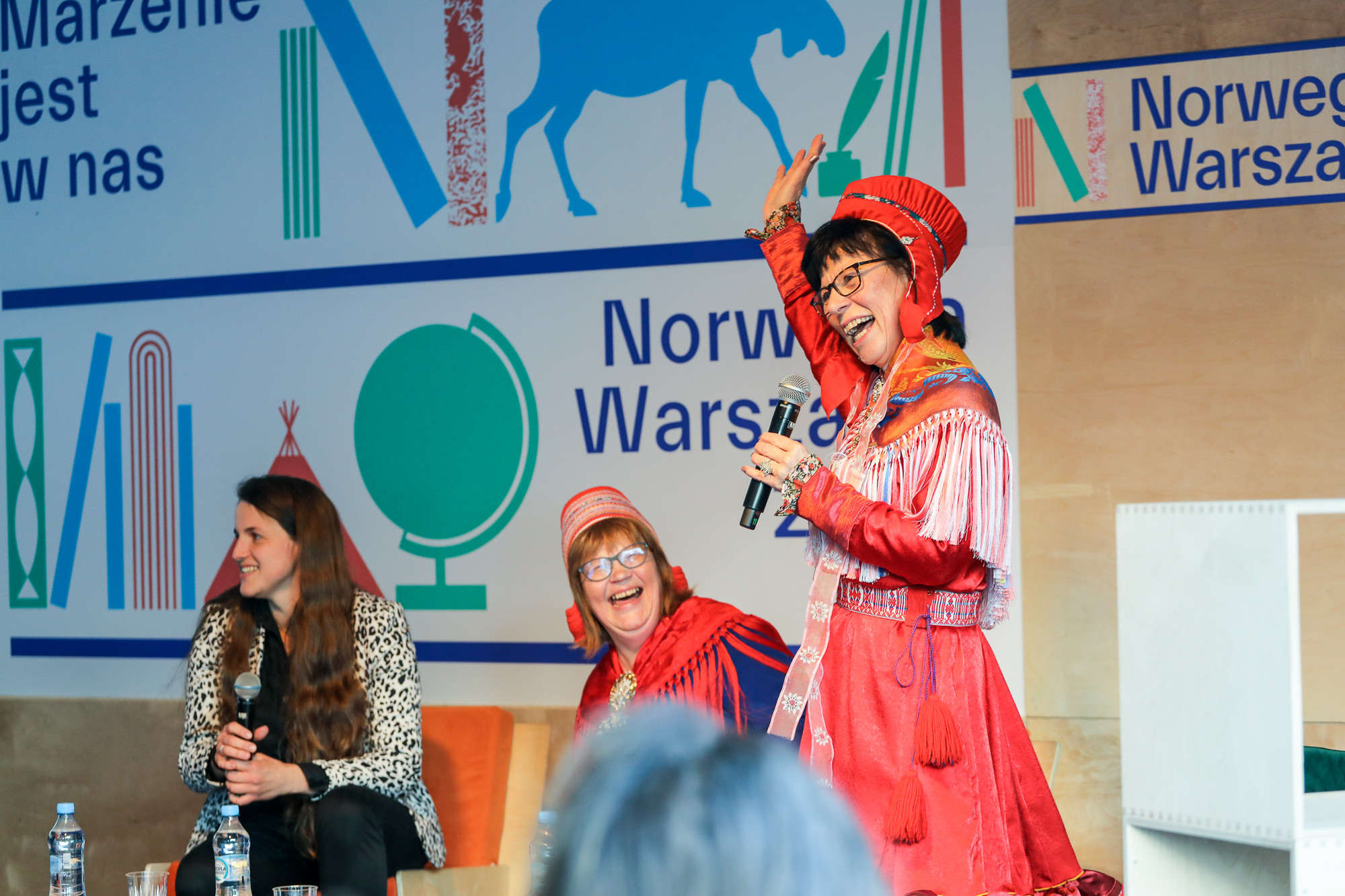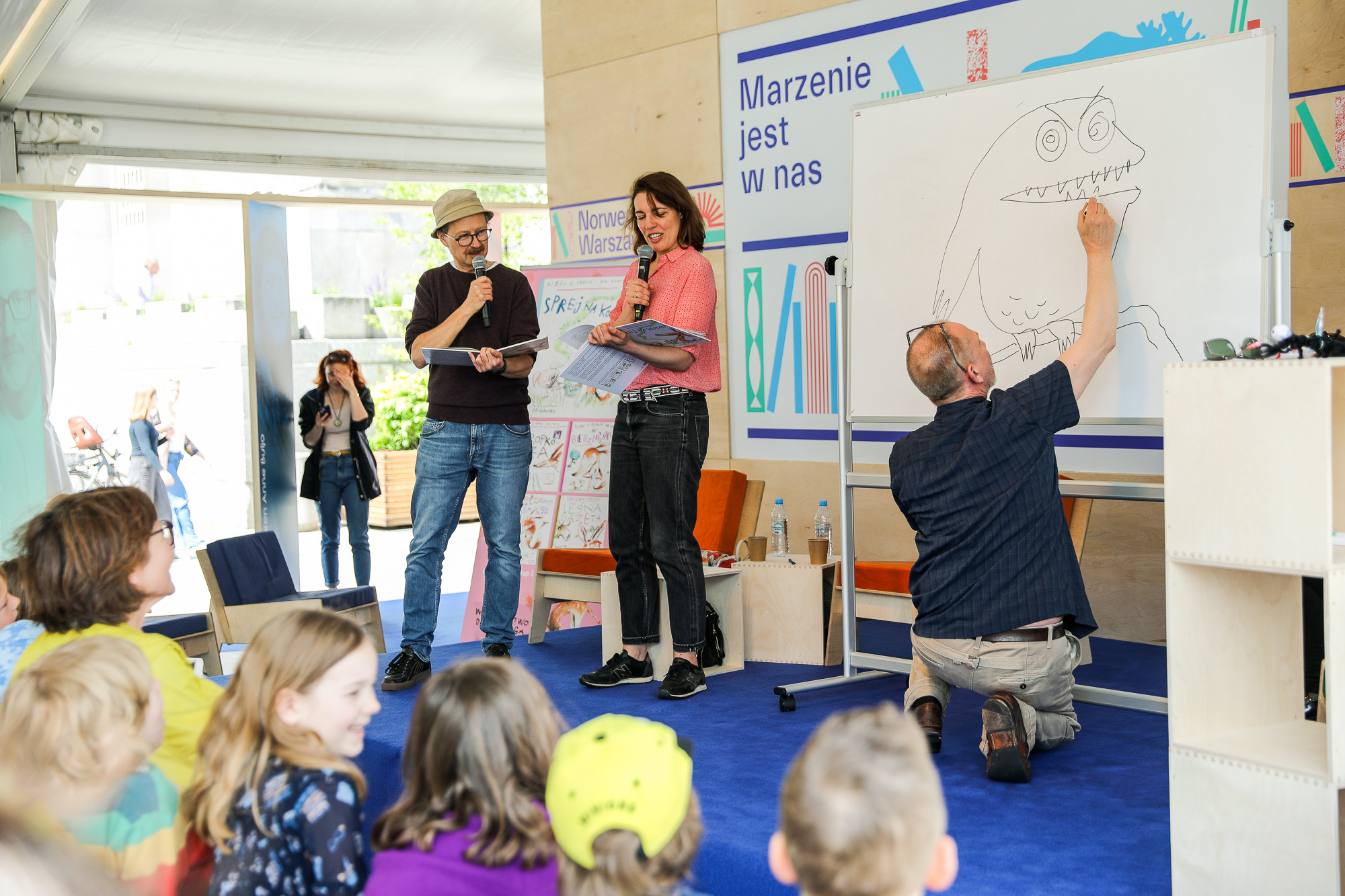 The Guest of Honour project's visual identity is made by NODE Berlin Oslo and is a redesign of the visual identity from the Frankfurt project in 2019.
Book sales
The Warsaw bookstore Moda na Czytaine handled the sales of Norwegian books in the Norwegian tent during the book fair.

They have reported to sell almost 2000 books, and are very pleased with these numbers.
Their top list is:
1. Dorośli (Grown ups) – Marie Aubert (Books From Norway)
2. Orient Express (The Orient Express) – Torbjørn Færøvik
3. Ekipa do naprawy świata (Tapestry of Life) – Anne Sverdrup-Thygeson
4. Światła północy Tom 1 W dolinie trolli (Northern Lights) – Malin Falch
5. Biała mapa (Det hvite kartet) – Cecilie Enger
6. Oprzyj swoją samotność o moją (Lean Your Loneliness Slowly Against Mine) – Klara Hveberg
7. Moi mężczyźni (My Men) – Victoria Kielland
8. Ostatnie stadium (Natural Causes) – Nina Lykke
9. Spadek (Wills and Testament) – Vigdis Hjorth
The booksellers became our Bookstore Buddies, and you may read their interview here (also available in Polish).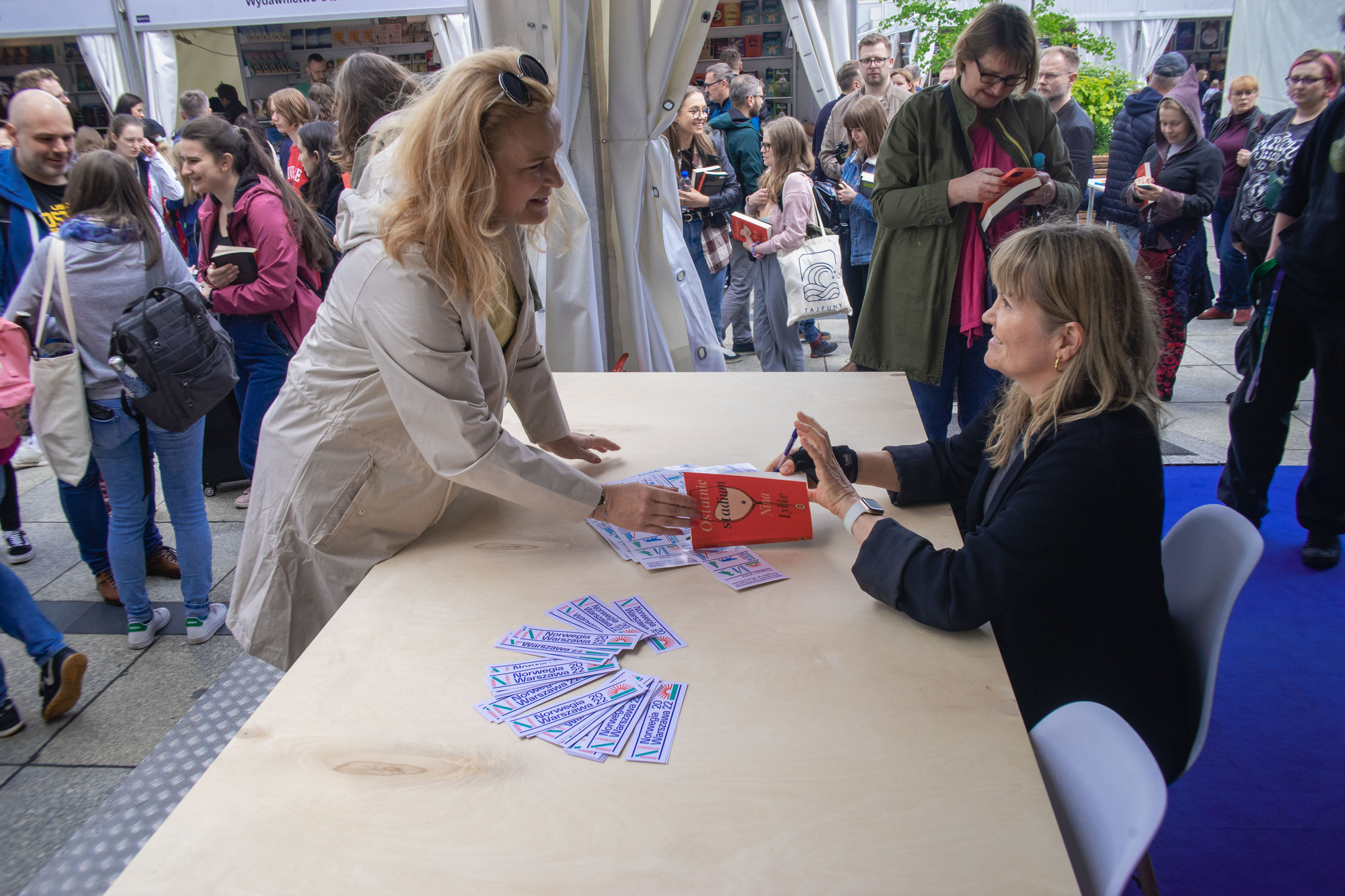 Estimate of visitors at the Norwegian program in the Norwegian tent, Main Stage and in Marmurowa: 1988.
Crash courses in Norwegian language
A very popular activity was the Norwegian language crash course, that lasted for 15-20 minutes and ran every hour during the four days of the fair. All together 22 language classes were taught, and there were a lot of interest, with a total number of 222 "students" participating.
The crash courses were planned, organized and taught by three students from the University of Szczecin / Stettin.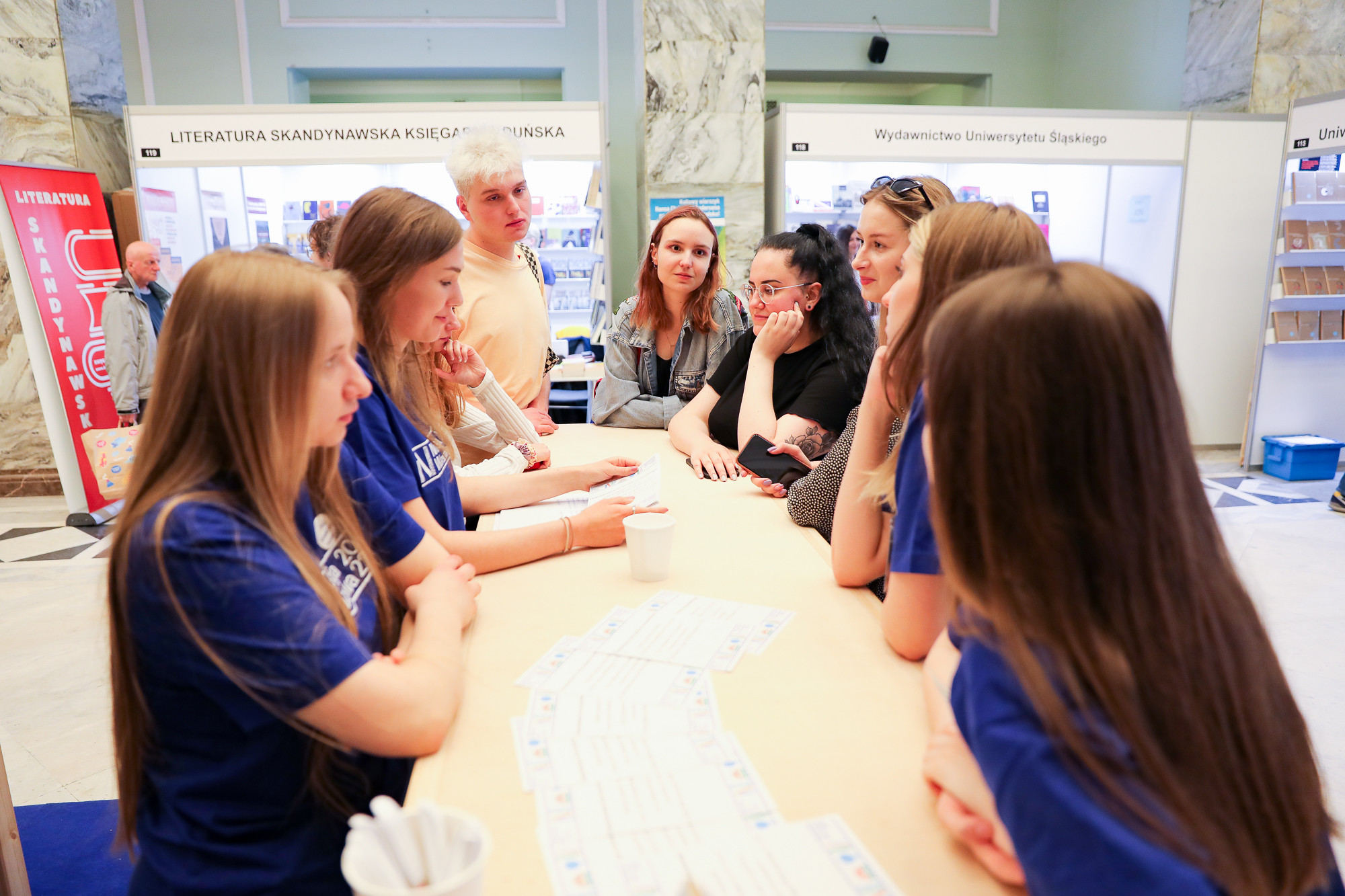 A breakfast for 100 students of Norwegian language and literature
During the Book Fair, the Norwegian Embassy hosted a very popular breakfast event for 100 Polish students, who were visiting the book fair through travel grants from NORLA. This proved a very nice start to the day and for us at NORLA it was wonderful to meet so many engaged and resourceful students. Several were also volunteers during the book fair.
We hope to be seeing many of them as future translators of Norwegian literature!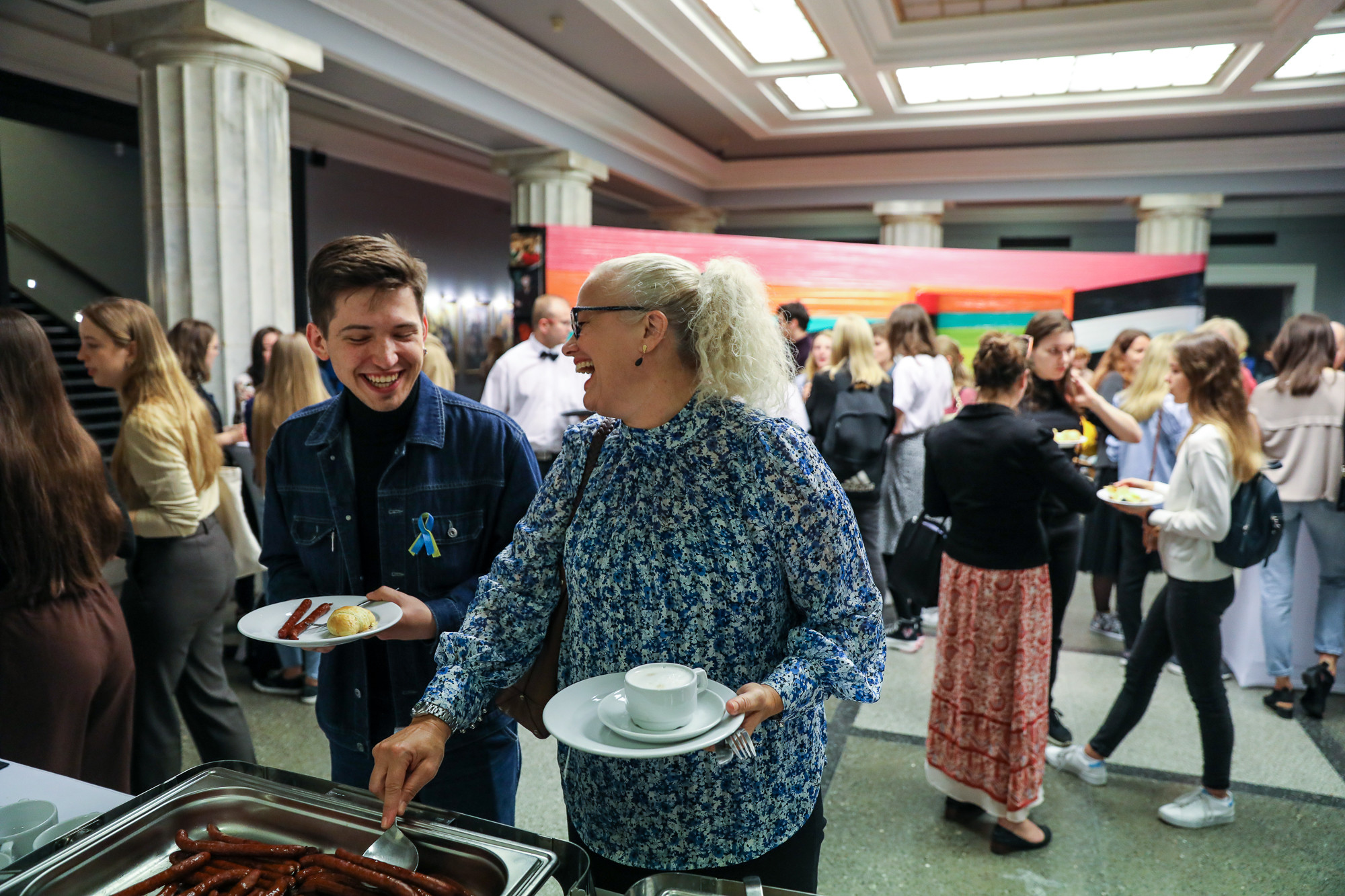 Read more
See our Polish Facebook page for news on Norwegian literature!
See the Norwegian Guest of Honour program details here
More about the particpating authors and illustrators here
Overview of the Norwegian Guest of Honour program