News from NORLA
The autumn batch of New Voices is ready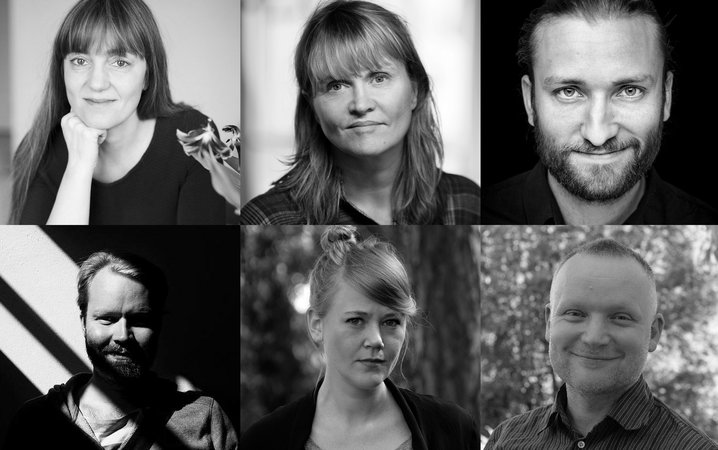 Top row from the left: Tiril Broch Aakre, Nina Lykke, Birger Emanuelsen. Bottom row from the left: Anders Kvammen, Mari Kanstad Johnsen, Andreas Tjernshaugen.
Last year, NORLA collaborated with Talent Norge and the Norwegian Publishers Association on the New Voices development programme. Recruiting new authors and promoting new literary voices abroad are important aims of the Frankfurt 2019 initiative. New Voices will create a space where parts of Norway's rich literary undergrowth can be made visible, giving a boost to authors who are on the verge of an international breakthrough. A group of 4-6 new writing voices will take part in the programme every six months.
The autumn New Voices have just been selected.
The group will consist of:
Birger Emanuelsen
Published by Tiden Norsk Forlag. Read more in English
Tiril Broch Aakre
Published by Flamme forlag. Read more in English
Anders Kvammen
Published by No Comprendo Press. Read more in English
Mari Kanstad Johnsen
Published by Gyldendal Norsk Forlag and Forlaget Magikon.
Read more in English here and here
Andreas Tjernshaugen
Published by Kagge forlag. Read more in English
Nina Lykke
Published by Forlaget Oktober. Read more in English
Over the autumn, these six participants will be offered courses and training in Oslo, as well as the opportunity to try their hand at festivals and book fairs. They will meet translators, authors and the public in Gothenburg, Krasnoyarsk, Guadalajara, Moscow and Hamburg, among others.
Read more
See all the information about the "New Voices" programme and earlier participants here.
All the information about Frankfurt 2019 is to be found here.
Photographs: Tiril Broch Aakre by Heidi Furre, Nina Lykke by Jo Michael, Birger Emanuelsen by André Løyning.
Anders Kvammen by Martin G. Slørdahl, Mari Kanstad Johnsen by Magikon, Andreas Tjernshaugen by Katrine Gramnæs.