News from NORLA
Translation subsidies in 2021: A record-breaking number of languages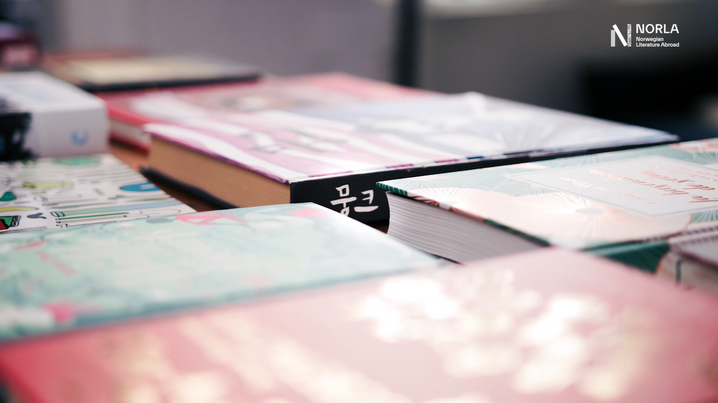 In 2021, NORLA received grant applications for the translation of Norwegian literature into an incredible 50 different languages, and it's very exciting that three of these are languages we've never worked with before. For the first time, NORLA has awarded grants for the translation of Norwegian books into Hausa, Kazakh, and Northern Sámi.
Of the 527 translation grant applications received by NORLA in 2021, 521 were approved. 394 of these were fiction titles, and 127 were non-fiction. Furthermore, 136 of the total number were books for young adults and children. The 521 subsidies are divided between 375 different titles, and 254 authors are represented. These numbers show that there is a huge variety in the literature that crosses borders to other countries.
The total amount of subsidies granted by NORLA in 2021 was NOK 9,420,600.
Danish, German and Swedish on top
Just as in 2020, Danish is the most popular, and German the second most popular, for Norwegian literature in translation. Swedish is the third largest language (up from 8th place in 2020). After that, the biggest languages for Norwegian literature in terms of translation subsidies are: English, Spanish, Dutch, French and Russian in joint 7th place, Polish, Bulgarian and Serbian in joint 9th place, and finally, Turkish.
In 2021, NORLA awarded grants to 93 Nordic translations, of which 78 received funds from the Nordic Council of Ministers.
Top ten languages by the number of granted translation subsidies:
1. Danish: 42
2. German: 36
3. Swedish: 35
4. English (Canada, UK, USA): 32
5. Spanish (Colombia, Mexico, Spain): 28
6. Dutch (Belgium, Netherlands): 26
7. French: 22
8. Russian: 22
9. Polish: 19
10. Bulgarian: 18
11. Serbian: 18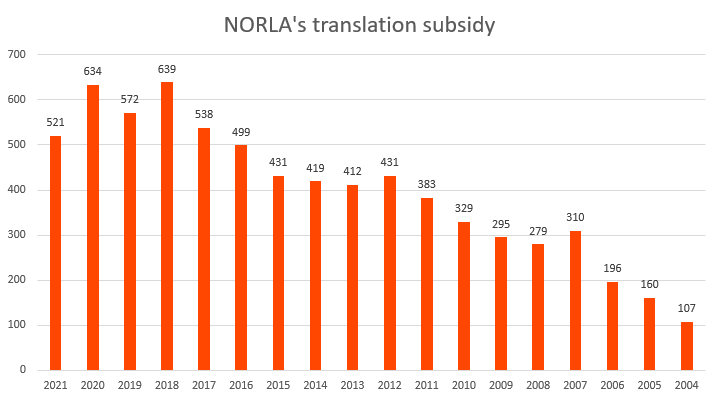 The most translated authors – measured according to NORLA's translation support granted in 2021 – regardless of genre:
Karl Ove Knausgård (21 translations)
Erika Fatland (11 translations)
Jon Fosse (11 translations)
Jørn Lier Horst (6 translations of his own books, and 5 written together with Thomas Enger)
Kjersti Annesdatter Skomsvold (2 translations of her own books, 6 illustrated by Mari Kanstad Johnsen)
The most translated authors – measured according to NORLA's translation support granted in 2021 – sorted by genre:
Fiction for adults
Karl Ove Knausgård has 21 works of fiction in translation.
Jon Fosse has 11 translations (and one title for children).
Roy Jacobsen and Lars Mytting both have 7 translations each.
Non-fiction for adults
Erika Fatland is the most translated non-fiction author, with 11 translations.
Nina F. Grünfeld has 5 translations.
Hedvig Montgomery and Terje Tvedt have 4 translations each.
Books for children and young adults
Anna Fiske and Kristin Roskifte have 7 translations each.
Siri Pettersen and Kjersti Annesdatter Skomsvold* have 6 translations each (*illustrated by Mari Kanstad Johnsen).
Three author duos have 5 translations each: Nina Brochmann and Ellen Støkken Dahl (illustrated by Magnhild Winsnes), Anne Gunn Halvorsen and Randi Fuglehaug, and Lars Mæhle and Lars Rudebjer (ill.).
Read more
See an overview of NORLA's translation support grants for previous years here.