News from NORLA
Deniz Canefe Sahin - Translator of the Month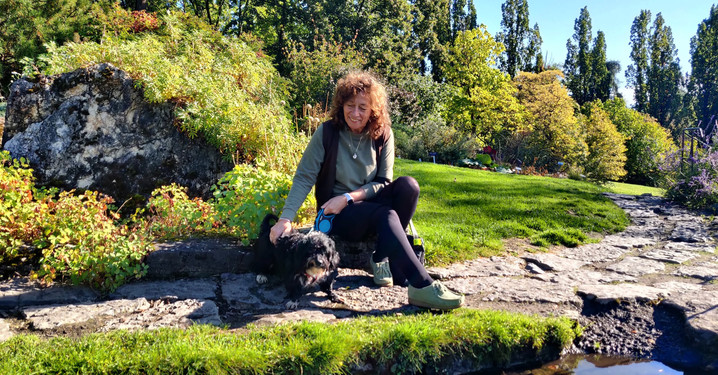 Deniz Canefe Sahin with her dog, Dersu.
January's Translator of the Month is Deniz Canefe Sahin, who translates both fiction and non-fiction from Norwegian and English to Turkish. She has studied at Hacettepe Universitesi in Ankara and at the University of Oslo. And Deniz has translated more than 40 Norwegian titles by authors like Jon Fosse, Dag Solstad, Tarjei Vesaas, Ola Bauer, Per Petterson, Ingvar Ambjørnsen (the Pelle and Proffen series for young adults and the Samson & Roberto series for children), Eugene Schoulgin, Thorvald Steen and Roy Jacobsen. This year, she will translate Armand V by Dag Solstad and The Eyes of Rigel by Roy Jacobsen. She will also translate Henrik Ibsen's collected works in cooperation with Haydar Sahin.
Deniz enjoys working with books that are written with a sense of humour and that illuminate the world from different perspectives. She lives in Oslo.
In our interview we asked Deniz:
Is there any particular Norwegian book that's close to your heart? If so, what makes it so special?
When I translated Memories of Mirella (original title: Minner om Mirella) by Eugene Schoulgin, I remember being very impressed with his beautiful way of writing. Also, Ola Bauer was an absolutely fantastic author, with his very special way of looking at the world.
When I translated The Unseen (original title: De usynlige) by Roy Jacobsen, I liked the beautiful, wild, lonely and honest story so much that I felt truly sad when I had finished the translation. While when I worked on T. Singer, some typical Solstad sentences were so funny that I just had to stop and laugh out loud before I could try to find something similar in Turkish. These are just a few titles that spring to mind, there have been many good books that have left traces in my heart.


Those of you who understand Norwegian can read Deniz's Translator of the Month interview in full here.
Read more
Learn more about Deniz on Books from Norway
Other translators interviewed in our Translator of the Month series.