News from NORLA
2017 - A Record Year for Norwegian Literature Abroad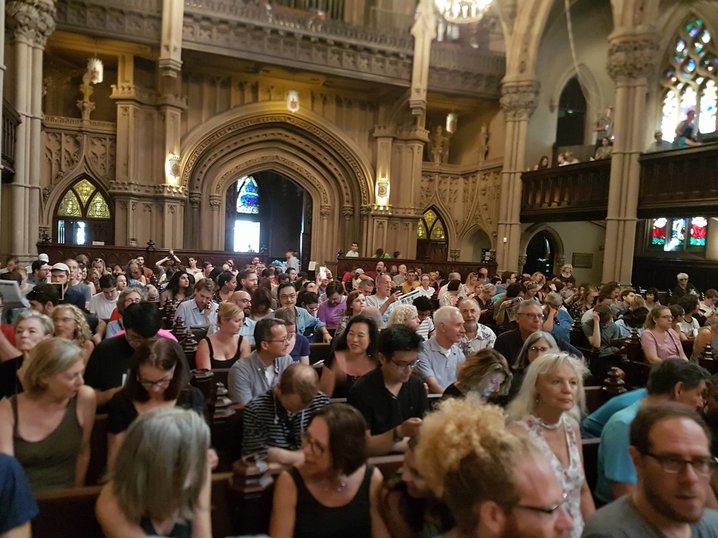 Audience in New York waiting for, among others, Karl Ove Knausgård. Photo: NORLA
This year's figures from NORLA are clear – 2017 was another record year for Norwegian literature abroad. Never before has NORLA provided support for so many translations of Norwegian authors.
In 2017, NORLA granted support for the translation of 538 books by Norwegian authors, into 44 languages. That makes 2017 the best year ever for Norwegian literature in translation.
– 2017 remains a record year for Norwegian literature abroad. Never before have so many titles been granted translation support from NORLA, says Margit Walsø, NORLA's director.
In 2004, NORLA gave support to just over 100 translations, in 2017 the number has increased to 538 titles.
Figures from the Norwegian literature agencies show that the total number of rights sold abroad in 2017 amount to close to 1000 titles.
Number of translations given grants, 2004-2017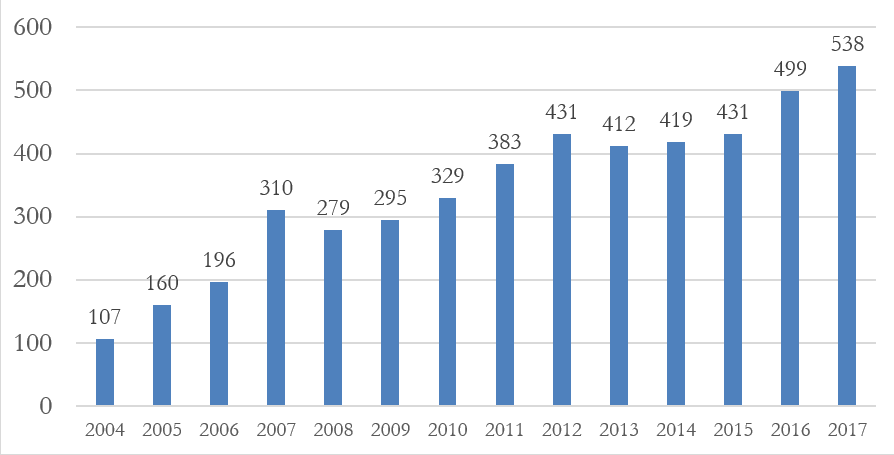 Most translations are to German
German, according to NORLA's statistics, was the biggest language for Norwegian literature in 2017. A total of 52 releases received support.
The German book market is ranked second largest in the world, after the English language market.
With a collective turnover of 90 billion, more than 10,000 books in translation and a share of translated literature of 12% (2016's figures*), Maja Lunde's success with The History of Bees in 2017, is formidable. Maja Lunde's novel was the most sold book in Germany after sitting on Der Spiegel's bestseller list throughout the year.
(*Source: The Frankfurt Book fair).
Frankfurt 2019
Since 2016, when Norway received Guest of Honour status for the Frankfurt Book Fair in 2019, preparations for the biggest foreign-cultural commitment ever have been full on.
– During 2017, NORLA have invited 60 German publishers to Norway, established the web portal Books from Norway, increased the translation support into German and English, and profiled Norwegian writers and books internationally. A united Norwegian book industry has invested heavily in networking and rights sales approaching the Guest of Honour year, says Walsø.
The first results of this targeted work are, among other things, visible from NORLA's statistics. Along with the success stories in the German market, this looks very promising for 2018 and for the Guest of Honour year itself.
Record number of translations to Nordic languages
Norwegian writers have also caught on in the Nordic countries, where there has also been a record for translation into Nordic languages. NORLA has granted support, financed by the Nordic Council of Ministers, for 90 releases. Interest in Norwegian literature is particularly high in Denmark, which is language number two on the list. However both Swedish, Finnish, Icelandic and Faroese are well represented.
Translations to 44 languages
The English book market is the world's largest, and considered the eye of the needle, for literature in translation. The statistics show a good increase here as well in recent years. English sits as language number three, for 2017.
The other major languages for Norwegian literature when the translations are counted are Spanish, Dutch, Bulgarian, Czech, French, Polish, Serbian and Russian.
Norwegian literature is also being translated more often into Chinese. Norwegian children's books are especially interesting to Chinese readers.
Breadth and authorship
The total of 538 grants went to altogether 354 different titles, representing 232 authors.
This underlines the breadth of Norwegian literature which is making it abroad.
The most translated author within each genre – according to NORLA's approved translation support – are Karl Ove Knausgård with 28 fiction translations (12 titles). Erling Kagge was the most translated non-fiction author with 11 translations (1 title). For children's and youth literature Jørn Lier Horst and Bobbie Peers were most translated with 13 translations each (7 and 2 titles).
A wide range of genres
The range of genres translated gives an indication of the quality of Norwegian contemporary literature. Books for children and adolescents, non-fiction and adult fiction, are making it abroad more than ever before. For 2017, the number of books translated for children and adolescents increased by 20 percent, measured according to NORLA's translation support. Non-Fiction has increased by 10 percent. Literature for children and adolescents accounts for 28% of the total with 152 translations, non-fiction covers 24% and can adds up to 129 translations (incl. two titles for children). Overall, adult fiction is the strongest with 48% and 259 translations.
Support was granted for the translation of 13 publications of poetry, 3 dramatic works,
19 publications of essay collections, 12 anthologies/collections of short stories (of which 3 were for children/adolescents) and 3 works of prose. Of the 259 fiction translations granted support, three were classics.
Read more
See details of NORLA's allocated translation subsidy in previous years here.