News from NORLA
Our collaboration with German bookstores continues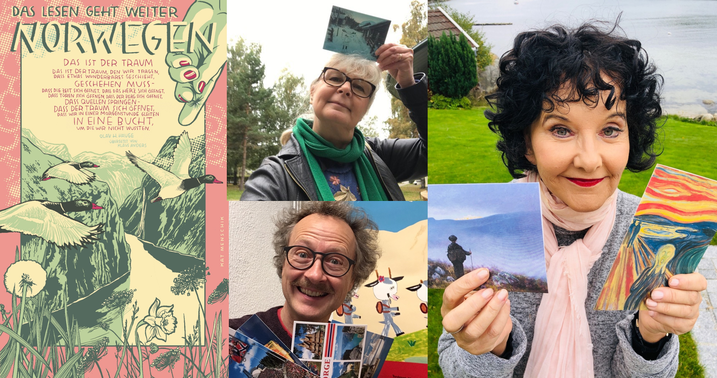 It is now a year since German bookstores, NORLA and the Norwegian Embassy in Berlin completed the final preparations for Norway as Guest of Honour at Frankfurter Buchmesse. We have maintained the connections and friendships established over the last few years and continued the good cooperation we have with the German bookstores in 2020.
We may be unable to visit each other, but there are still ways of showing care and commitment for our Norwegian-German friendships: Postcards. Over the last few days, the Norwegian authors who visited German bookstores last year have sent postcards to these bookstores. So far, nearly 20 authors have sent more than 50 postcards to 44 bookstores. And there are more to come! The cards are a nice little greeting at a strange time and contain both memories and plans for future readings in Germany.
At the same time, another greeting for the bookstores: Kat Menschik has redesigned the much sought-after Guest of Honour poster, which quickly went out of print last year. It now bears the headline: "Norge – Lesingen fortsetter / Norway: Das Lesen geht weiter". Not only does the poster invite you to discover the many new books published by Norwegian writers this autumn, it is also a reminder of the 550 books that were translated into German last year.
NORLA's website now has a separate page – in German – which is aimed at bookstores.
Feel free to take a look here.
Feel free also to read the interviews with our "bookstore buddies" to get to know the skilled bookstores we work with in Germany.
See the interviews here