News from NORLA
Spring's New Voices to London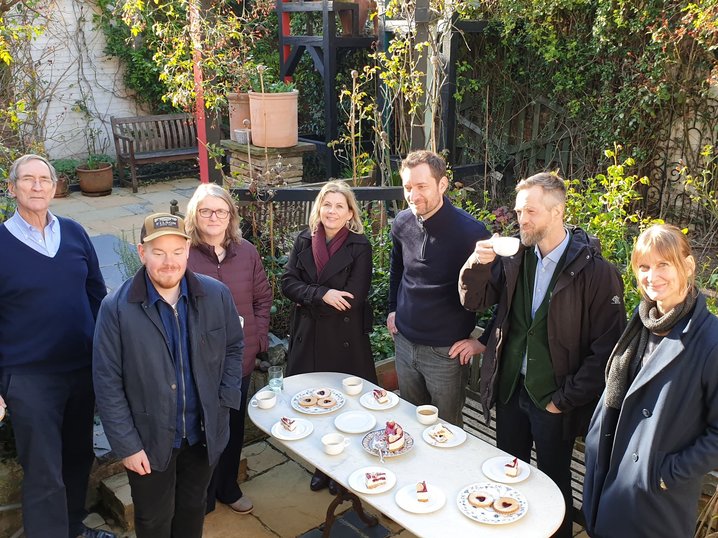 From the left: Christopher MacLehose, Jan Kristoffer Dale, Katharina Bielenberg - editor of MacLehose Press, Marianne Kaurin, Tore Skeie, Bår Stenvik and NORLA's Dina Roll-Hansen, who is responsible for the New Voices program.
On the eve of the London International Book Fair, the New Voices took part in a publisher's seminar at Free Word Centre in London.
Marianne Kaurin, Jan Kristoffer Dale, Tore Skeie and Bår Stenvik presented themselves and their authorship to an interested audience of British publishers. (See the presentations by clicking on their names).
The seminar was organized by NORLA in collaboration with The Norwegian Embassy in London.
In addition to the seminar, the authors' program also included a meeting with the British publisher Christopher MacLehose of MacLehose Press, who may be referred to as a living legend of the British publishing world. MacLehose has published a number of acclaimed Norwegian writers, including Per Petterson, Roy Jacobsen and Lars Mytting.
The Spring's New Voices got to experience the London Book Fair to see how rights sales are done, and they also got to meet British translators of Norwegian literature, a pleasant and useful exchange for all parties.
Read more about the five authors comprising spring's New Voices here.
On the agenda, Spring 2019
During the spring of 2019, the participating authors have been offered courses and training in Oslo, and also the opportunity to put the training into practice, at various venues. The participants will meet translators, publishers and audiences in cities such as London, Berlin and Leipzig.
New Voices Around the Globe
The 20 Norwegian authors participating in the previous four New Voices groups have visited many parts of the world, courtesy of NORLA's international network:
Georgia (Tbilisi), Germany (Leipzig, Frankfurt, Hamburg), Japan (Osaka, Tokyo and Kyoto), Mexico (Guadalajara), Romania (Cluj), Russia (Moscow and Krasnoyarsk), Spain (Madrid), Sweden (Gothenburg), the UK (London), Ukraine (Lviv) and USA (New York).
In addition, the participating authors have met with publishers, translators and booksellers from abroad taking part in NORLA's networking activities in Norway (Oslo and Lillehammer).
The New Voices programme
Norway is Guest of Honour at the Frankfurt Book Fair 2019. Cultivating new literary voices internationally is an important aim of the Guest of Honour project.
NORLA's talent development programme, New Voices, has been established in collaboration with Talent Norway (Talent Norge) and the Norwegian Publishers Association.
Read more about the New Voices programme here.